Back in January, we took a look at Big Fish's hidden object game Dark Strokes. Despite bad previous experiences with the company's other titles, I really enjoyed Dark Strokes. So when I caught wind of another spooky hidden object game called Reincarnations: Uncover the Past from the same team, I decided to check it out.
What is it and what does it do
Main Functionality
Reincarnations: Uncover the Past is a hidden object game set in a spooky insane asylum.
Pros
Excellent music that helps to set the atmosphere and mood of the storyline
Two levels of difficulty to choose from
Thrilling story about kidnapping and past lives
No glitches experienced during gameplay
Cons
Audio/production values not as high as "Dark Strokes"
Frequent pop-up ads/offers from the developers
Strategy guide and other extras require in-app upgrade to "Collector's Edition" status
Hasn't been updated since it's release in October
Discussion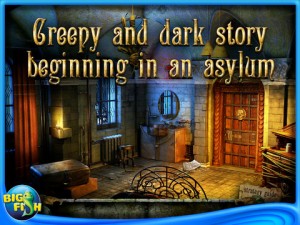 The thing about the whole "hidden object" genre of iPhone games is that the object-hunting tends to break up the story. In fact, in most of these games, the hunt for the hidden object is downright distracting, if not outright annoying. That's not the case in Reincarnations: Uncover the Past, however, simply by virtue of the plot.
In Reincarnations: Uncover the Past, you play as a young woman who has been abducted by a crooked insane asylum. Officials claim that you're insane, when in fact they kidnapped you in order to understand your ability to connect with your past life reincarnations. Because you are trapped in an insane asylum and trying to break out, it makes total sense that you would be searching every suitcase, piece of furniture, or floorboard to find some item that could help you escape.
The graphics are wonderfully spooky, and during your escape you will feel your heart beating faster. Most games in this genre lack a sense of urgency, but not this one. The setting makes all the difference, and this may just be the hidden object game that converts hidden object haters.
True, this game takes up a lot of space on your phone. True, this game has some annoying pop-ups to contend with. And true, this title lacks the polished voiceover work of other similar titles. But If you like games that are just a little scary without ever getting gory, Reincarnations is worth checking out, even if you're not usually a fan of the genre.
Conclusion and download link
If you think there's nothing scarier than being kidnapped and wrongfully committed to an insane asylum, this game is sure to intrigue you. It's scary, and it's also a smart way to make the stale conventions of the hidden object game genre make sense.
Price: Free
Version reviewed: 1.0.0
Requires: iPhone/iPod Touch, iOS version 4.0 or later. (Also available: HD version for iPad.)
Download size: 305 MB
Reincarnations: Uncover the Past on Apple App Store
Related Posts