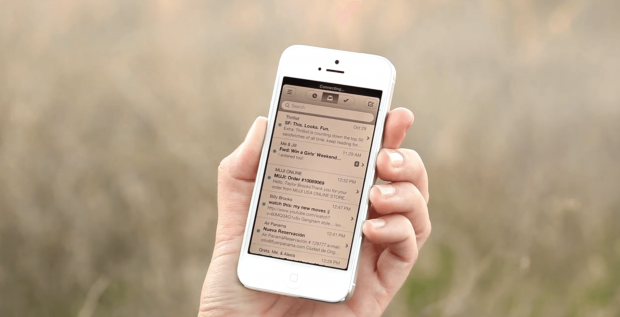 Email is something we all have to deal with. It's inevitable. There's work, school and a ton of other reasons why we use email throughout our day-to-day lives — and sometimes, it can be a little overwhelming. Mailbox is a hot new app for the iPhone, designed to help you deal with all your email fast and effectively. The app was designed by Orchestra, the same guys behind the Orchestra to-do app, which was the App Store's 2011 Productivity App of the Year. Mailbox was released just over a week ago, for free.
WHAT IS IT AND WHAT DOES IT DO
Main Functionality
Mailbox is an email client that is focused on the entire "Inbox Zero" idea, wherein you process all your email until your inbox is empty. That could mean archiving, labeling, or simply replying and deleting the messages on your inbox. Mailbox makes this process very easy and intuitive by giving you simple gestures for the different actions you want to take on an email. Swipe one way, and the email will instantly be archived. Swipe another, and you can defer that email to another time — select Tomorrow and the email is removed from your inbox and magically pops back in the next day! You can also make custom lists such "To Watch" so you can quickly move emails to a list you can use as a reference. All of these actions can be customized to suit your needs and schedule, and you're rewarded with a staff-picked photo every time you successfully hit Inbox Zero.
Pros
Simple and intuitive gestures allow you to process your email quickly and easily
Customization options/Snoozes allow you to choose appropriate times for your emails to return to the inbox
Sleek interface with nice iconography and nice animations makes dealing with email a pleasure
App is responsive, and downloads emails quickly
Cons
Mailbox is Gmail only
Due to high demand and popularity, downloading the app now will put in a waiting list — meaning, you won't be able to use it right away
Doesn't allow you to access your Gmail labels, making any label system of yours useless
Emails are processed through the company's servers (but they assure complete privacy and encryption on their end)
Discussion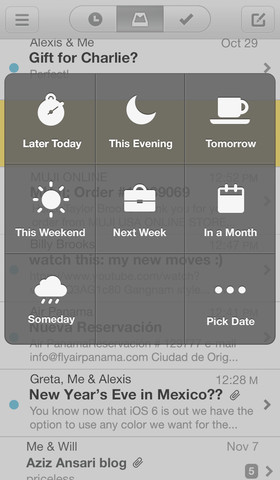 The first thing you're probably wondering is, why a waiting list for an app? The developers wanted to ensure that Mailbox would result in a smooth experience, without any of the hiccups a high profile service usually experiences when there is a large amount of people trying to access it. Email is something that people need to work, and cannot afford any outages. The waiting list gives the Mailbox team a steady but smooth rollout of their service — it sucks you have to wait, but I'm sure it's better than having access right away to a service that doesn't even work. Also, the app will alert you when you've reached the end of your waiting period so you can download it now and forget about it until the notification arrives.
The next thing is the Inbox Zero concept. If you're not familiar with this particular productivity method, it was created and popularized by Merlin Mann, who is behind the productivity site 43folders.com. The idea is that having your inbox filled with messages contributes to feeling a sort of email overload, and that can affect your productivity, time, stress levels and even sanity. The act of emptying your inbox promotes the idea of processing your emails and converting them into appropriate actions.
If there's an email conversation that has long finished, archive it — there's no need for it in your inbox. When you've received your online boarding pass, print it out. If a colleague has a question for you regarding work or school, answer him then archive it. Before you know it, you'll be even more productive than before all because you just went ahead and processed your email and performed all the appropriate actions.
The reason why Mailbox is special is because it's designed for Inbox Zero. Moving an email that you need to act on the next day and not right now is as simple as a quick swipe. Your inbox will be empty and you won't need to worry about having to deal with the email until you need to. When your workday starts the next day, Mailbox moves that email right back in your inbox so you can act on it — when you need it.
The fact that it only supports Gmail is unfortunate, but I'm sure there will be an opportunity for more services in the future. Not being able to use any of your labels is also a bummer, and I've emailed the developers about this. Turns out they did it on purpose because they think that it can develop unproductive habits. I gave them some pretty useful cases as an argument, and they told me that they'll take note of it and will continue to add features to the app in the future.

CONCLUSION AND DOWNLOAD LINK
I've been using it for around a week now and dealing with email has never been easier, and sometimes it can even be fun. If you've never heard of or don't care for the Inbox Zero productivity method, that's okay too, it's still an awesome email client. Bottom line: If you're a Gmail user and you have an iPhone, download this app. Oh, and did I mention that it was free?
Price: Free
Version reviewed: 1.0
Requires: iOS 6.0 or later
Download size: 9.4MB
Related Posts