I'm a huge trivia junkie. My pub trivia team won a big regional competition a few years back, and I'm a daily visitor to the "Today I Learned" sub-Reddit. I love learning little factoids and surprising pieces of information, so it was hard for me to resist the allure of Weird But True, an app released by the National Geographic Society.
What is it and what does it do
Main Functionality
Weird But True is a trivia apps that shares over 600 facts with users. Some of the facts include tidbits like "a hippo's lips are about two feet wide" and "didaskaleinophobia is the fear of going to school." The facts are advertised as kid-friendly, but they will be of interest to adults as well.
Pros
Ability to rank how "weird" a fact is
Bookmark your favorites or share the grossest facts with your friends via email, Facebook, and Twitter.
Shake the phone to get a random fact!
App is family-friendly, which will please adults with kids (or adults who need to entertain/babysit kids occasionally)
Cons
You have to pay to unlock extra "fact packs"
Facts don't have any citations or links to more information about the fact, which is a bummer when you find a fact that you want to learn more about
Some older users might not like the sound effects that accompany the app
Users have complained about stability issues: I personally did not experience any such crashing issues during testing
Discussion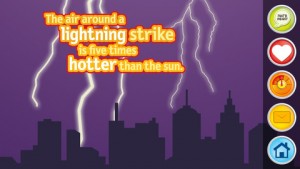 I mentioned in the intro that I love the "Today I Learned" sub-Reddit as a way to get easily digestible bits of trivia during my day. But the real reason I prefer getting trivia from this sub-Reddit is because you have the option of clicking through to a link with more information about the bit of trivia you have just learned. Sadly, Nat Geo's Weird But True app has no such way to get more info about a topic. When I read a fact like "Doctors have created heart muscle from human skin," I want to learn what doctors did this, when, and where! For an app that is supposed to encourage curiosity and inquisitiveness, it's disappointing that there aren't more resources (or at least citations!)
That being said, Weird But True is fun and addictive, and its a good way to kill time whether you are a kid or an adult. There is a good array of facts across a diverse range of subject areas. Bored? Shake the phone for a new, randomized fact.
Some users have complained about crashing, but I thankfully didn't experience any of these issues. I love that you can easily share the most interesting facts with your friends via email, Facebook, and Twitter. But what I really love is the ability to rate each fact on the "Weird-o-meter." Just be prepared to pay up if you want new facts added to your app: each new pack of facts costs about 99 cents.
Conclusion and download link
Some users might be turned off by the child-friendly look of this app. But while it's a shame that more supporting info isn't available for the most interesting facts, Weird But True is a fun app for trivia fans of any age.
Price: Free
Version reviewed: 2.0.1
Requires: iPhone/iPod/iPad, iOS version 5.0 or later
Download size: 45.7 MB
Weird But True on Apple App Store
Related Posts