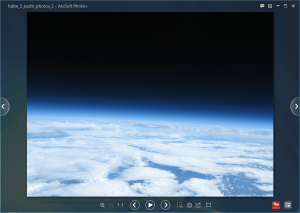 Windows has built-in capability to view images, known as Windows Photo Viewer. However, sometimes people are unhappy with Windows Photo Viewer simply because of its simplistic nature. Looking for an alternative image viewer? ArcSoft Photo+ is one such program. Let's see if it is worth your time.
WHAT IS IT AND WHAT DOES IT DO
Main Functionality
Photo+ is a third-party image viewing program that allows you to view your images, pictures, photos, etc. It supports all major image formats plus many RAW formats, allowing you to view a large selection different image types.
Pros
Supports a large number of image formats, including the four major formats and other RAW formats: JPG/JPEG, BMP, TIF/TIFF, PSF, CR2, DNG, MEF, NEF, PEF, X3F, PNG, GIF (including animated GIF), TGA, ARW, SRF, SR2, DCR, CRW, KDC, ERF, MRW, ORT, RAW, RW2, and RAF
Allow users to organize images by marking them as 'favorite'
Allows users to do all the following to images: rotate, crop, zoom, print, share (via Flickr, Twitter, or Facebook), copy, delete, save as, set as wallpaper, view properties, and open image in another program
Allows users to view images in a slideshow
Can import images directly from an external device, like camera
Can be run in full-screen or windowed-mode
Has the ability to display information about an image directly in the program (as opposed to having to go to properties): file name, resolution, date taken, file size, camera maker, flash, camera model, metering mode, lens, exposure program, f number, white balance, exposure time, brightness, exposure bias, contrast, focal length, saturation, and ISO
Supports hotkeys
Easy to use
Cons
Doesn't have very many, if any, value-added or unique features; is an extremely simple image viewer
No ability to share images via email
Buggy (slideshow feature doesn't work properly, as per my tests)
Is heavy on computer resources (e.g. uses 50MB of RAM to display an image while Windows Photo Viewer uses 20MB of RAM and IrfanView uses 6.5MB of RAM to display the same image)
Discussion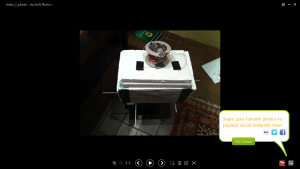 Whenever I review shareware programs, one of the first things I like to check out is the price of the program to determine if it is reasonable or not. When I saw Photo+ listed as $9.99, I became excited. In and of itself $9.99 is a very reasonable price; it beats the heck out of $49.99 that many developers like to do and even tops the popular $19.99 and $29.99. However, after using Photo+ I understand why it is price at $9.99 — the program barely has any features.
I know what you must be thinking: "Ashraf, are you mad? Your own 'Pros' list lists so many features. How does the program 'barely have any features'?" It is true the 'Pros' list shown above is a good length. However, if you look closely at the list, you will notice there are little to no features that make Photo+ a noteworthy program. Indeed if you were to compare Windows Photo Viewer (the default photo viewer that comes with Windows) to Photo+, there aren't very many features that make Photo+ come out on top. There are some, of course, such as the ability to share images via Flickr, Twitter, and Facebook and the ability to easily 'favorite' images. However, by and large, Photo+ has no noteworthy features that would make you want to get this program; it is, more or less, a rehash of Windows Photo Viewer with a more fancy interface and a handful more features. In fact the lack of being able to email an image from within Photo+ could be considered a step-back from Windows Photo Viewer instead of a step forward.
The case against Photo+ strengths when you compare Photo+ to various competitors, like IrfanView, FastStone Image Viewer, Zoner Photo Studio FREE, XnView, and more. Not only do the just-mentioned programs all have many more features than Photo+, they don't cost you a dime — they are all freeware.
To make matters worse, not only is Photo+ light on features but it is heavy on resources when compared to the competition. For example, an image opened in Photo+ causes the program to uses roughly 50MB of RAM. The same image opened in Windows Photo Viewer causes usage of 20MB of RAM and the same image opened in IrfanView causes usage of 6.5MB of RAM. While this is more of a "from the hip" comment rather than an analytical statement and some may consider it unfair to Microsoft, I'm going to say it anyway: when Windows has a built-in feature that is less resource-intensive than your program, then you know something has gone wrong.
To top it off, Photo+ is buggy. The program has a slideshow feature, yes, but as per my tests it doesn't work properly. Whenever trying to view images in a slideshow, I am not shown the images but rather some blurred out crap, like the following: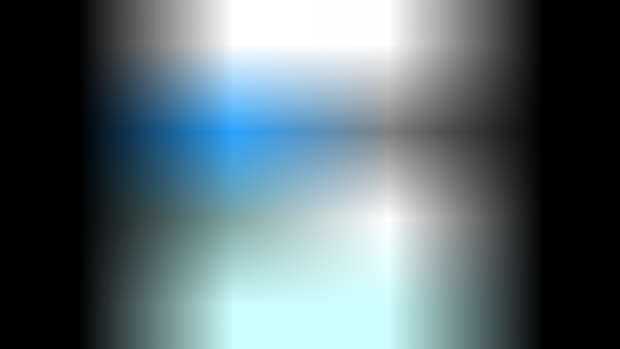 This happens with all images I try to use in slideshow.
CONCLUSION AND DOWNLOAD LINK
Being light on features is one thing. But being light on features, buggy, and heavy on resources? Exit stage right, buddy.
If you haven't got the hint by now, don't bother with Photo+. It may be priced low but it isn't worth your time or money in its current form. Instead of Photo+, there are many excellent freeware image viewers — like the already mentioned IrfanView, FastStone Image Viewer, Zoner Photo Studio FREE, and XnView — which you can give a try if you don't want to use Windows Photo Viewer. Read dotTech's article on 12 free image viewers for Windows to learn more.
Price: $9.99
Version reviewed: 7.5.0.258
Supported OS: Windows XP/Vista/Win7

Download size: 7.3 MB

VirusTotal malware scan results: 0/45
Is it portable? No
Related Posts