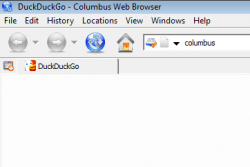 I have heard of a lot of internet browsers, but I had never heard of Columbus Browser. So when I came across it, I was looking forward to giving it a try. It's not so much that I am unhappy with the current browser I am using (SeaMonkey). In fact, I like it very much, but I am always looking for the next "best thing". Call it a bad habit of mine. So is Columbus Browser it? Let's find out!
WHAT IS IT AND WHAT DOES IT DO
Main Functionality
Columbus Browser is a very lightweight and quick browser. In fact, its speed is one of the best things it has going for it. Also, the browser tends to use less system resources than other browsers while still giving you a lot of helpful features. Columbus Browser also comes with a ton of integrated features, like a search box that allows you to choose which site you search, built-in translate button, and the ability to open multiple tabs with just the click of your home button.
Take note Columbus Browser is on Windows and Mac OS X. We specifically reviewed the Windows version.
Note: Please realize that there is an inherent risk in using a web browser from a relatively unknown developer. If the developer of the browser is malicious in anyway, all your internet activity and logins and personal information can easily be stolen by the developer. We are not saying Columbus Browser is a malicious program. This is just a general cautionary note about browsers. Proceed further at your own risk. dotTech and its writers are not responsible for any gain or harm incurred.
Pros
Quick
Doesn't use a lot of system resources (less than browsers like Firefox)
Specify the search engine you want when searching. Websites you can search from include Google, Bing, Wikipedia, Conduit and DuckDuckGo, which is listed as Columbus
Set multiple pages to open when you click on your "Home" button
Cons
Crashed multiple times during use
No ability to import or export bookmarks. In fact, while using the program I was unable to find my bookmarks
Very bland browser with few customization options
Don't expect to download a lot of add-ons, like an ad blocker, because there are none
Discussion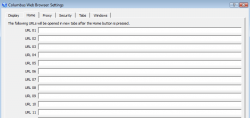 When I went to the Columbus Browser website, I was excited when I saw that the browser prides itself on using few system resources. This is great because I like Firefox and SeaMonkey, both of which can start getting pretty heavy on the system memory. While using Columbus Browser I did notice that it uses less system memory, but it lacked so many other features that it wasn't even worth it.
Before we get into the bad, let's cover the good. The browser is extremely quick, not just to launch, but in navigation. Maybe this is because there really is not a lot of bulk to this browser. This does improve how quick the browser zips you around the internet.
Like a lot of other browsers, its search box allows you to choose which site you search from. It does include popular sites like Google and Wikipedia. However, it replaces sites like Yahoo and Ask.com with DuckDuckGo and Conduit.
My favorite feature of the browser was probably its "Home" button. In the options, you can actually change how many websites open when you click the home button. So let's say you check five different sites every time you open your browser. Simply set those five sites to open whenever you click the home button. You can set up to 11 sites to open whenever the button is clicked.
Unfortunately, that is where the good stuff ends. Not only that, but most of the bad stuff heavily outweighs the good. For example, the browser is really fast, but it is quick to crash. What good does it do me to zip around the net when it is just going to crash every few minutes? I used the browser for about 15 minutes, and it crashed on my twice. Maybe it was the sites I was visiting, but I should not be restricted to which sites I can visit when using a browser.
Next, the browser does not allow for you to add on other features. For those of you who love your add-ons, this browser is not for you. There is no ad blocker, theme changer, nothing. You get what you get. I guess this is how the browser keeps its speed, but there are just some extra features that I simply want with my browser; and the inability to add-on other features is annoying to say the least.
Also, there is no way to import your bookmarks from other browsers. In fact, speaking of bookmarks, I could not find a way to use bookmarks at all. There was a bookmark button, but clicking on it did nothing. Not only that, but I went through all of the toolbar options and could not find "bookmark" options anywhere. A good bookmark system would, in no way, have saved this browser, but it couldn't have hurt.
CONCLUSION AND DOWNLOAD LINK
Columbus Browser may be quick, but it has nothing else going for it. It is missing common features that you would find in other browsers, like bookmarks and the ability to use add-ons. On top of all of this, the browser is very unstable and crashes all of the time. It would have been hard to call this a good browser back in the 90's; today, it is just completely outclassed by other browsers on the market. Do yourself a favor and skip this one.
Price: Free
Version reviewed: 1.2.6
Supported OS: Windows XP/Vista/7/8, Mac OS X
Download size: 12.3 MB
VirusTotal malware scan results: 1/46
Is it portable? No
Related Posts