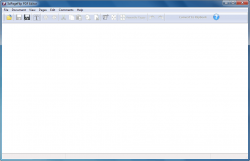 For as useful as PDFs are for sharing documents and information, they are a pain in the *** when it comes to editing. Looking for a tool to help you manage PDF pages (e.g. add, delete, rotate, resize, etc.), add watermarks, or modify PDF encryption? 3DPageFlip PDF Editor is a program that claims to be all that — and more. Let's see if it is worth your time.
WHAT IS IT AND WHAT DOES IT DO
Main Functionality
3DPageFlip PDF Editor bills itself as a PDF editor but is really a PDF modified that allows you to modify existing PDFs. You can do things like add pages, delete pages, extract pages, rotate pages, resize pages, add watermarks, modify PDF encryption, and more.
Pros
Can manage PDF pages:

Insert blank pages
Delete pages
Copy, cut, and paste pages
Extract pages
Replace pages
Rotate pages
Reorder pages
Resize pages

Can merge PDF files
Can insert text, image, date-time stamp, PDF, and custom shape watermarks
Can add, remove, or modify PDF security (i.e. owner and user password encryption)
Can delete, rotate, and insert blank pages of multiple PDFs at a time (i.e. batch processing)
Can markup existing text with highlight, underline, strike-out, squiggly underline, and adding a link
Can insert annotations in the form of sticky note, comment, help, insert, key, new paragraph, and paragraph
Can search for text inside PDFs
Cons
Extremely buggy
Is not really a PDF 'editor' but rather is a PDF 'modifier' due to the fact that it doesn't have features that allow you to edit the content of a PDF (e.g. you cannot delete existing text or images nor insert new text or images)
Has an ad in the program for the developer's other program, 3DPageFlip Standard (a built-in ad for a shareware program — really?)
Has limited batch processing capabilities (can only delete pages, rotate pages, and insert blank pages in batch)
Discussion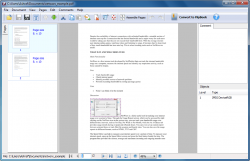 When I first came across 3DPageFlip PDF Editor, I thought to myself: "Cool, a PDF editor for only $49!" However, when I read over the features of 3DPageFlip PDF Editor and started using it, I realized 3DPageFlip PDF Editor is not really a PDF 'editor' — it is a PDF 'modifier'.
As you can see in the 'Pros' list above, 3DPageFlip PDF Editor has a bunch of features that allow you to modify your existing PDFs, such as page management, adding watermarks, and modifying security. However, the one critical editing feature you will not find in the 'Pros' list is the ability to edit (add, delete, modify) existing PDF content… because 3DPageFlip PDF Editor doesn't have it! In other words, you will not be able to edit the content of PDFs with 3DPageFlip PDF Editor, which effectively kills it as an 'editor'. Confused? Let me explain by example.
Let's say you have a PDF that has the sentence "I ate some fish lsat night". You notice the typo and want to fix it but you don't have the original Word document on hand, only the PDF. If you were to throw the PDF into say, Nitro PDF Pro* or Adobe Acrobat Pro*, then you could edit the sentence and change it from "I ate some fish lsat night" to "I hate some fish last night". With 3DPageFlip PDF Editor, however, you cannot — you are unable to edit existing content (text and images) in PDFs.
The only 'editing' features in 3DPageFlip PDF Editor are the ability to markup text by highlighting, underlining, striking-out, adding squiggly underline, and adding a link. That is as far as the editing capabilities of this program go. The remaining features are annotating, page management, watermarks, or security related. So much for a PDF editor, eh?
On top of that, this program is extremely buggy. I encountered numerous errors while using the program and was unable to perform numerous functionality that the program has. As per my tests, all the PDF page management features work fine. However, the program throws errors (and doesn't work) when trying to insert watermarks, marking up text, and using the batch processing feature. For example, when marking up text I keep getting the following error: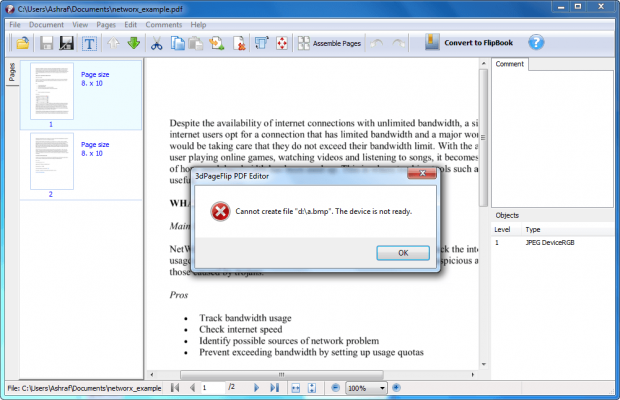 Numerous attempts with numerous different PDFs brought up the same errors when trying to insert watermarks, markup text, and batch processing. I was unable to use any of these features.
Another two areas where I noticed the program is buggy are:
When annotating, such as inserting a comment or note
When adding security to PDFs
When I first inserted an annotation and first added security to a PDF, the annotations and security applied just fine from within 3DPageFlip PDF Editor. However, when I went to open the PDF in my PDF viewer (Adobe Reader, in this case), the annotations were duds (they are unclickable images that contained no notes that were supposed to be there) and the PDF did not have any security. I went back and tried the annotations and security again and it worked the second time around. I can only speculate that the features are a hit-or-miss — they will apply properly sometimes while not other times.
*Note: For the purposes of illustrating an example, we are assuming "I ate some fish lsat night" is in machine readable text format that doesn't require OCR.
CONCLUSION AND DOWNLOAD LINK
Asking $49 for a PDF editor that does no actual editing is bad. Asking $49 for a buggy PDF editor that does no actual editing is worse. If I were you, I wouldn't bother with this program.
If you are looking for good quality PDF editing, you will need to shell out some hard cash. As far as I know, there is no reliable freeware PDF editor out there. If you are willing to spend money, you should check out the likes of Nitro PDF Pro (which is normally priced at US$119 but can be found for US$99), Expert PDF (roughly US$95 — Nitro PDF Pro is a better valuable for only US$5 more), and Adobe Acrobat Pro (US$199).
If you don't necessarily need PDF editing but rather PDF modifying (i.e. add, remove, delete pages, modify encryption, add watermarks, etc.), then you should check out PDFill PDF Tools, a freeware PDF modifier.
Price: $49
Version reviewed: 3.1.0
Supported OS: Windows XP/Vista/7
Download size: 4.0MB
VirusTotal malware scan results: 0/46
Is it portable? No
3DPageFlip PDF Editor homepage
Related Posts