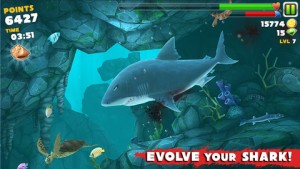 Even though I spend a good chunk of my day reviewing iPhone games and apps, at the end of my workday, I still love kicking back with a good time waster of a game. Ideally, my favorite "end of the day unwinder" games are a blend of brainless and skill. Here's how I know when I've found a good one: I sit down to review it, and then end up playing the game for way longer than I originally intended. Ladies and gents, I've found my new favorite time waster: Hungry Shark Evolution, developed by Future Games of London.
What is it and what does it do
Main Functionality
Hungry Shark Evolution is a mobile game. In the game, you guide a shark around the screen, eating scuba divers and fish and avoiding enemies like sea mines, jelly fish, and venom fish.
Pros
Future Games of London have made a ton of games in the Hungry Shark series, so they have a ton of experience to build on for this title
Optimised for iPhone 5
Five shark species to unlock and upgrade, which keeps things fresh
45 missions to complete and tons of hidden objects to unlock
Cons
Really big download file
Game can take up to a minute to load before you can play
Some users argue that the pop up ads are annoying: I personally didn't experience this, perhaps this complaint was related to earlier versions of the game?
Discussion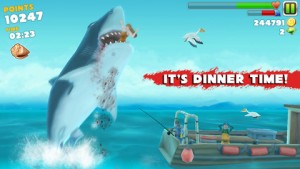 Future Games of London have a whole pile of Hungry Shark games, from the original to the exciting "after dark" title Hungry Shark Night. Hungry Shark Evolution definitely has the best graphics of the bunch.
In this action-packed title, you swim around the screen eating fish to grow bigger, and avoiding mines and stinging fish that can kill you. You start as a pup, but you can grow into a 10 ton Great White. As you eat and eat, you get in-game currency that can use to upgrade your speed or the size of your bite. Chain up combo bonuses to gain massive hi-scores, and keep your eyes open for hidden objects that can get you bonus coins.
One thing that's kind of a bummer is the long load time before each round of game play. It took me up to a minute to get the game started in some instances, which is just way too long! However, it is nice that you have the choice between tilt controls and touch controls. You also get to calibrate the controls before each round if you pick tilt controls, which ensures the best, most responsive control experience.
Conclusion and download link
Don't knock it til you try it: Hungry Shark Evolution is a silly time waster to be sure, but it's also really, really fun. With great graphics, tons of different critters to chomp down on, and plenty of features to unlock, Hungry Shark Evolution is a game that sucks you in. If you're anything like me, you'll sit down to play a quick game and fall into the "zen" mindset of shark-ness.
Price: Free
Version reviewed: 1.3.5
Requires iPhone/iPad/iPod Touch, iOS version 4.3 or later
Download size: 124 MB
Hungry Shark Evolution on Apple App Store
Related Posts