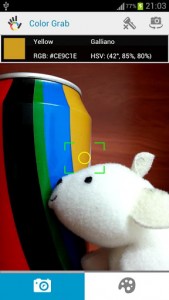 Color Grab is an application that will help you to identify any color that you are presented with by using your device's camera. This application can be especially useful if you want to paint something as it will help you figure out the exact color you need. it is also great if you want to recreate anything you've seen digitally by allowing you to find the precise shade and information.
What is it and what does it do
Main Functionality
This application is specifically designed for designers and those who are colorblind. This is because those are the type of people who can benefit most from a color-identification system. It is meant to provide instant results so you can get accurate information in a convenient time frame that will make sure the information is still relevant.
Pros
Color diagnosis and stabilizer
1300 colors in 16 categories
Auto focus and color adjustment
Use any camera and toggle flash on/off
Share colors or set them as wallpaper
Cons
Only as accurate as the device's camera
Quirky bugs
Discussion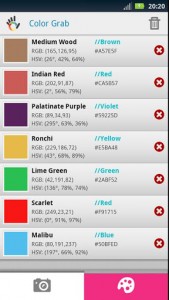 Being able to identify a color that you see in real life can be quite useful for a variety of different people. If you are a designer, then it is essential to be able to reproduce specific color regardless of whether or not you are doing physical or digital design. It is also great for those who suffer from colorblindness as it allows them to see the name of a specific color that someone else might be referring to. All to often people see a color that they particularly love, without a way of being able to properly save it. All you have to do is aim your device's camera at the color you wish to identify and the application will diagnose and stabilize the color. It will then match the shade to over 1300 possible colors, spanning 16 different color categories.
In addition to these basic features, you will have all sorts of specific adjustments you can make to the color that is displayed. Once the color is identified, you will be given the color's hue, name, RGB Hex, RGB Decimal, CMYK and HSV representation. All of this information can be used to replicate the color on nearly and source, digital or not. In addition to simple adjustments, you will also get auto focus, This helps guarantee that your camera is capturing the most accurate representation of the color possible. Once you have identified and adjusted the color as you see fit, you can then share the color through traditional social networks and even set the color as your wallpaper.
While the application functions rather nicely, there are a couple aspects that are unfortunate. For starters, the color will not be completely accurate for all devices. This is due to the fact that all devices have different cameras, which means that the accuracy of the color is actually dependent on the overall quality of your camera. In addition, there are random and quirky bugs that can occur, like a black screen instead of your camera screen. However, these bugs are not consistent so it isn't a huge downfall of the application.
Conclusion and download link
Overall, this application is incredibly functional and can actually be put to use by a large number of people. It is a fantastic application that can be used to address disabilities and other related problems. It can also have a practical use in the professional world for people who tend to work with colors frequently. Because of the wide amount of possible uses, this application could find its way onto quite a large number of devices.
Price: Free
Version reviewed: 2.1.0
Requires: Android 2.2 and up
Download size: 1mb
Related Posts