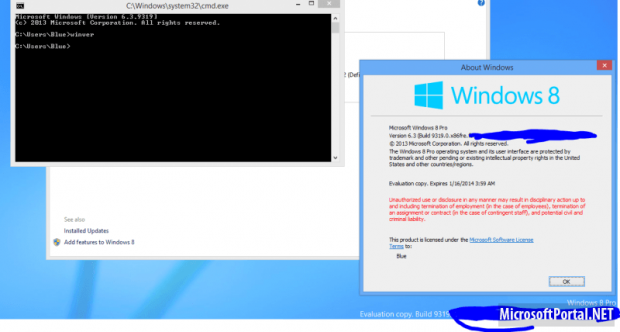 Last year the rumor mill spit out a rumor of Microsoft upending its regular 3-4 year Windows update cycle in favor of yearly releases (presumably in response to the changing technological landscapes thanks to mobile devices). Aside from that, however, little is known about Windows Blue. And this post isn't about to change that. We do, however, have a purported screenshot to show you of Windows Blue.
The image you see above is a screenshot posted on Russian website Microsoft Portal claiming to be of Microsoft's next Windows, Windows Blue. The screen does not reveal very much information about Windows Blue aside from the fact that Windows Blue appears to be version 6.3 (which makes sense, since Windows 8 is v6.2) and the build number is 9319.
Of course there is no way to verify the legitimacy of the screenshot, especially considering the fact that it clashes with a claim made by a "Microsoft official" of running Windows Blue build 9622 last December. But, still, it is better than nothing.
Adding more fuel to the fire, ZDNet is quoting "contacts" have said Microsoft just completed the first major milestone for Windows Blue; Windows Blue development is roughly half way finished and there will only be one more major milestone before release later this year.
For what it is worth, Microsoft has not said a word about Windows Blue. Let's see what happens.
[via ArsTechnica, ZDNet]
Related Posts