There are times that I use certain programs that only access certain picture files. So I'm always on the lookout for a good image converter that I can use quickly and easily. That is what brought me to Daanav Image Converter. This is a program that is simple to use but also extremely powerful. Let's put those claims to the test.
WHAT IS IT AND WHAT DOES IT DO
Main Functionality
Daanav Image Converter is a lightweight image converter that you can use to convert your local pictures into different file types. The program even supports batch conversion to make converting an entire folder full of pictures simple. The program is able to convert pictures into JPEG, BMP, PNG, GIF, EMF, WMF, TIFF and ICO.
Pros
Lightweight and easy to use
Converts pictures between the following formats: JPEG, BMP, PNG, GIF, EMF, WMF, TIFF and ICO
Supports batch conversion
Works with the new Windows 8
Displays the number of images found in the folder you select
Conversion time is quick
Good conversion quality
Does not replace your existing picture
Cons
Does not read sub folders in the selected folder during "file count"
Would have been better if the program was portable
Discussion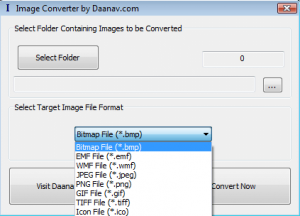 Daanav Image Converter may not be the best image converter on the market, but it's the best I have used. This is mostly because of how simple the user interface is. You do not have to be "good" with computers to use this program. It's easy to install and even easier to use.
After installing the program, you can launch it right away. When you do, a very simple box will open up. There will be a button that says, "open folder." Click on that and choose the folder with the pictures you want to convert, and it will display (on the right side) how many pictures are in that folder. Now simply choose the file format that you want to convert to. You can choose between the following file formats: JPEG, BMP, PNG, GIF, EMF, WMF, TIFF and ICO.
When you are all set up, click the convert button. It will then very quickly convert your pictures into the selected image format. The newly converted images will not replace your existing images, but will be stored in your temporary directory under a folder called Daanav Image Converter, which will open automatically after the conversion is finished. Now you can pick and choose the pictures you want to use or use them all.
Everything about the process was simple and easy. The conversion was fast, and the quality was great. It's just about everything you want in an image converter. The only thing that I would have liked added to the program would be the ability to make it portable. It should also be noted that, if you have sub folders in the folder you selected, the program will not read pictures in those sub folders.
CONCLUSION AND DOWNLOAD LINK
Overall, Daanav Image Converter is a great program for people who want to convert multiple images to different formats on the fly. It gives you tons of file formats to choose from, and the conversion is quick. Although I would have liked the program a bit more if it was portable, it is still a decent program to try out for anyone who is looking to convert images.
Price: Free
Version reviewed: 1.0
Supported OS: Windows XP/Vista/7/8
Download size: 4.35MB
VirusTotal malware scan results: 1/45
Is it portable? No
Daanav Image Converter homepage
Related Posts