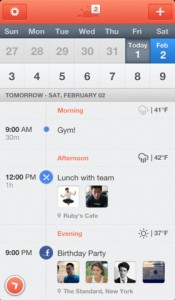 For as long as I've had my iPhone, I've been looking for a Google Calendar app. No, scratch that: I've been looking for a GREAT GCal app. Why are they so hard to find? All of the options out there seem to be either tragically overpriced or preposterously underpowered. But I think that finally, finally, I've found my ideal Google Calendar app. It's an app called Sunrise Calendar, it's beautifully designed, and best of all, it's free!
What is it and what does it do
Main Functionality
Sunrise Calendar is an iPhone app that allows users to access their Google Calendar information.
Pros
Timezone support, which is great if you travel a lot for work
See faces of people you are meeting with using LinkedIn
Sunrise even gives you local weather
Attractive, functionally designed app that blends the best of calendar view and detailed appointment view
Integrates Facebook dates for Events and birthdays
Cons
Only works with Google Calendar for now (which makes me happy, since its the only Calendar I use, but those who prefer another calendar service won't be happy with the app's limited nature)
You HAVE to sign in with your Facebook account, which Facebook haters will utterly despise. This app is still on Version 1.0, so perhaps this will change in the future updates?
Discussion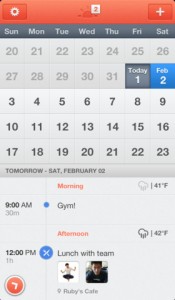 Most of the Google Calendar apps for iOS are either so ugly that they border on being unfunctional, or just stupidly overpriced. I really don't get why that is…but I do know that Sunrise Calendar fills a gap in the market that has been open for years.
There are some major annoyances, however, the major issue being that you can't sign in any other way than Facebook. Yes, the Facebook Events and Birthdays are nicely integrated perks, but not having any other way to sign in is just silly. Users deserve at least two sign-in options, and I'm baffled as to why either email sign in or a Google Account sign-in isn't supported. Hopefully this changes in the future.
I absolutely love the design here: the ability to see both a month-long calendar on the same screen as your appointment details is genius. The color scheme is highly readable, while still sporting a fresh, clean look. There's really nothing to fault in the performance of Sunrise Calendar: all the issues I have stem from how users are forced to access that app, and what services have been rolled in.
Conclusion and download link
I do hate the fact that you have to sign in with Facebook to use Sunrise Calendar. Not being given the option to sign in with your Google account just doesn't make sense! But if you can get past that annoyance, Sunrise Calendar is very beautifully designed app that syncs with your Google Calendar. Out of all the options out there, Sunrise Calendar really is the best way to access your GCal data in an attractive iOS package.
Price: Free
Version reviewed: 1.0
Requires iPhone/iPad/iPod Touch, iOS version 6.0 or later
Download size: 8.9 MB
Sunrise Calendar on Apple App Store
Related Posts