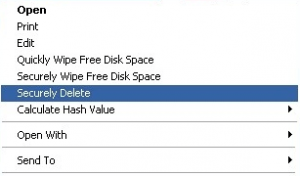 There are some things on your computer that, once you delete them, you want them to stay gone for good. Well, as I am sure most of you already know, deleting something from your recycle bin does not really mean it is gone. You have to wipe it completely from your disk. A good file deletion tool makes sure that it removes all traces of said file, and that is just what DeleteOnClick is supposed to do.
WHAT IS IT AND WHAT DOES IT DO
Main Functionality
DeleteOnClick is a file deletion tool that helps you delete files to make sure that they never come back and can't be recovered. In other words, it helps you securely delete files. To help achieve this objective, DeleteOnClick uses the US DOD 5220.22-M secure file deletion standard.
Pros
Deletes files from your computer so they can't be recovered
Integrates with your right-click menu
Extremely simple to use
Confirmation warning allows you to change your mind before deleting a file and also prevents accidental deletions
Progress of deletion is shown (helpful for big files)
Can securely wipe free space on your partition/drive
Cons
Because it is integrated with your right-click menu, you have to restart your computer for the installation to complete
There is a paid version, which means that the freeware version doesn't come with all of the features
If you go to uninstall the program, it requires another reboot
Cannot pick any deletion method other than US DOD 5220.22-M
Discussion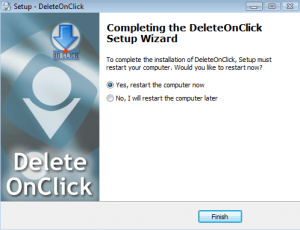 There isn't a lot to DeleteOnClick, but I like that about this program. It has a simple goal of deleting things from your computer, and it doesn't try to do a whole big show and production about it. After the program is installed, you can delete anything you want by simply right clicking on it and choosing to permanently delete it. The program is as simple as that to use.
Besides seeing the program in your right-click menu, you will hardly even know that the program is installed on your computer, which is good. On the negative side, there are really no options for settings. However, this should not be too much of a problem, because the program warns you before deleting anything. You shouldn't run into a problem where you are deleting things by accident and need to change your settings.
After a few tests, I can confirm that the program does a great job at deleting things from your computer. Even after trying to recover deleted information with a deleted file restore, I was not able to get the files back. So be sure you use this program with care. Once you delete something, it is gone.
According to the website, the program  uses the US DOD 5220.22-M secure file deletion standard. There are more secure deletion standards out there (e.g. Gutmann) but US DOD 5220.22-M is considered to be a secure deletion standard that properly balances secure deletion with number of time it takes to delete.
When you go to the site to download, keep in mind that there is a freeware version and a paid one. The paid version, of course, comes with extra features. Most notably, it comes with more software. When you visit the download link below, look for the freeware link on the right-hand side, otherwise you will download a trial version.
CONCLUSION AND DOWNLOAD LINK
DeleteOnClick is not my favorite secure deletion tool, but it is definitely one of the easiest I have used. If you are in the market for a program that allows you to securely delete your files and wipe free space, DeleteOnClick is a viable option.
Price: Free (Paid version available)
Version reviewed: 2.2.32.109
Supported OS: Windows 2000/XP/Vista/7
Download size: 2.91MB
VirusTotal malware scan results: 0/46
Is it portable? No
DeleteOnClick homepage (Be sure to click the link on the right-hand side that says 'Freeware Version')
Related Posts