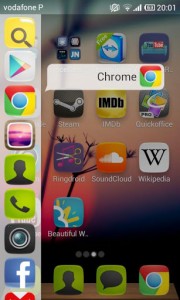 Glovebox is an application that aims to alter the stock multitasking functionality by displaying it as a side bar, similar to Ubuntu. This application can be great for those who are currently underwhelmed by Google's multi-tasking implementation. This application will also be great for those who prefer an icon view of their application instead of a preview view.
What is it and what does it do
Main Functionality
This application is specifically designed to make multi-tasking and application launching easier to access. It unobtrusively hides your applications in a side-menu that will disappear when you don't want it to show, making launching applications easy and convenient.
Pros
Customizable sidebar
Change application order
Link to applications or shortcuts
Cons
Buggy
Free version cannot display widgets
Discussion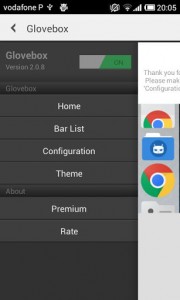 Multi-tasking is an important aspect when it comes to mobile devices. This is because a lot of people use their devices in order to keep up with his or her required productivity. Glovebox is an incredibly simple application that employs a very simple concept. All it does is add a sidebar that can be used to launch applications and shortcuts while having the potential to view widgets. This sidebar is completely customizable and will be hidden when not in use. In order to have the bar appear, you simply slide your finger along the left side of your screen. This will work no matter what you are doing with your phone, even while you are in the camera application.
While the application is extremely simple, there are a couple unfortunate points. The biggest unfortunate aspect is that the device has difficulty performing on lower-end phones. However, it runs extremely fast on all new devices and will do so consistently. In addition, the application won't allow you to add widgets to the side bar unless you upgrade to the rather expensive premium version. The price isn't ridiculous, it is just way too high for such a simple application.
Conclusion and download link
While there may not seem like there is a lot to this application, don't be fooled. The application is incredibly simple but it provides a fantastic service and functions almost flawlessly. Having your applications so close to you no matter where you are can be really great while you are trying to get a lot of work done. There is almost no configuring required and will be easy to pick up for anyone who is familiar with touch gestures on Android devices. Overall, this application is fantastic and if you don't mind paying a couple dollars for a simple feature, then you won't be disappointed.
Price: Free, $3.83 (Premium)
Version reviewed: 2.0.9
Requires: Android 1.6 and up
Download size: 2mb
Related Posts