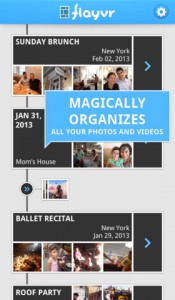 It's fair to say that what Apple does best isn't necessarily innovation, but renovation. There were tons of mp3 players on the market before the iPod arrived and blew the competition out of the water, and the same is true for other Apple products like the iPad and the iPhone. Apple basically sees what everyone else is doing, and then does it a thousand times better than the floundering competition.
There's one exception to this rule: Apple's native iPhone apps. These native apps are rarely updated, and it seems like Apple is content to let third party app developers utterly wipe the floor with their native offerings. Whether it's "Notes," "Maps," or "Calendar," there are tons of third party apps out there that are more useful than the native apps. One such app is flayvr, an app that blows both "Videos" and iPhone's Camera Roll out of the water.
What is it and what does it do
Main Functionality
While people who use their Camera Roll to search through their photos have to scroll in reverse chronological order to find that snapshot they want to share, flayvr is far easier to navigate. What flayvr does is simple: this app automatically gathers up all your photos and videos and then organizes them into interactive collections.
Pros
Gorgeous, soothing interface
Photos and videos that aren't organized automatically into an event album are grouped by date
Share a complete event album with a single click: privately or on any social networ
Flayvr takes your privacy seriously!
Organizes your entire Camera Roll in seconds
Editing albums is quick and painless
Cons
There is some work to be done manually sorting photos into albums by the users in some cases, particularly if you don't make use of the "Calendar" app, which is one source for flayvr to pull info from
Discussion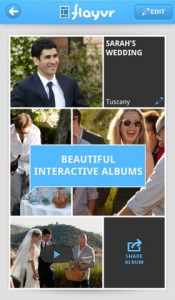 Arguably the best feature in flayvr is the way that you get to rediscover all those photos and videos you forgot about, thanks to the unorganized setup in Apple's native apps. I found a ton of great memories in photos that I just kept overlooking when I would scroll through my Camera Roll.
I love that users can share a complete event album with a single click, and that you can share to a whole social network or just to a few close friends. I also love that the albums generated by flayvr seamlessly blend photos and videos together to create gorgeous albums.
And of course, it is always nice to see a photo app that takes the privacy of their user base very seriously. As stated on their App Store page, "flayvr does not make any copies of your photos and videos and only uploads albums which you have specifically chosen to share."
The ease of setting up albums in flayvr is wonderful. That leaves users with more time to actually, you know, enjoy looking at their albums and photographs. And with an app that is this attractive and simple to browse, looking through my photos on my iPhone actually feels like fun again. Photography should be beautiful, and so should the apps we use to look at our photos.
Conclusion and download link
Sorry, Apple, but it's 2013…it shouldn't take me more than 60 seconds to find a picture on my iPhone, and the organization powers of your "Photos" app leaves a lot to be desired. From now on, I'm skipping my Camera Roll and going right to flavyr when I want to find a photo to share with a friend. The interface and organization are vastly superior to working in one of Apple's native apps.
Price: Free
Version reviewed: 1.1
Requires iPhone/iPad/iPod touch, iOS Version 5.0 or later
Download size: 10.6 MB
Related Posts