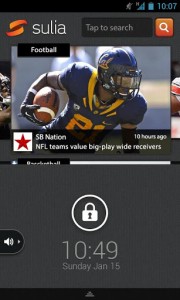 Sulia is application designed to give you relevant social content right on your lock screen, making the content front and center and easily accessible. This application is great for those who like keeping up with various content sources and need a fast and convenient way to access the information. It is also great for those who are constantly on the go and want simple content delivered without having to dive in to their phone's operating system.
What is it and what does it do
Main Functionality
The application's main functionality and overall goal is to simply deliver social content. It is unique in that it behaves as a lock screen replacement, giving you access to other functions in addition to all of the content expected without having to unlock your phone and stumble through menus.
Pros
Have access to social content right on your lock screen
Access camera, messages, dial pad, and recent applications from lock screen
Pull social content from all popular services
Instant search from lock screen
Control ringer volume from lock screen
Cons
Discussion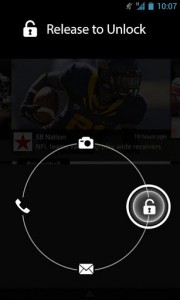 Lock screen widgets are becoming more and more popular since Google released Android 4.2. While the latest version of Android supports lock screen widgets naively, they aren't exactly a new concept. They have essentially been around since the beginning of the operating system. However, they are without a doubt becoming more mainstream and more finely developed since being officially endorsed by Google. Sulia is attempting to capitalize on the new excitement towards lock screens by redesigning the entire process. Ironically, Sulia does not use Google's implementation, but rather it simply replaces the entire lock screen with one of their own. At first glance, the implementation might seem a bit cluttered, but after a little tinkering, you will understand the usefulness.
Sulia's primary function is to provide relevant social content on your lock screen. However, it is in fact a home screen replacement, so you have access to quite a bit more than that. For starters, you get one-click access to your camera, messages, dial pad, and recent applications, making simple and daily tasks much easier. Your content can be then pulled from all of the popular social services like Facebook, Instagram, and Twitter. This will make you positive that your received content is relevant to your life. A surprising addition is a search bar directly on your lock screen, allowing you to search for anything quickly and effortlessly. You will also be able to control the ringer settings, making quick adjustments only a click away.
While the application functions pretty smoothly, there are some unfortunate aspects. The primary one is that the application is young. This means it hasn't has the proper chance to iron out smoothness-related bugs yet. As a result, you might experience some lag or inconstancy throughout your experience. Additionally, there is no way to filter your results effectively. As a result, you get a lot of information that you aren't as interested in because it could potentially be from a person you don't know that well.
Conclusion and download link
Generally speaking, this application takes a unique approach to widget-based lock screens. As a result, it could potentially be an application that could gain some popularity when people start getting more used to it. While there are a couple imperfections, they are nothing too ridiculous and could very easily be fixed with future updates. This application has a lot of room to grow and absolutely looks promising.
Price: Free
Version reviewed: 1.1
Requires: Android 2.2 and up
Download size: 1mb
Related Posts