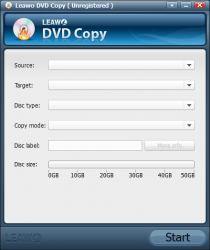 DVDs break, so you want to be able to back them up or make multiple copies. Or you want to view your DVD on your computer without having to always put the DVD in. Or you want to view your DVD on your mobile device which doesn't have a DVD drive. Whatever the reason may be, Leawo DVD Copy claims to be a program that solves your DVD copying/backing up needs. Let's see if it is worth your time.
WHAT IS IT AND WHAT DOES IT DO
Main Functionality
Leawo DVD Copy allows you to, quite literally, copy DVDs. You can copy DVDs from disc, DVD folder, or ISO and output to DVD disc, DVD folder, or ISO.
Pros
Supports DVD discs, folders, and ISOs as input
Allows users to output DVDs to discs, folders, and ISOs (aka losslessly copying DVDs)
Bypasses DRM protection
Supports DVD-5 and DVD-9 DVDs
Can copy whole DVDs, only the main movie (aka without the trailers/ads), or specific chapters/titles as defined by you
Is able to shut down computer automatically after copying has been completed  you must manually enable this via 'Setting')
Very easy to use
Cons
Is very slow
Developer lists "CSS copy protection" as the only type of DRM that can be bypassed. While the developer does not explicitly state this, my guess is Leawo DVD Copy cannot bypass more advanced/newer DRM protection. For what it is worth, the program was able to copy my DRM-protected DVD (my DVD has CSS DRM).
Is unable to convert DVDs to other formats
While the program doesn't bill itself as a Blu-ray copier, it would have been nice to be able to copy Blu-rays in addition to DVDs
No offline Help
Discussion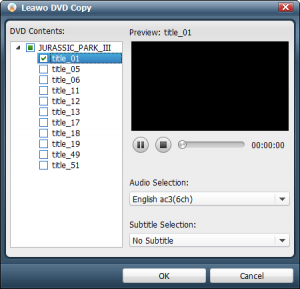 I am a huge fan of ripping/copying/backing up DVDs to lossless DVD formats (i.e. DVD folder or ISO) simply because doing so allows you a lot more flexibility than ripping/copying/backing up to a different video format. For example, once you rip/copy/backup a DVD and store it in, say, DVD folder, you can then throw that DVD folder into a freeware video converter and convert it to a different video format that you can view on your mobile devices. At the same time, you still have that DVD folder so you can easily reburn the DVD to an actual disc — if desired — without any loss of quality. A win-win situation.
So that means Leawo DVD Copy is a win-win program, right? Wrong.
Leawo DVD Copy does what it claims to do, yes; it successfully copys/rips/backs up DVDs to DVD discs, DVD folders, or ISOs. However, there are two major issues with it: it is slow and it cannot bypass all DRM protection.
It took Leawo DVD Copy roughly 55 minutes to copy my Jurassic Park III DVD to DVD folder (and it took a similar time for DVD -> ISO). The movie itself is 94 minutes long (I told Leawo DVD Copy to only copy the main 94 mins movie and ignore the trailers/ads) which means Leawo DVD Copy copied my DVD at a rate of less than 2-minutes-of-movie per 1 minute. That. Is. Extremely. Slow.
The reason Leawo DVD Copy is slow is actually pretty simple — it doesn't use all the computer resources it can. You see I have an i5 processor in my laptop, which means I have four CPU cores (two physical, two virtual). Despite having all that CPU power at its disposal (I was not using my computer for another else while Leawo DVD Copy was running), Leawo DVD Copy only used 25-35% of my CPU. Essentially, it only used roughly one core. GPU acceleration? I don't know for sure but I doubt it.
I know what some of you must be thinking: "Ashraf, it only uses about 1/4 of computing power, that is a good thing — it allows us to multitask, dummy!" Not being able to make use of multiple cores and/or GPU acceleration is actually not a good thing. What is a good thing is when a program is able to make use of multiple cores and GPU acceleration but gives users the option to limit usage to only one CPU core when the user wants to multitask. In other words, having the option to control how much computer resources are used is good; not being able to make full use of computer resources at all is just poor programming and makes a program slow compared to rivals.
The other issue I have with Leawo DVD Copy is DRM protection.
The developer lists on Leawo DVD Copy's homepage that the program can bypass CSS copy protection. The developer does not list any other DRM protection that can be bypassed by this program, which leads me to believe Leawo DVD Copy can only bypass CSS copy protection. In other words, it cannot bypass the more advanced and newer types of DRM protection. Unfortunately I am not much of a DVD person and don't own any of the newer DVDs with a newer form of DRM protection; the DVD I tested Leawo DVD Copy with is protected by CSS and Leawo DVD Copy bypassed it just fine. However, if I were a betting man, I'd venture to say CSS is the only type of DRM protection Leawo DVD Copy can bypass because if it could bypass other DRM protection, the developer would advertise the feature.
CONCLUSION AND DOWNLOAD LINK
I like the ability to rip/copy/backup DVDs to a lossless DVD folder or ISO. I just don't like Leawo DVD Copy. Not only is it slow, but it isn't able to bypass all DRM protection. Plus it costs $29.95. For only $10 more (aka $39.95) WinX DVD Ripper Platinum allows you to rip/copy/backup DVD to lossless formats (e.g. ISO), rip to other video formats, is very fast, and has the ability to bypass the latest DRM protection like Disney X-project.
With that being said, my recommendation is along the same lines. If you are willing and able to spend money on a DVD ripper, grab WinX DVD Ripper Platinum. If you prefer freeware solutions, there is actually a freeware version of WinX DVD Ripper but it doesn't have all the features of WinX DVD Ripper Platinum (notably, the freeware version cannot do DVD -> ISO and doesn't support all the latest DRM protection). If you don't want to use freeware WinX DVD Ripper, there is DVDFab HD Decrypter or DVDSmith, both which will rip DVDs (both rip to DVD folder but not ISO), bypass DRM protection, and are free; however, either of these two programs convert DVDs to other video formats so you will need a freeware video converter like Video to Video Converter to handle the conversions after DVDs have been ripped.
Price: $29.95

Version reviewed: 2.1.0.0
Supported OS: Windows XP/Vista/Win7/Win8
Download size: 25MB
VirusTotal malware scan results: 0/45
Is it portable? No
Related Posts