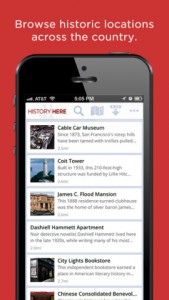 Have you guys read Warren Ellis' latest novel "Gun Machine"? It's a wonderful little crime novel that takes place in Manhattan. One of the underlying concepts of the story is the idea that modern Manhattan has completely covered up all traces of its past, from the Lenape tribe of Native Americans to the long-since-gone Dutch settlers that gave the city's streets some of their most iconic names. It's a book that's all about the hidden history that's all around us, and how that history bleeds through even when we don't know about our own past.
That's a roundabout way of explaining why I'm so interested in HISTORY Here, an iPhone app that shows historic points of interest based on your current geographic location. Even though our own Brendan did a great write-up about the HISTORY Here Android app several months back, we've yet to talk about History Here's performance on iOS. And given that they just released a new version of the app yesterday with improved design, new features, and a refined in-app search function, it only seems fair that we take an iOS-centric peek at this clever history app.
What is it and what does it do
Main Functionality
HISTORY Here is an interactive guide to thousands of historic locations across the United States, brought to you by the HISTORY CHANNEL Discover the history hidden all around you, including amazing architecture, museums, battlefields, monuments, famous homes and much more!
Pros
Attractive interface
Allows you to submit your suggestions for historical locations
Share the locations you find with friends via Facebook, Twitter and email
Search for nearby sites of interest, or enter a location anywhere in the country
Cons
Does not support international historic sites of interest: you can only look for info by US city or ZIP code search
Not all historic sites have photos included with their info
There is no way to sort your results based on what type of historical sites you are looking for (ie music history, African American history, Civil War battlefields, etc.)
Discussion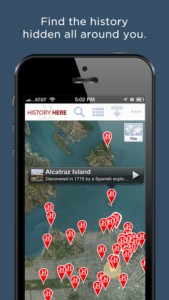 I don't live in the biggest city in the world, so I was pleasantly surprised to see how many red location flags popped up in my area when I opened the app. I know that the developers are still actively encouraging people to send in new historic sites, but there are already a huge number of great sites included here.
In fact, there are arguably too many sites! Without a way of filtering search results by type of historic site in a given geographic area, the results in metropolitan areas can be overwhelming. I wish you could search for specific types of historic sites, and perhaps that feature will be added in the future.
I also wish that the historic sites would have more detailed pictures included with them to give you a better sense of the area. But what I wish for the most is global support for the app. For a history app, HISTORY Here is waaaay too US-centric.
It's not all bad news, however. The current look is far nicer than the old look, and the improved search is to be commended. HISTORY Here hasn't reached its full potential yet, but with global support, it could be a truly amazing travel and education app.
Conclusion and download link
Whether you're a history buff, treasure seeker, parent, or educator, there's a lot to like about this fun, historical geography app….even if it still has a long way to go.
Price: Free
Version reviewed: 2.0
Requires iPhone/iPad/iPod Touch, iOS version 5.1 or later
Download size: 3.3 MB
HISTORY Here on Apple App Store
Related Posts