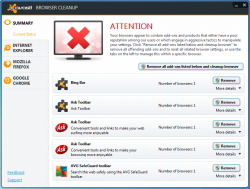 Remember that person who had 12 toolbars installed on their computer? Yeah, it happens. Even the best of us sometimes accidentally installed toolbars or other unwanted/dangerous addons in our browsers. To help remove these toolbars and undesirable addons, avast — the makers of dotTech favorite avast Free Antivirus — have released avast Browser Cleanup. Let's see if it is worth your time.
WHAT IS IT AND WHAT DOES IT DO
Main Functionality
avast Browser Cleanup scans your browser for undesirable addons, such as toolbars and other annoying, dangerous, or unwanted addons. Once found, it allows you to remove them with a click of a button.
Pros
Finds and allows you to easily remove toolbars and other undesirable or dangerous addons
Aside from toolbars/undesirable addons, displays a list of all addons you have in your browser, allowing you to easily disable (or enable) any of them
Has the ability to reset the homepage and search engine for your browser to the default that it was prior to being changed
Supports Internet Explorer, Firefox, and Chrome
Is perfect for novice users because it labels toolbars and other undesirable addons as "unclean" so novice users don't need to make the decision of what addons they should remove and what they shouldn't
Is portable
Cons
When removing addons/toolbars, removes from your browser but may not necessarily uninstall the addon/toolbar from your computer (e.g. Bing Bar, AVG SafeSearch, etc.)
The feature to reset homepage and search engine properly resets to default search engine for each browser but does not properly reset homepage

For Internet Explorer sets homepage to http://bing.com, for Firefox sets homepage to http://google.com/firefox and for Chrome sets homepage to http://google.com. While these homepages aren't necessarily undesirable or bad, they are not the default homepages for each of these browsers.

You are allowed to remove addons avast Browser Cleanup deems as "unclean" (e.g. toolbars). Other addons, addons you decide on your own that you don't want, you can only disable.
Does not support Opera and other less popular browsers
Discussion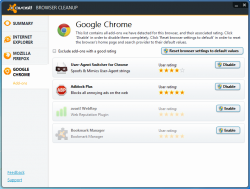 When you first run avast Browser Cleanup, it scans your browser(s). When scanning is finished, your are shown a list of addons (typically toolbars) avast Browser Cleanup considers to be "unclean". You are then given the option of either removing all those addons with one click or selectively removing the addons.
Aside from that, you can navigate to a listing of all the addons you have installed for Internet Explorer, Firefox, and/or Chrome. From there you can selectively disable (but not remove) any addons you don't want. By default the addon listings for each browser will only show addons that have a three star rating or longer but you can uncheck the box for "Exclude add-ons with a good rating" to view a list of all installed addons. From there you can also press "Reset browser settings to default values", which will reset the respective browser's homepage and search engine to default.
Take note the difference between remove and disable. Remove = delete from browser while disable = turned off but not deleted. You remove "unclean" addons but can only disable all other addons.
Now you must be wondering how does avast Browser Cleanup determines the rating of addons. The rating is based on two factors: avast's own research and user ratings.
Avast has a handful of criteria which help it determine if an addon is "unclean" or not:
Tracking data is being sent to some backend servers.
Annoying ads are displayed, search results are manipulated.
The Browsers homepage is changed.
Multiple toolbars get 'normal' and require a lot of space inside the browser.
Users mostly don't know how to get rid of the toolbars.
Some of these toolbars prevent the user from uninstalling them.
If an addon is determined to be any of the above, it is marked as "unclean" and you are told to remove it. In other words, avast has built a database of addons it determines to be unclean.
The second factor is crowd-sourced data — user ratings. It isn't entirely clear how users are submitting ratings of addons but it is clear that the ratings reflect how other users feel about each respective addon. For example, an addon with 2/5 stars is an addon that is disliked by users while an addon with 4/5 stars is liked.
Of course then the question arises: how accurate is the database and crowd-sourced data? Does it accurately identify toolbars and other undesirable addons? As per my tests, yes it does… for the most part.
I don't have any toolbars or undesirable addons on my computer. I use a minimal amount of addons and all of them are what I considered to be good. However, to test the functionality of avast Browser Cleanup, I went and installed three toolbars that are very popular bundled crapware: Bing Bar, Ask Toolbar, and AVG SafeGuard Toolbar. Between these three toolbars, each browser (IE, Firefox, and Chrome) had an undesirable toolbar installed in it.
Did avast Browser Cleanup properly identify and remove Bing Bar, Ask Toolbar, and AVG Secure Search Security Toolbar? Yep, with one caveat: Bing Bar Helper — a BHQ in Internet Explorer but the the toolbar itself — was not removed. Does this mean avast Browser Cleanup finds and removes every single toolbar in existence today? Probably not seeing as this is a new program and it takes time for the database and crowd-sourced data to build. However, this test does prove that avast Browser Cleanup is off to a good start.
On a similar note, you may notice that less popular addons don't have an accurate rating. For example, avast Browser Cleanup gives 3/5 stars to Keyscrambler. Keyscrambler is an addon which, in my opinion, desire 5/5 stars not 3/5. These inaccuracies will (should) iron themselves out as avast Browser Cleanup gets more popular and more and more people provide feedback about addons.
CONCLUSION AND DOWNLOAD LINK
Overall, avast Browser Cleanup does what it claims to do. The program is in its infancy so there is room for improvement, particular in regards to addon ratings. However, it is a worthwhile program to have in your stash when the time comes to remove an annoying toolbar or other undesirable addon. The fact that it is portable makes the deal even sweeter.
If you don't like any of the various toolbar removers dotTech has already reviewed, like Toolbar Cleaner, SlimComputer, and AdwCleaner, then I recommend giving avast Browser Cleaner a try.
Price: Free

Version reviewed: 8.0.1481.5

Supported OS: Windows XP/Vista/Win7/Win8

Download size: 2.5MB
VirusTotal malware scan results: 0/46
Is it portable? Yes
avast Browser Cleanup download [homepage]
Related Posts