In the past I have written on what, in my opinion, is one of the best free video capture/screen recording tools available on the market right now: BB FlashBack Express. Since I discovered BB FlashBack Express I have been using it for all my screen capture/video creation needs. However what if you are on a computer where you are unable to download and install BB FlashBack Express (or any other screen capture software) and/or you prefer a screen recording solution which does not involve downloading and installing software; what do you do then? How about use an online-based screen recording tool!
All of the following mentioned tools use (and need) Java. Therefore, although some of them have only officially been tested on Mac and Windows, they are all platform and browser independent (i.e. they will all work in Windows, Linux, Mac OS X, and Firefox, Internet Explorer, Chrome, Opera, and Safari).
Also, feel free to make use of FormatFactory's video converting features if any of the following tools do not output your video in your desired format.
Update: It looks like since I posted about this two years ago, ScreenToaster and ScreenJelly have gone out of business. Screencast-o-Matic and Screenr are still around, however.
ScreenToaster
ScreenToaster is a free, easy-to-use online based screen recording. ScreenToaster allows you to record your whole screen, a user-defined rectangle area, add audio to your video, embed your web camera in your video, and add subtitles. Furthermore after you create your video, you can upload onto ScreenToaster.com, YouTube.com, or save the video as MOV or SWF.
Here is a demo video on ScreenToaster (by the developer) showing you how it works:
NOTE: Since the developer made the video, ScreenToaster has replaced the ability to export as AVI with the ability to export as MOV.
Extra note on ScreenToaster:
In order to use ScreenToaster you must sign up an account with them (registration is free) but the registration is nothing more than a username, password, and e-mail.
While ScreenToaster's FAQ states…
In theory, you don't have any limitation of duration. Uploads are limited to 20 megabytes for optimized performances thought.

…the terms of use states:

While users are granted unlimited storage space (unless otherwise notified by email), for bandwidth cost-control each video is limited to a 150 megabyte file size and a duration of 20 minutes.

So I am not particularly clear on the video length limitations of ScreenToaster. All I can say is don't plan on creating very long videos.
Special thanks to Locutus for originally starting an article on ScreenToaster for dotTech. I took over after when I decided to make it a post on multiple services.
Screencast-o-Matic
Screencast-o-Matic is another free online screen capturing tool. Screencast-o-Matic allows you to record your whole screen or use developer-defined rectangle areas of capture and add audio to your videos. After creating your video you can upload it onto Screencast-o-Matic.com, YouTube.com, or download it locally as MP4, AVI, or FLV. One nice feature of Screencast-o-Matic is it shows your mouse clicks in the video; if you are exporting locally you even have the option to hide your mouse and/or mouse clicks.
Unlike ScreenToaster, you need not register with Screencast-o-Matic.com to create videos.
Here is a video by the developer on Screencast-o-Matic video recording services:
Extra note on Screencast-o-Matic:
To try to limit video file sizes, Screencast-o-Matic is known to sacrifice a little on video quality.
You are limited to 15 minutes length videos.
ScreenR
ScreenR is yet another free Java based screen recording tool. The thing, however, that makes ScreenR stand out from the previous two mentioned tools is ScreenR is specifically geared towards Twitter users; you tweet about your screencast with a click of a button after you are done creating it. You may also upload it to YouTube or download it as an MP4. You are allowed to capture your whole screen, use a developer-defined rectangle box, or create your own sized box and you can add audio.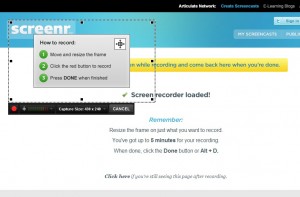 Extra note on ScreenR:
You need Twitter account to use ScreenR.
You are limited to 5 minute videos.
Screenjelly
Similar to ScreenR, Screenjelly focuses on easily sharing screencasts created with Screenjelly via social networks. After you create your video with Screenjelly (Screenjelly is also a free service), you can tweet it, share it with a friend via e-mail (the video is uploaded onto Screenjelly.com and a link it sent in the e-mail), post about it on Facebook, or just upload it onto Screenjelly.com. Like all the other tools you can add audio in your videos. However, unfortunately, you can only record your full screen; there is no way to select only a specific area to record.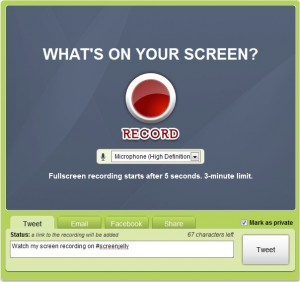 Extra note on Screenjelly:
You must have a Twitter, Facebook, or Screenjelly account to use Screenjelly.
You are limited to 3 minute videos.
For Twitter users ScreenR is probably the best one out of all the screen recording tools mentioned about but my personal favorite out of all of these is ScreenToaster because it creates good quality videos without limiting you too much in terms of video length.
You can access all four screen recording services from the following links:
Related Posts