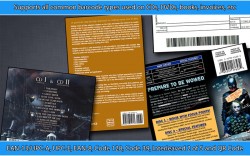 There are tons of barcode scanners on the App Store, but not many that will beam info from your iPhone to your Mac. If you have need of such an app, check out Kinoni Barcode Reader, a Mac app that works with a corresponding iOS app.
What is it and what does it do
Main Functionality
Use your iPhone or other smartphone as a professional barcode scanner for your Mac. Just scan a barcode with iPhone camera and the data is wirelessly copied to clipboard. You can then easily paste it to any Mac application. Kinoni Barcode Reader supports all common barcode types. This app would be a good replacement for USB barcode reader hardware.
Pros
No need to use USB barcode scanners that require a direct connection
Many suggested uses: finance, accounting, project management, wholesale, supply chain and retail tasks are among them
Both Mac and iPhone versions of the app are free
Supported formats include EAN-13/UPC-A, UPC-E, EAN-8, Code 128, Code 39, Interleaved 2 of 5 and QR Code
Cons
Mac version of the app did not load during testing. iPhone app did load, however.
Discussion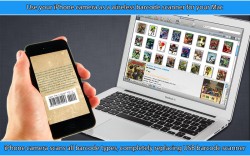 I'll be the first to admit, I didn't really get the appeal of this app from the outset. In my personal life, I rarely have the need to share my barcode scans to my Mac. But for many other people, Kinoni would be quite useful.
If you own your own bookshop or record store, this could be a great tool for doing inventory. Small business owners will also appreciate that this app can handle barcodes on invoices as well, which is great for organizing your invoices and other business expenses in preparation for tax season.
Unfortunately, while this app seems to have a lot of potential, I couldn't really get it to work properly. The iPhone component worked fine (or as fine as was possible, given the issues with the Mac app.) Unfortunately, the Mac version of Kinoni Barcode Reader simply wouldn't launch for me. Granted, I am running an older version of OS X. But that being said, I still exceeded the minimum system requirements for running this app on OS X. It just wouldn't launch, so perhaps this app is not ideal for people running an older version of OS X.
Conclusion and download link
It's hard to give this app a positive review, given the fact the Mac version didn't even load for me. At least it's free, so you guys can try it out for yourself and see if you have better luck. It seems there may be some bugs in the Mac version, but at least you've got nothing to risk by trying it out.
Price: Free
Version reviewed: 1.0
Requires: OS X 10.6.6 or later, 64-bit processor and iOS 4.2 or later
Download size: 1.5 MB (Mac), 1.3 MB (iOS)

Kinoni Barcode Reader on Mac App Store | Kinoni Barcode Reader on iOS App Store
Related Posts