Windows task management software
»
I love keeping my information and tasks organized, but that does not mean that I want to spend an arm and a leg trying to organize my personal and business information. So let's see if EssentialPIM is worth the download.
WHAT IS IT AND WHAT DOES IT DO
Main Functionality[...]
Read More

»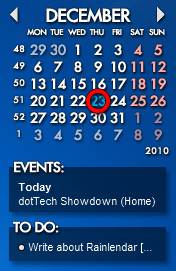 You have a bazillion things going on in your life. You think you can manage them all using just your hippocampus. In reality, you can't. That is why there is Rainlendar.
Rainlendar Overview
Rainlendar is a terrific multi-platform task management tool that allows users to easily and efficiently manage their [...]
Read More

»