In today's fast paced environment, efficiency is the key to success. For this reason several pieces of software have been created, but alas not all are created equal. My job here today is to highlight the best of these pieces of software and to illustrate why they are the best. So, without further ado, here is dotTech's pick of the best free to-do, reminder, and task management programs available for Windows.
This review is part of our Best Free Windows Software section. Check out more articles on the best free Windows programs from here.
Table of Contents
Best Free To-do, Reminder and Task Management Program
Program Name: EssentialPIM
Developer: Astonsoft
Download Size: 7.8MB
Version Reviewed: v5.55
Supported OS: Windows XP, Vista, Win7, Win8

Pros
Backup and restore function

Import and export several file formats
Password protection of database
Email management
Synchronization with mobile devices
Manage contacts
Fast search function
Recover mistakenly deleted items from Trash
Cons
No collaboration options

Would like to see easy, built-in ability to sync with mobile devices or mobile apps
Discussion
Essential PIM takes a very thorough approach to helping you manage your tasks and reminders and does so – much like Efficient Reminder – with an interface similar to that of Microsoft Outlook.
Users have a choice of what they want to be displayed in the main part of the Essential PIM window. Firstly you can choose to display all of the tasks needed to be completed on a particular day with the EPIM Today option. The following actions are available under this option:
New Appointment
New To Do
New Note
New Contact
New Password Entry
The new password entry is the only option above which isn't self-explanatory. This allows users to store their passwords and even has the handy feature of allowing users to generate powerful random passwords.
You can also choose to display a Calendar view of your tasks or to display a To do list. Calendar allows you to add tasks/reminders under a date of your choice and displays the data in a timetabled format. The to do list gives users the choice of adding and displaying the subject of the task, its start time, due time, its percentage completion, the task's priority as well as its duration and category and also allows users to add a reminder for the task. Notes can also be added which hold formatted text, tables and images. The notes are arranged in a "tree" format and the Add as Child button creates a sub-note of the currently selected note while Add as Sibling adds a 'to-do' item to an active tree. The facility is also offered by EssentialPIM for the addition and management of Contacts. Users can also manage their email accounts using the Mail option. Passwords offers users the same facility mentioned above under EPIM Today. Trash allows users to view deleted tasks as well as to restore any mistakenly deleted data.
EssentialPIM also provides the ability to manage the database which contains all of your stored reminders, notes etc. as well as to password protect these databases. This software is also capable of transferring data to and from programs offering similar functionality to itself. A few of the formats which are supported for import.export are .EML, .XML, .HTML, .RTF, .CSV, .TXT, .iCal, .vCard. Finding data is a breeze thanks to the ability of Essential PIM to search an entire database in mere seconds.
Synchronization can be carried out between EssentialPIM and an Android device as well as an iPad/iPhone device. This allows for portability of data. Speaking of portability, EssentialPIM is also available in a portable version. Fonts can also be changed through the options submenu under tools in the menu bar. A backup is made every 24 hours and the 3 last backups of your database are saved. Users can define a new backup location at any time. For efficiency, EssentialPIM allows for the definition of several shortcuts which can save a lot of time. Much like Efficient Reminder, EssentialPIM contains an advanced text editor for the editing of notes and several features one would expect to find in a highly rated text editor such as LibreOffice can be found within this editor.
Essential PIM comprehensively covers task management and reminders and leaves no stone unturned, covering everything from to do lists to managing emails.
Runner Up
Program Name: Efficient Reminder Free
Developer: Efficient Software
Download Size: 9.1MB
Version Reviewed: 3.52 Build 343
Supported OS: Windows 8/7/XP/Vista
Discussion
Efficient Reminder will undoubtedly assist users in effectively managing their tasks as it has several great features designed to make sure you won't forget any of your important activities and subsequent deadlines.
The interface is designed much like that of Microsoft Outlook in terms of appearance with a choice of displaying – by default – either a calendar, events, a search function or the application's recycle bin in the left pane and the main functions located in the middle section of the program window. The interface can be tweaked to your preference with 10 different interface styles to be selected from. Of course the fonts used in the creation of reminders can be changed and users are given several choices to do so.
Creating a new reminder or event as Efficient Reminder calls them is a breeze and users simply need to fill out predefined text fields and choose some options from check boxes in order to create the reminder. Events can either be a custom event, an all-day event or a recurring event. Depending on the priority of an event, these will be assigned a different colored label. In the events pane users can choose to display events based on one of the following:
All
Today
Next 7 days
Next 30 days
Not Overdue
Overdue
High Importance
You can choose to be reminded or not. If you opt for a reminder choices are provided in intervals of 5 minutes, ranging from 0 to 30 minutes. Users will be reminded with a sound as well as a pop-up reminders window. Recurring events can also be specified and the specific time of week that a particular event occurs at can be easily selected and you will be reminded either daily, weekly, monthly, yearly or simply regularly. The program also has powerful searching capabilities allowing for effortless location of events.
Built into this capable program is a powerful text editor, allowing users to add comments to their reminders as well as to format them in any way they please. Also of note is the ability to tweak the way weekends are displayed in the Calendar pane. Saturday and Sunday can be either bundled into one column or displayed separately. Additionally, there is the ever helpful recycle bin function which eliminates users having to worry about mistakenly deleting important information by mistake. Efficient reminder also has a built-in backup and restore function which would no doubt be of help in situations where the recycle bin is emptied. You are also given the option of adjusting the calendar work week as well as adjusting the first day of the week as well as setting the first week of the year.
Efficient Reminder contains less features than EssentialPIM such as synchronization with mobile devices which is why it was chosen as number 2. It however provides users with countless features to aid in the organization of their lives which prove to be quite effective. No wonder it's called Efficient Reminder.
Honorable Mention 1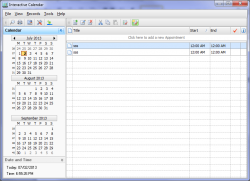 Program Name: Interactive Calendar
Developer: Csoftlab
Download Size: 11.4MB
Version Reviewed: 1.2
Supported OS: Windows 2000/XP/Vista/Windows 7/Windows 8
Discussion
Interactive Calendar is a simple and easy to use program which has the novel feature of displaying a Calendar directly on your desktop. The displayed calendar contains your tasks and reminders. Simply double click an entry on the calendar in order to display additional information.
When creating a new task/reminder, users can set the Subject, duration and add a description as well as specify if the task/reminder is a recurring one. Interactive Calendar comes equipped with a multi-featured text editor to be used for creating descriptions for new entries just as the previous 2 programs do. Creating a new task/reminder can be done from your desktop calendar by double-clicking on a date or from within the program's main window.
The user interface can be altered by choosing one of three default settings – either standard style, ribbon style or mixed style. The color scheme can also be altered to your preferences. There is also a wide variety of fonts within the program which can be selected in order to get that perfect look. The format of the calendar can also be altered to the user's preferences – the work week can be altered accordingly and the fields displayed within cells on the desktop calendar can be altered as well.
Users can backup and restore their entries as well as important or export data of the following formats; .CSV, .TXT, .IDB, .CDB and .XML.
Although, not containing as many features as EssentialPIM, such as password protecting of databases and synchronization with mobile devices, this can still manage the majority of your organization needs and has the added bonus of being able to display its calendar directly on your computer's desktop.
Honorable Mention 2
Program Name: Wunderlist
Developer: 6 Wunderkinder
Download Size: 15.3MB
Version Reviewed: 2.1.0.18
Supported OS: Windows 2003, Windows Vista, Windows Server 2008, Windows 7, Windows 8

Discussion
Wunderlist is a wonderfully simple to-do list program. It is simple yet beautiful and lets users define a background of their choice.
Simply add your own list or add an item to the default Week, Today or Inbox lists. The first two categories store all events taking place within a particular week or day respectively while Inbox stores tasks which are created in Today, Week or even directly in Inbox. After creating a list — which will hold a category of task of your choice you can add tasks to that list via the 'task' bar at the top of the screen and from there you can even set the due date and a reminder as well as if to 'star' the task. 'Starring' a task simply illustrates that an event is very important. Reminders pop up near to the bottom of the screen, a sound is played as well as an email. Yes with Wunderlist you now have absoluely no excuse for getting to buy groceries now. Double clicking on a task within a list allows you to add additional information to the task as wll as to alter due dates and reminder times. Users can also add subtasks to their main tasks in order to break up tasks into smaller chunks which we will probably all agree is usually the best thing to do.
Using Wunderlist requires the creation of account which some people may think is a bit of a hassle but it is actually quite a good thing. All of your tasks are backed up to the cloud via your account through this username. Wunderlist is also available for Mac, Android, Ios and as a web app. If you own multiple devices from these categories, signing into Wunderlist with your account on all of your devices allows for your tasks to be synced across all of them. Quite the convenient feature if you ask me. Wunderlist allows users the ability to easily share their lists with friends by clicking the torso shaped button with a plus sign on its left side. This can be done through connecting via Facebook or through an email address. Lists or individual items can also be just simply sent via email. The a-z button which pops up along with a share button and email button when the mouse is hovered over the bottom of the screen allows users to either sort lists alphabetically or to sort them according to their due date.
Quite simply put Wunderlist is simple but powerful and effectively takes a no frills approach to task management.
Honorable Mention 3
Program Name: Rainlendar
Developer: Kimmo Pekkola aka "Rainy"
Download Size: 14.18MB
Version Reviewed: 2.11.1
Requires: Windows XP SP3 or higher
Discussion
Rainlendar is a simple program with a non-intrusive interface geared towards making organizing your daily life as easy as possible.
By default Rainlendar starts in the system tray. A double left click on its icon displays a calendar and the current date is highlighted with a red circle and any events or tasks displayed. Right clicking on the icon allows for the creation of a new event or task. When a task/event is being created, users can store a summary of the item, a relevant location, indicate if it is private or not and even add a corresponding url. Of course the Start and end time and date can be specified and users can choose whether to show this information in the calendar or not. The priority of the task/event can also be set and a neat little feature is the ability to set varying degrees of completion – either not started, in progress, completed or cancelled. Alarms can also be set as reminders. Finally data about an event or a task's recurrence can also be specified as well as any exceptions to this recurrence.
Rainlendar also includes a manager from which users can search for items, add new ones, edit them and even move them around as well as organizing them according to their originality, the ones currently in progress, if they are upcoming and according to their start time.
Rainlendar does not have the advanced text editing capabilities of some of our other offerings and only allows for simply formatted text to be inserted into a description.
Rainlendar is ideal for making quick to do lists and is quite capable of effectively reminding you of any tasks or events you must complete.
Other Alternatives
Related Posts