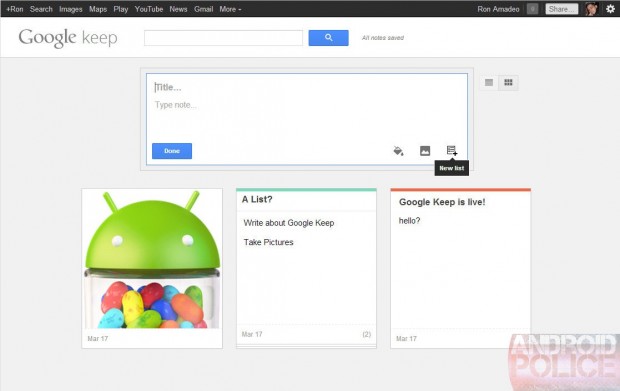 After one Google service is announced to be riding into the sunset this July, a new and unannounced note-taking service from the company seems to have prematurely gone live.
The app is called Google Keep, and is not unlike notebook-type offerings from other companies like OneNote or Evernote. It momentarily went live at https://drive.google.com/keep but now visiting the page will result in a 404 error. Fortunately for us, Android Police snapped a screenshot while it was up!
Besides taking notes, it looks like the service will also allow you to do things like create lists, color-code items and even add pictures. You'll also see on the upper-right of the app that there will be an option to choose between a list view and thumbnail view. Also, The Verge notes that Google Keep actually surfaced last year when the company posted a screenshot that contained a link labeled "save to Google Keep."
If anything, it looks to be a useful addition to Google Drive's growing functionality and in a way could serve as a sort of update to Google Tasks. And despite the fact that the service was only live temporarily, it's a pretty good sign that Google intends on launching Google Keep fairly soon. Stay tuned, an official announcement may be just around the corner!
What do you think of Google Keep? Would you use such a service? Let us know in the comments!
[via Android Police, The Verge]
Related Posts