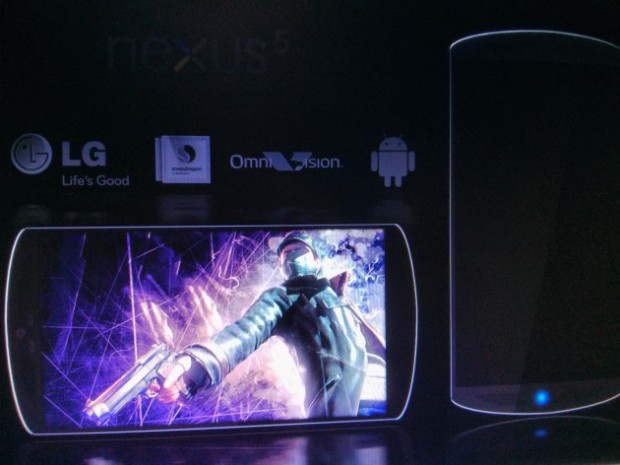 Disappointed by Samsung's Galaxy S4? Looking for a more pure Google experience perhaps? Well, if this anonymous source that sent in a scoop to Android and Me isn't messing with us, we might be looking at Google's next Nexus phone.
The source claims to work for Google and says that this is the LG Nexus 5, or codename "Megalodon." The device is reportedly a prototype, and boasts some pretty impressive specs:
5.2-inch OLED Display with 1920×1080 resolution
Qualcomm Snapdragon 800 @ 2.3 GHz
3GB LPDDR3 Ram
16/32/64GB of internal storage
16MP rear camera by OmniVision (4k video recording @30FPS, 1080p video recording @60FPS, Real Time HDR & HDR video recording, optical image stabilization, BSI 2.0)
2.1MP front camera (1080p video recording @30FPS)
3300 mAh Lithium Polymer battery
Front positioned stereo speakers
Qualcomm RF360 (LTE 150 Mbps & HSPA+)
Integrated DVB-T / ATSC-antenna
Gesture like controls (navigation, zoom, etc)
3GB LPDDR3 RAM? 4K video recording? 3300 mAh battery? This thing sounds too good too be true. And judging from what we can see the in the leaked image above, it has the looks to match this impressive spec sheet.
To make things even more intriguing, the source adds that Google is currently evaluating "several" prototypes from different manufacturers. The company is also looking at an October 2013 launch date, just in time for the holiday rush.
Is HTC one of the manufacturers making prototype devices? I hope so, those guys know how to make some solid phones — but more importantly, they sure need something like this right about now.
[via Android and Me, Ars Technica]
Related Posts