For the past couple of days I have been working on an article about a freeware program which allows you to assign hotkeys to literally any task (launch a program, file, folder, website, etc.). The publishing of that article has stalled because I am having minor difficulties getting it to work properly on Win7; I did (do) plan on testing it on my XP machine later today and finishing my article. However I just discovered Comfort Keys (Lite), a multifunction shareware utility, is being given away for free and figured I should write about it first because, frankly, I find Comfort Keys to be a hell lot better than the freeware software I was going to publish.
First to get a feel for Comfort Keys, read this brief list of the main features:
Launch the necessary programs and open web pages by pressing a single hotkey.
Insert user-defined preset texts (email templates, signatures, passwords, greetings, phone numbers, addresses, etc.) using hotkeys or the built-in template manager.
Type with an on-screen keyboard.
Use the clipboard manager to monitor Windows clipboard and paste back any entry at will.
Change the language and case of the typed text.
Control the sound volume in a quick and convenient manner.
Record key press sequences (macros) and play them back as many times as you need.
Block some keys or simulate the press of a specific key when another one is pressed.
So Comfort Keys is not only a software which allows you to assign hotkeys to literally any task, but it is a clipboard manager, text-snippet manager, has an on-screen keyboard, and a (hotkey) macro recorder? Wow! I don't say "wow" for many programs mind you.
Often times developers create featured filled software but then shoot themselves in the foot by making the software un-user friendly. This is not the case with Comfort Keys. Comfort Keys is extremely easy to use; it works right out of your system tray allowing you to easily float from feature to feature: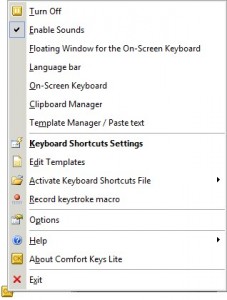 Initially you have to manually access each feature via the system tray icon but you can easily use the hotkeys feature ("Keyboard Shortcuts Settings") of Comfort Keys to create hotkeys for each of Comfort Keys' tools: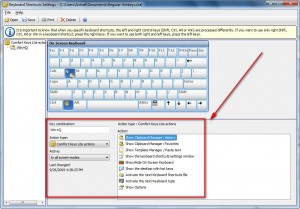 Of course the hotkeys feature is not just for creating hotkeys for Comfort Keys' tools. You can assign a hotkey to almost any action/task you can think of: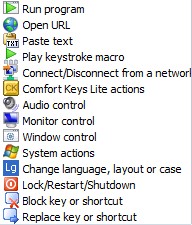 Each "action" is further broken down into "sub-actions" if applicable (i.e. for the "Change language, layout, or case" action you can select "Change all text to UPPER CASE", "Change all text to lower case", "Capitalize Each Word of the selected text", etc.). To make things even more interesting, for "Run program" and "Open URL" each hotkey can be set to launch multiple programs or URLs instead of just one program/URL per hotkey.
Whenever you want to assign a new hotkey, all you need to do is simply click on the text box for "Key combination" and press the hotkey on your keyboard. After you select your hotkey, select your action, set it up as you see fit, and hit "Save". Simple as that.
One thing to take note, however, is the "Paste text" action is different than if you use add a "template" to the "Template Manger". "Paste text" is an independent action set to one hotkey…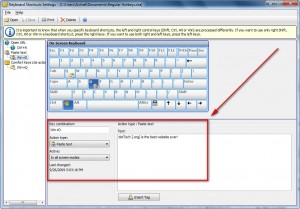 …while the "Template Manager" is, well, this: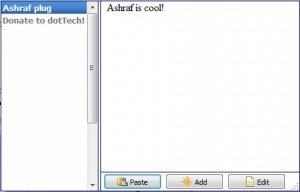 NOTE: Just double click on a "template" title (the list column) to insert the content.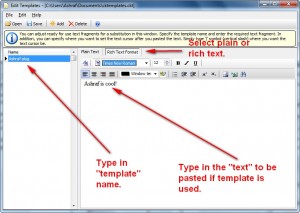 The main two differences between "Paste text" and the "Template Manager" is if you use "Paste text" you can only paste unformatted text but you can include special, and useful, tags…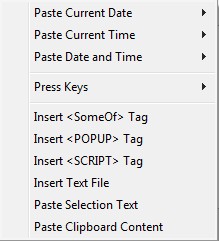 …while if you use the "Template Manager" you can insert formatted text and images (you must use the "Rich Text Format"). When calling the "Template Manager" make sure you have your cursor on an area where you can insert text/content otherwise the "Template Manager" will not open.
Another nice feature, as I already mentioned, is the "Clipboard Manager":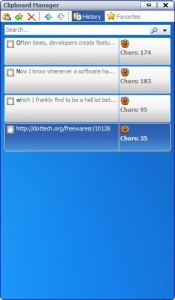 The "Clipboard Manager" remembers the last 100 entries (text, images, formatted/rich text, etc.) made to Windows clipboard.
Using the "Clipboard Manager" is also simple: just double click on the clipboard entry you want to paste back. However take note of one nicetie: there is the ability to "search" all clipboard entries.
There are definitely more features I have not discussed yet but I believe you get the point: Comfort Keys is awesome.
Now as you can see, the freebie is of Comfort Keys Lite not Comfort Keys Pro. I know whenever a software has the world "Lite" in it most people are turned off (including me). However, while I agree Comfort Keys Pro is better, Comfort Keys Lite is excellent. Here are the differences between Comfort Keys Lite and Comfort Keys Pro if you want to shell out $30 to purchase the Pro version (which you may want to consider doing considering how great of a program this is):
So now that I have you  convinced (I hope), let me tell you how to get Comfort Keys Lite:
Version Reviewed: 3.6

Supported OS: Windows 2000, XP, and Vista. Win7 is not officially supported but it works fine for me.
Visit the promotion page and click .
After you download it, install it. There is no need to do anything for registration because the installer does that for you automatically =). You will know for sure if Comfort Keys (Lite) is registered for you or not depending on if you get this popup message: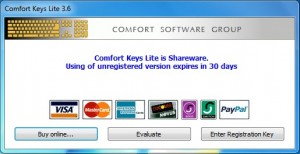 If you get that message, Comfort Keys is not registered. If you don't get it, you are good to go.
P.S. As far as I know, Comfort Keys Lite is eligable for free updates; however you have to manually check for updates (Right click on system tray icon -> "About Comfort Keys Lite" -> "Check for updates" or check the ComputBild.de promotion page).
Related Posts