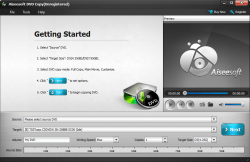 We have covered plenty of DVD ripper and/or copiers here on dotTech. If you have yet to find a DVD copy program that satisfies your need, then Aiseesoft DVD Copy wants to win your business. Let's see if it is worth your time and money.
WHAT IS IT AND WHAT DOES IT DO
Main Functionality
Aiseesoft DVD Copy allows you to copy your DVDs to ISO, DVD folder, or burn to DVD disc.
Pros
Supports DVD discs, DVD folders, and ISOs as input
Allows users to output DVDs as ISO, DVD folder, or burn to another DVD disc (the program does the burning for you, if you opt to burn to another DVD disc)
If burning to another DVD disc, you don't need two DVD drives — you can make use with just one
Allows users to pick if they want to copy whole DVD (including all ads and trailers), just the main movie, or pick and chose what video/audio parts to copy
Gives users the option to strip out DVD menu or to keep DVD menu and auto-skip past it
Can remove region locks
Supports DVD-5 and DVD-9
Can compress DVD-9 to DVD-5
DVDs can be previewed from within the program
Allows users to take snapshots of DVDs
Gives users the option to automatically close program, sleep computer, or shut down computer after processing
Works well (fast, good output quality, and low on resources)
Easy to use
Cons
Developer is unclear if DRM protection can be bypassed or not. As per my tests, at least some type of DVD protection can be bypassed — I was able to copy my CSS-protected DVD. However, it isn't known if other types of DRM protection can be bypassed also.
Takes an insanely long time to simply load a DVD into the program — 2-3 mins
Does not convert DVDs to other video formats

Note: I know this is a DVD 'copy' program and not a DVD 'ripper', so the purpose of the program isn't to convert to other video formats per se. However, because of the way "copy" and "ripper" are interchangeably used by many developers, I feel it is key to point out that this particular program does not convert DVDs to other video formats.

$39 is a high price for a program that doesn't convert DVDs to other formats. If the developer doesn't want to lower price or doesn't want to add in conversion to other formats, it should at least support Blu-ray copying if it costs $39.
Discussion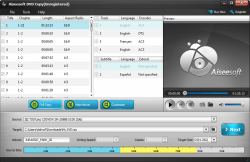 A few weeks ago I reviewed Leawo DVD Copy. As mentioned in my review on Leawo DVD Copy, I'm a big fan of programs that allow users to copy DVD discs and store them in loseless DVD format, i.e. DVD folder or ISO. Having the ability to store a DVD in loseless DVD format allows for not only disc-less viewing of movies at DVD quality but also loseless reburning to disc at later date, if desired. Plus, with the use of a freeware video converter, you can easily convert that DVD folder or ISO to another video format for use on another device, such as your smartphone or tablet. A win-win situation, if you ask me… assuming the DVD copy program in question is a quality program. Is Aiseesoft DVD Copy a quality program? For the most part, yes.
As per my tests, Aiseesoft DVD Copy does exactly what it claims to do — it will allow you to copy your DVD disc/DVD folder/ISO to ISO/DVD folder/burn to DVD disc. The best part is it works very well: great output quality with good speed (took roughly 25 mins to copy a 94 mins movie), all the while using relatively low computer resources (CPU usage never went above 10% when copying my DVD and RAM usage hovered around 150MB; I have an Intel i5 processor [2 physical cores, 2 virtual cores]). To top it off it has fairly good customization options, such as allowing you to pick what part of a DVD to copy and having the ability to strip away DVD menu and remove region locks. However, there is one big issue I have with Aiseesoft DVD Copy: the developer does not specify what forms of DRM protection can by bypassed, if any.
As I have chastised DVD copy/ripper programs in the past, not mentioning exactly what types of DRM protection can be bypassed by a program makes that program very risky to purchase. Why? Because different DVDs come with different DRM protection and if a DVD copier/ripper works with a particular DVD depends on if the program is able to bypass that particular form of DRM protection. Without knowing what types of DRM protection Aiseesoft DVD Copy can bypass, you are essentially gambling: it may or may not be able to copy your DVDs. It may copy some, it may copy all, or it may copy non. As per my tests, Aiseesoft DVD Copy does at least bypass some forms of DRM protection because it was able to copy my CSS-protected DVD; I just don't know exactly what forms of DRM protection are supported by Aiseesoft DVD Copy because the developer doesn't bother to tell us.
CONCLUSION AND DOWNLOAD LINK
Aiseesoft DVD Copy is a good DVD copier. In fact, it is one of the better DVD copiers I've had the pleasure of testing. However, I cannot recommend a program which may or may not work for you; until we know exactly what forms of DRM protection can be bypassed by Aiseesoft DVD Copy, you are essentially gambling with the $39 this program would cost you. You are more than welcome to give this program a shot if you want, but I won't be officially recommending it. Sadly, the lack of full disclosure kills an otherwise good program.
For those of you looking for alternative solutions for your DVD copying needs, DVDFab HD Decrypter and DVDSmith, both do DVD disc -> DVD folder (but not DVD disc -> ISO), bypass DRM protection, and are free. Combine one of those programs with a freeware video converter and freeware CD/DVD/Blu-ray burning program (which can also create an ISO out of DVD folder, in addition to burn that DVD folder to DVD disc), and you pretty much have the same functionality as Aiseesoft DVD Copy… without spending a dime.
Price: $39

Version reviewed: 5.0.10

Supported OS: Windows XP SP3/Vista/Win7

Download size: 17.1 MB

VirusTotal malware scan results: 0/45

Is it portable? No
Related Posts