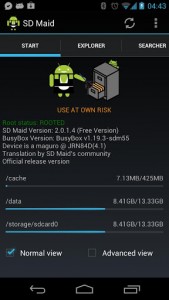 System cleaners have become a necessary evil on mobile devices. The more you use a device, the more junk keeps piling up. When you uninstall apps and delete files, they can often leave traces behind especially on internal storage or external SD card. SD Maid is designed to eliminate such rubbish in order to help optimize storage utilization. It also comes with a bunch of advanced system tools that will ultimately help you keep your Android in tip top shape.
What is it and what does it do
SD Maid is, first and foremost, a storage cleaner but it's also a system optimization tool. It includes an extensive list of system tools like a file manager, file searching tool, residual file cleaner, application control (to backup and restore apps), and more. It can be likened to tools like Titanium Backup, or Clean Master.
Before we proceed further, it's necessary to note that this next app requires root access. Without root access, functionality within the app will be extremely limited.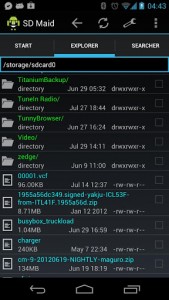 Pros
Extremely long list of system tools (see the discussion section below for the full list of tools). Everything you'll ever need in a storage cleaning and optimization app.
The Optimize database tool can help free up system memory and speed up the device (in the miscellaneous panel)
Does exactly as advertised, which is rare to find these days
Cons
Some functions only available in the Pro version
Device must be rooted to use
Bland user interface (this is a minimal gripe, and it's not even a serious issue actually)
A lot of similar apps are already available like Titanium Backup, or Clean Master
Discussion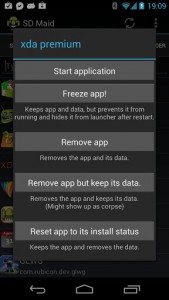 SD Maid is almost exactly like Titanium Backup in terms of functionality. That being said, with SD Maid there are some unique features that actually justify using the app over other offerings in the Play store. It remains to be said, whether or not the app is worth using, however.
Because there are so many tools offered within the app, it makes sense to briefly name and explain each one.
Start/Storage Usage- This is the start page or main menu of the app, but it also displays usage statistics for your devices storage. There are different indicators for internal data, cache, phone storage, and external storage partitions.
Explorer- This is a comprehensive file explorer and manager. Think of it as a single panel version of ES File Explorer.
Searcher- This function essentially allows you to search the entire device for a particular file.
App Control- This function allows you to manage apps on your device including system apps. You can freeze apps (remove them from your app tray by renaming the file format), remove installed apps, remove apps but keep their data, and reset apps to original install status.
Corpse Finder- This function scans your SD card and storage partitions for residual files, usually leftover from older app uninstalls. It also supposedly detects useless files eating up valuable storage space.
System Cleaner- This is a more advanced function that scans different system directories and rids them of temporary or unwanted files.
App Cleaner- This function cleans application cache files. It's only available in the Pro version of SD Maid.
Duplicates- This function scans your device for duplicate and clone files that can be safely removed. It's also only available in the Pro version of SD Maid.
Biggest Files- This function scans your device and identifies the files taking up the most space. Of course,  it sorts them in descending order.
Miscellaneous- This area is for different leftover functions like deleting market search history, deleting battery stats, deleting QuickSearch history, and viewing files that were modified recently.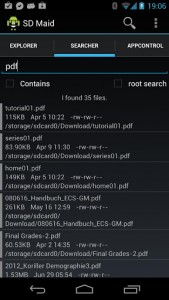 As you can see from the list above, SD Maid offers quite an extensive list of system tools and cleaning functions. With apps like this, there are only two questions that need to be answered. Does it do a good job cleaning the device and eliminating bloat? Can it hurt the device by removing potentially critical files?
I'll answer the second question first. I used every function that was available in the free version of SD Maid several times, and I have not encountered any serious issues so far. That being said, with an app like this it's always necessary to be careful what you're removing or "cleaning". Since it requires root access, the app is allowed to delete files even if they are essential to the system. Just make it a habit to pay close attention to what you're cleaning or removing, and you should be okay.
Now I'll address the first question; does it do a good job cleaning out redundant files and bloat? The answer here is certainly. Even better, it offers a highly diverse toolset for managing the Android filesystem.
Believe it or not, the Corpse Finder is excellent at finding residual files leftover from past installs. The App Control function is particularly useful for freezing and eliminating carrier bloatware on a device (take that Verizon).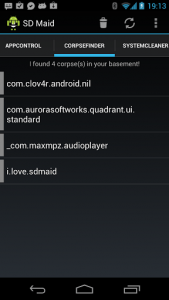 Furthermore, the Biggest Files function allows you to identify which files are taking up the most space so that you can determine whether they're necessary or not. Personally, I found on my device that data packages for games were taking up the most space. When you select a file in the list, it brings you to the file's location within the integrated file manager- this is an extremely useful shortcut and saves some time.
Since I clean my app cache regularly, the System Cleaner wasn't much use to me. However, it's certainly a handy function if you don't already have a third party cache cleaner on your Android.
Long story short, this everything you will ever need in a storage cleaning and optimization app is here. And it should be noted, after some pretty extensive use, I haven't run into any serious issues with this app, i.e. the app has yet to do something detrimental like delete critical system resources. That doesn't mean it's not possible, however, and you should always be careful when using tools like this.
Conclusion and download link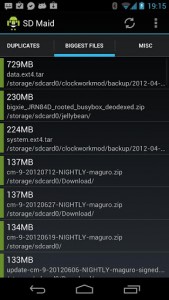 If you don't already use Titanium Backup, than SD Maid is a good alternative for cleaning up your phone's storage. Plus it includes some unique features like the residual file cleaner (Corpse Finder), integrated file manager (Explorer) and large data identifier (Biggest Files). The best part about the app is that it's totally free, albeit minus a couple features: if you want to pony up the $2.25 for a Pro license, you'll gain access to the App Cleaner and Duplicate file functions.
Overall, if you're worried that your device's storage (internal storage or SD card) is littered with unnecessary bloat and files, than SD Maid can certainly help. Highly recommended.
Price: Free, $2.25 (for Pro license)
Version reviewed: Varies with device, v2.0.2.3 (210)
Requires: Varies with device
Download size: Varies with device
Related Posts