There are two basic components of computer security: anti-virus/anti-malware and firewall. dotTech has already reviewed the best free anti-virus program for Windows. Now it is the turn of firewalls. Keep reading to learn about the best free firewall for Windows.
[Note: All the firewalls featured in this review are free for personal and business use.]
This review is part of our Best Free Windows Software section. Check out more articles on the best free Windows programs from here.
BEFORE WE BEGIN
Before we delve into our review of best free firewall for Windows, I'd like to say a few words.
The biggest issue with firewalls is compatibility. Because of their nature and design, firewalls are a type of program that may work on one computer but cause bluescreen of death on another; firewalls can conflict with other programs and if a firewall works on your computer or not depends on what programs you have installed. The top four firewalls listed in this review are all excellent. So if you find that the firewall we rank as #1 is not working on your computer, simply move down the list until you find a firewall that does work on your computer.
That said, let's begin…
Table of Contents [Online Armor vs Comodo vs Privatefirewall vs ZoneAlarm vs Outpost vs TinyWall]

Best Free Firewall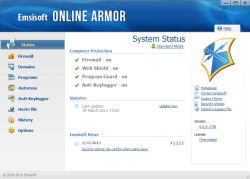 Program Name: Online Armor Free

Developer: Emsisoft

Download Size: 28.8 MB

Version Reviewed: 6.0.0.1736
Supported OS: Windows XP (32-bit only), Windows Vista (32-bit only), Windows 7 (32-bit and 64-bit), Windows 8 (32-bit and 64-bit)

Pros
Is a two-way firewall — monitors inbound and outbound traffic
In addition to being a firewall, has HIPS (Host Intrusion Prevention System) features:

Anti-Keylogger — identifies programs behaving like keyloggers and blocks them

Note: Online Armor's Anti-Keylogger does not protect you from keyloggers by encrypting keystrokes. It protects you from keyloggers by identifying programs that are behaving like keyloggers and asking you if you want to block them. So Anti-Keylogger in Online Armor does not conflict with other anti-keylogger programs that do encrypt keystrokes, like KeyScrambler. In other words, you can use KeyScrambler (or KeyScrambler-like software) and Online Armor at the same time with no conflict.

Program Guard — prevents programs from making unnecessary changes to your computer, accessing areas they shouldn't be accessing, or from running (if the program is known to be malicious)

Programs Guard has an awesome 'RunSafer' option that allows you to force specific programs to run as a Limited User as opposed to as Administrator, if you are on a Windows account that has admin access

Autoruns Management — scans programs/processes that automatically run at Windows and allows you to block/unblock them
HOSTS Protection — monitors and prevents changes to HOSTS file
Web Shield — blocks known malicious websites/domains

Note: The Web Shield in Online Armor Free is different from the Web Shield you find in anti-virus programs, like Avast. Web Shields in anti-virus programs typically detect and block known malicious downloads/files; Online Armor's Web Shield detects and blocks known malicious websites/domains. The two don't conflict.

Helps to mitigate the number of popups via the use of 'Learning Mode' (a mode that automatically creates rules for programs you already have installed prior to installing Online Armor) and by automatically creating rules for programs known to be safe based on a database of known, safe, and trusted programs (aka Emsisoft Anti-Malware Network)
Allows users to easily disable all HIPS features and only use firewall features

Note: You must restart your computer after disabling HIPS features

Can be password protected so that Online Armor Free settings cannot be changed with a password
Has Tamper Protection which helps prevent malware from closing or modifying Online Armor Free
Has paid versions for people that want more features (see chart on the right for feature differences between free and paid versions)
Cons
No automatic updates to newer versions of Online Armor. If a new version is released, you need to manually update. If you want automatic updates, you need to purchase the paid version of Online Armor.

Note: You don't get automatic updates to newer versions of Online Armor in the free version. However, as per my tests, in the free version you do get automatic updates for things like database updates.

I wish there was better port tracking
Can block domains but cannot block domain-less IP addresses
'Advanced Mode' (a mode that allows advanced users to take more control over Online Armor rules and settings) is only available in the paid versions of Online Armor.
Does not work if you have VirtualBox installed. You need to uninstall VirtualBox and/or remove VirtualBox Bridged Networking driver if you want to install Online Armor. (Read dotTech's how to remove VirtualBox drivers guide if you are having issues.)
Does not work for 64-bit versions of XP and Vista. (Works for 64-bit versions of Win7 and Win8.)
You need to have Windows 7 SP1 installed to run Online Armor on Windows 7.
You need to make sure your computer is free of malware prior to installing Online Armor. Online Armor's 'Learning Mode' (which runs the first time you use Online Armor) is set to automatically configure firewall rules for programs you already have installed, so as to not continually prompt you with popups. If you have malware on your computer before installing Online Armor, Online Armor's 'Learning Mode' will allow that malware to make connections.
When installing Online Armor Free, you are prompted to run a 30-day trial of Online Armor Premium or purchase the paid version now. To use just Online Armor Free (which is completely free, not a trial), you need to click on "Limited freeware version". Don't be tricked into using a trial of the paid version, if you don't want the paid version.
The Help file is generic for all Online Armor products — it isn't specifically for Online Armor Free. So you may find the Help file talking about/listing some features that aren't in Online Armor Free.
Discussion
Trying to determine the *best* free firewall for Windows is quite a task. Not because there are no good free firewalls. On the contrary, they are plenty of excellent free firewalls. Rather, finding the best free firewall for windows is a tough task because a) there are many excellent firewalls with similar features that provide similar protection and b) firewalls tend to be picky due to compatibility issues — a firewall will work on one computer but the same firewall may not work on a different computer. After researching, reviewing, and testing multiple firewalls, I decided to crown Online Armor as #1 for three reasons:
Lots of features without causing conflicts with other security programs and without being bloated
Excellent protection without bogging down your computer
It works on my computer!
You may find the third reason I list above as silly but, frankly speaking, no matter how good a firewall may be, I cannot recommend it as best free firewall if it doesn't work on my computer (because I'm the one writing this review). I'm not condemning firewalls that don't work on my computer because, as a I said, compatibility is one of the biggest issues with it comes to firewalls and conflicts often arise due to what software you have installed; this is a general theme for the firewall genre of software, so it is impossible to single out a particular program and scold it. However, Online Armor is one of the few that I have been able to successfully run on my computer which gives it an advantage for the purposes of these rankings.
That said, probably my favorite feature of Online Armor is its intelligence. The developer of Online Armor, Emsisoft, has a database of known, safe, and trusted programs ("Emsisoft Anti-Malware Network", a database that contains info about over 17 million files/programs). This database allows Online Armor to automatically create firewall and HIPS-related rules for programs that are known to be safe and trusted, thus greatly decreasing the number of prompts Online Armor makes to the end user. And anyone that has used a firewall before knows prompts are probably the most annoying aspect of firewalls, so a program that does less prompts is one step ahead of the crowd.
Of course, Online Armor's database does not contain information about every single program on Windows so you will get prompts occasionally. But, while I cannot quantify my results, I've tends to display less prompts than your average firewall thanks to its database.
I also like the fact that Online Armor has features beyond basic firewalling but not so many features that Online Armor is bloated or that it starts to conflict with other programs. Indeed, it is an unfortunate trend that firewall developers — in general — have started to bundle anti-virus/anti-malware modules with firewalls. Bundled firewall/anti-virus make it increasingly difficult for people who prefer to have seperate firewall and separate anti-virus (often because the anti-virus bundled with the firewall is sub-par and undesirable while the firewall itself is excellent and desired). Thankfully, Online Armor has not gone this route in their free and Premium versions; Online Armor Free and Online Armor Premium are not bloated with features that have no business being bundled with a firewall.
Probably the biggest issue with Online Armor is for VirtualBox fans. Online Armor conflicts with VirtualBox's Networked Bridge driver, so Online Armor will not install if you have VirtualBox installed. According to Emsisoft, the fault lies with Oracle; a blue screen of death is caused if you have Online Armor and VirtualBox installed because of "improper parameter validation inside the Virtual Box network driver when releasing NDIS related memory". Since this fault is with VirtualBox and not Online Armor, there is nothing Emsisoft can do to resolve the conflict except prevent users with VirtualBox installed from installing Online Armor. So if you have VirtualBox installed currently, you will need to uninstall VirtualBox and make sure the drivers have been removed before you are allowed to install Online Armor. If you are a diehard VirtualBox fan and don't want to get rid of it for Online Armor, then check out our #2 pick — Privatefirewall.
Runner Up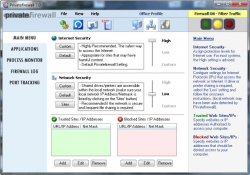 Program Name: Privatefirewall
Developer: Privacyware

Download Size: 3.6 MB

Version Reviewed: 7.0.29.1

Supported OS: Windows XP/Vista/Win/Win8 (32-bit and 64-bit)

Discussion
Privatefirewall is one of those less known gems in the firewall world. It manages to pack excellent protection, good performance, and a lot of features without having a bloated software. A 3.6 MB download for a firewall? Yes, please!
Like Online Armor, Privatefirewall has an in/out firewall plus HIPS features:
Program monitor
Registry monitor
Process monitor
Email "anomaly analyzer"
System "anomaly analyzer"
By utilizing all these monitors/analyzers, Privatefirewall is able to identify and block malware (viruses, spyware, rootkits, trojans, keyloggers, etc.) by monitoring behavior. Anything that behaves like malware (e.g. a program tries to access areas of a computer that regular programs would not access, a program tries to log keys, etc.) is flagged by Privatefirewall and either blocked or you are asked to block it. The best part is Privatefirewall is not a traditional signature-based anti-virus/anti-malware; it is more of a behavior blocker, so it will work alongside your traditional anti-virus/anti-malware programs.
The biggest downside to Privatefirewall is you can except to receive a lot of prompts — or at least more prompts than Online Armor. Privatefirewall does have a "Trusted Publisher" feature which it uses to try to identify trusted programs so you aren't prompted, but Privatefirewall's "Trusted Publisher" is nowhere near as comprehensive as Online Armor's Emsisoft Anti-Malware Network.
That being said…
When doing my research on free firewalls, I thought Privatefirewall would outshine the rest. Unfortunately, when I installed Privatefirewall it froze my computer on boot every time… which makes it hard for me to rank this firewall as #1, despite how good it sounds. Typically if a program freezes my computer, you won't ever find me giving it a positive review. However, as I've mentioned multiple times already, firewalls are a bit different than typical programs; they are prone to causes conflicts on a case-by-case basis. Just because a firewall does not work on one computer does not make it bad. Indeed, I know many people who enjoy Privatefirewall without issues; I'm just not one of them — there must be something on my computer that Privatefirewall doesn't like. If the same thing happens to you with Privatefirewall and you were also unable to get Online Armor working, it is time for you to move onto the next firewall in our list: Comodo Firewall.
Overall, despite the fact that it did not work on my specific computer, Privatefirewall is an excellent firewall and a viable option for anyone. Some may even say it is better than Online Armor, although I obviously disagree.
Honorable Mention 1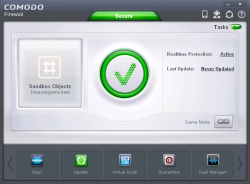 Program Name: Comodo Firewall Free
Developer: Comodo Group

Download Size: 125 MB
Version Reviewed: 6.0.260739.2674
Supported OS: Windows XP SP2/Vista/Win7/Win8 (32-bit and 64-bit)
Discussion
When it comes to pure protection and nothing else, there is no firewall that beats Comodo Firewall. Period. Comodo Firewall has, for as long as I can remember, been the best firewall (free and paid) out on the market when it comes to protection. Between a combination of in/out firewall, auto-sandboxing, behavior blocking, and other features, Comodo Firewall provides great protection.
The biggest thing holding Comodo Firewall back is that it is so overly aggressive, it is prone to causing bluescreen of death on many computers. In fact, out of all the firewalls listed here, Comodo Firewall is probably the most notorious when it comes to compatibility issues. Combine that with a lot of prompts (despite having a database similar to Online Armor's of trusted and known programs) and many people prefer to stay away from Comodo Firewall.
Another major issue with Comodo Firewall is it comes packed to the brim with crapware. The download for Comodo Firewall is 125 MB; only 40 MB of that is the actual firewall. The rest is Comodo GeekBuddy and Comodo Dragon, two other Comodo software that come packed with Comodo Firewall. Plus Comodo Firewall will hijack your homepage and change your DNS to use Comodo SecureDNS, if you don't uncheck the relevant options during installation.
Now that doesn't mean Comodo Firewall is impossible to use. Comodo has made long strides over the past few years to make Comodo Firewall more user-friendly, such as introducing easy setup for novice users and having a database of two million safe programs, which helps mitigate the number of times Comodo Firewall prompts you.
Overall, Comodo Firewall provides great protection. However, there are some definite drawbacks to Comodo Firewall and something you want to consider before jumping on-board. If you have the choice, I'd recommend Online Armor or Privatefirewall before Comodo Firewall, but Comodo Firewall is still a viable option for those that are interested.
Honorable Mention 2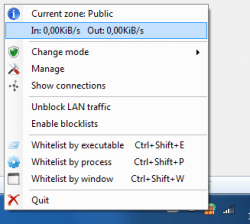 Program Name: TinyWall

Developer: Károly Pados

Download Size: 1 MB
Version Reviewed: 2.0
Supported OS: Windows Vista/Win7/Win8 (32-bit and 64-bit)

Note: .NET Framework 3.5 is required to use TinyWall. Windows 7 and Windows 8 users already have it (.NET Framework 3.5 or higher comes with Win7/Win8) but Vista users will have to download it.
Discussion
TinyWall is not a firewall in and of itself. Rather, TinyWall is a program that utilizes Windows Firewall. The idea behind TinyWall is, since Vista, Windows Firewall is an adequate firewall that will work for in/out control for the average Joe. So TinyWall builds upon Windows Firewall, adding a few extra features (like HOSTS file monitoring and domain blacklist) but mainly allowing you more control over Windows Firewall.
This use-Windows-Firewall approach may, in the eyes of some, make TinyWall less secure than other firewalls because of lack of HIPS but the plus point is TinyWall will work on almost all Vista/Win7/Win8 machines — it doesn't conflict (as much) as other firewalls. (TinyWall is not supported on Windows XP because Windows Firewall on Windows XP is terrible.)
Probably the most notable aspect of TinyWall is the "no prompt" approach. TinyWall will never (never) prompt with with a message to block something. Rather, all blocking/allowing done by TinyWall is done behind the scenes and you are given multiple different ways to block/unblock programs and processes, through the use of hotkeys and white/black lists.
Another feature I love about TinyWall is the ability to create temporary firewall rules. This really helps if you are looking to test a program or aren't sure about a program and only want to temporarily give it access. I wish all firewalls had this feature.
For all intents and purposes, TinyWall is not in the same league as the previously mentioned Online Armor, Privatefirewall, and Comodo Firewall. After all, TinyWall is only as good as Windows Firewall. However, TinyWall is not intended to compete with the competition. It is here to offer a different type of firewall while still providing the basic firewall traffic filtering necessities.
Honorable Mention 3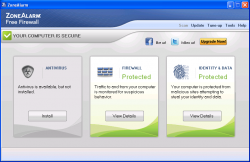 Program Name: ZoneAlarm Free Firewall

Developer: Check Point Software Technologies

Download Size: 34 MB (2 MB downloader, 32 MB firewall)
Version Reviewed: 11.0.000.057
Supported OS: Windows XP SP2+/Vista SP1+/Win7/Win8 (32-bit and 64-bit)

Discussion
In my book, ZoneAlarm security software have always been "the programs that could… but don't". On paper, they look good. For example, ZoneAlarm Free Firewall includes an in/out firewall, behavior analysis, the ability to leverage crowd-sourced data to minimize prompts, a download analyzer, and more. (Note: ZoneAlarm Free Firewall comes bundled with a toolbar it tries to install. Some features of the firewall are only available if you use that toolbar.) However, they always turn out to have sub-par performance.
If you read independent tests and feedback regarding ZoneAlarm Free Firewall, you will learn it is quite leaky when compared to other firewalls. Features mean nothing if they can be beat. In fact, I never would have featured ZoneAlarm Free Firewall in this review had it not been popularly demanded. (Since when did ZoneAlarm become so popular?! I must be behind the times.)
Personally speaking, I wouldn't touch ZoneAlarm Free Firewall with a ten-foot pole. As a last resort? Maybe. But Online Armor, Privatefirewall, and Comodo Firewall blow away ZoneAlarm Free Firewall in my book; I would always pick one of them (even Comodo Firewall) before going with ZoneAlarm Free Firewall, if I had a choice.
Honorable Mention 4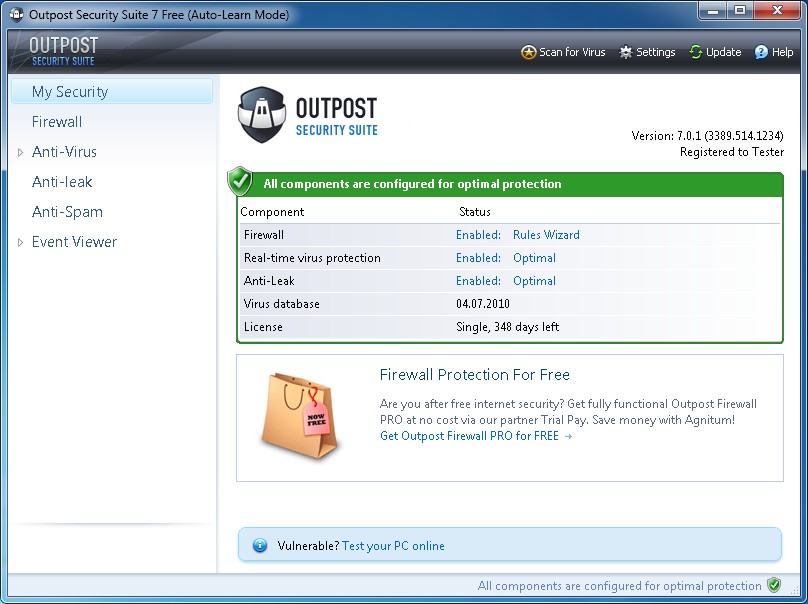 Program Name: Outpost Firewall Free

Note: Outpost Firewall Free is available as part of Outpost Security Suite Free
Developer: Agnitum

Download Size: 94.7 MB

Version Reviewed: 7.1.1

Supported OS: Windows XP/Vista/Win7 (32-bit and 64-bit)

Discussion
Anyone that has been following dotTech for a long time knows Outpost Firewall Free has been a dotTech favorite for a long time. So why is it absolutely last in our review on best free firewall for Windows? Because of two reasons.
Firstly, Agnitum made the unfortunate decision a few years ago to discontinue Outpost Firewall Free as a standalone product and integrate it into Outpost Security Suite Free. Many people, including my self, don't like free firewalls bundled as part of a security suite that includes traditional signature-based anti-virus/anti-malware. Sure Outpost Security Suite Free is intelligent enough to disable its anti-virus/anti-malware components if it detects you already have anti-virus/anti-malware on your computer, but it is annoying to have to download a whole security suite just for the firewall… plus it is hard to recommend to other people because you have to explain the whole story for them.
Secondly, and more importantly, Agnitum seemingly no longer cares about their free product offerings. Outpost Security Suite Free — and by association, Outpost Firewall Free — has not been updated since April 2011. April 2011. Two years. A security program that hasn't been updated in two years. (Agnitum is actively updating their paid programs, though.)
It would be crime for anyone to download and use Outpost Security Suite Free now. I'm only listing it here for comparison purposes.
Other Alternatives
Related Posts