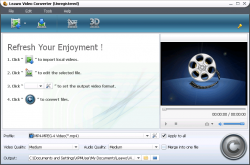 dotTech has a review on best free video and audio converter for Windows, so I'm guessing most dotTechies already have a video/audio converter they regularly use. However, if you are still in the market for a video/audio converter, Leawo Video Converter wants your business. Let's see if it is worth your time.
WHAT IS IT AND WHAT DOES IT DO
Main Functionality
Leawo Video Converter converts video and audio files to other formats.
Pros
Converts both video and audio files
Supports many input and output formats, including SD and HD videos; see chart to right for full list of supported formats
Has support for electronic devices like iPhone 5, iPad, Galaxy S3, PS3, Xbox 360, etc.
Supports DRM-protected iTunes videos
Support batch processing
Has basic video editing features (trim; crop; adjust brightness, contrast, or saturation; adjust volume; add image or text watermark; vertical flip; horizontal flip; rotate 90 degrees)
Video editing shows before and after previews side-by-side, making it easy for you to compare
Allows for user control of output file settings (video codec, quality, resolution, bitrate, frame rate, and aspect ratio; audio codec, quality, bitrate, sample rate, and channels), including the ability to keep output resolution same as input resolution
Can merge input files into one output
Can convert 2D videos to 3D
Can add subtitles to videos (SRT, ASS, and SSA)
Supports drag + drop
Allows you to play files within the program and take JPG, BMP, or PNG snapshots
Can automatically shut down computer after conversions have finished
Good performance (fast and good output quality) — supports multi-core CPUs
Cons
When batch processing, all input files must be converted to the same output format with the same output settings — you cannot individually customize each input file to have different output settings
Comes bundled with K-Lite Codec Pack. Be sure to uncheck the option for K-Lite Codec Pack during installation and read dotTech's article on codec packs for tips on if you should install a codec pack or not.
Has an ad (vis-a-vis a button in the toolbar) built-in for Leawo Free YouTube Downloader
You must have subtitle files already created to add to video — you cannot create your own within the program
No offline Help and online Help is more a tutorial than Help
Developer Says the program supports NVIDIA CUDA GPU acceleration, but I see no evidence of that in the program (e.g. no option to enable/disable, no icon, no button, etc.). This could be because I don't have an NVIDIA graphics cards but all other programs that I have used that claim to support GPU acceleration have some sort of proof within the program itself.
Really skimpy on output profiles for Android devices; has a lot of the popular ones but is missing more than it has
Discussion
This is 2013 and in 2013 video and audio converting is no longer an art — it is a science. In today's world, there are dime a dozen top quality video converters. Leawo Video Converter is part of that group; it is a good video converter with good features, support for many input/output formats, output profiles specific to modern electronic devices, and is easy to use. There really isn't much else to say about Leawo Video Converter: it is just like most other video converters out there.
If I were to nitpick, I'd say probably the biggest drawback to Leawo Video Converter comes in the form of batch processing. When batch processing, many rival video/audio converters allow users to customize output format and settings for each input file individually. Leawo Video Converter does not allow that — all input files must be converted to the same output format with the same output settings.
Aside from that… I have nothing really else to say about Leawo Video Converter. If you have seen one video/audio converter, you have pretty much seen them all.
This has got to be one of the shortest discussions I have ever written.
CONCLUSION AND DOWNLOAD LINK
Leawo Video Converter is a good program. It does what it claims and does it well; there isn't anything majorly wrong with the program. However, I don't recommend Leawo Video Converter for one simple reason: it provides no unique or value-added features that you would not get in a freeware video converter (aside from 2D -> 3D video conversions, which is more a gimmick than useful anyway). So why pay $29.95 for Leawo Video Converter when you can grab the likes of freeware Video to Video Converter (portable), freeware FormatFactory, and freeware Freemake Video Converter? I see no compelling reason for anyone to give their hard-earned cash to Leawo when they can get the same functionality for free.
If you can think of a reason to get Leawo Video Converter over a freeware converter, share with us in the comments below. Until then, my recommendation for everyone that does not yet have a video/audio converter is to read dotTech's review on best free video and audio converters for Windows.
Price: $29.95
Version reviewed: 5.3.0.0

Supported OS: Windows XP/Vista/Win7/Win8

Download size: 34.2 MB

VirusTotal malware scan results: Too large to scan on VirusTotal
Is it portable? No
Leawo Video Converter homepage
Related Posts