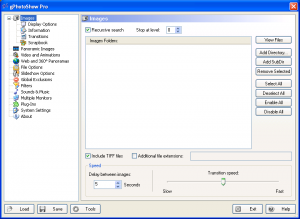 Windows come's with many built-in screensavers and you have the option to download other screensavers. However, what is you want to create a custom slideshow using images of your own? Or maybe not a screensaver but an image slideshow? That is where gPhotoShow Pro comes in. Let's see if it is worth your time.
WHAT IS IT AND WHAT DOES IT DO
Main Functionality
gPhotoShow Pro allows users to custom slideshows with your images. These slideshows can be saved as standalone EXE or SCR (screensaver format for Windows — you can use these SCR slideshows as screensavers for your computer); these formats play slideshows/screensavers without gPhotoShow Pro installed so you can easily share your creations with others.
Pros
Allows users to create slideshows that can include any of the following: photos (BMP, JPG, PNG, GIF, TIFF), videos (AVI, ASF, WMV, MOV, MPG/MPEG, M2V, MP4, FLV, SWF), audios (MIDI, Wave, MP3, WMA, AAC), 360 degree panoramas (PAN, MOV, IVR, IVP), and webpages (HTM/HTML, MHT, URL)
Slideshows can be saved as GSS (gPhotoShow Pro format — needs gPhotoShow Pro installed to use), EXE (standalone executable — can be viewed on any computer without need for gPhotoShow Pro), and/or SCR (Windows screensaver format — you can use these files as screensavers for your computer, simply right-click on SCR file -> 'Install')
Images in slideshows can be automatically modified to fit screen size: images larger than screen resolution can be automatically reduced to fit screen (enabled by default), images smaller than screen resolution can be enlarged to fit screen (enabled by default), images that don't have same aspect ratio as screen can either be stretched/cropped to fit screen or have black bars added to keep image aspect ratio (black bars enabled by default, stretch/crop can be enabled if desired)
Has the ability to display panorama images, i.e. images that are larger than screen resolution and gPhotoShow Pro will automatically pan horizontally/vertically to display them

Note: This is different from 360 degree panoramas. 360 degree panoramas must be in PAN, MOV, IVR, or IVP format. This type of panorama works with any BMP, JPG, PNG, GIF, and TIFF image that has a pan-able resolution

Has a 'Scrapbook' feature that allows you to select if you want images to be displayed like a scrapbook
Automatically transitions between images/videos/panoramas/webpages based on the number of seconds you define when creating the slideshow — no clicking required to progress
Gives you the ability to set if mouse movement, mouse click, and/or key strokes make slideshow end
Images are automatically rotated based on EXIF data
Has the ability to overlay text on images: EXIF data, file name, file date, author, description, title, your own custom message, and more
Gives users the option to use a bunch of 2D effects to transition between images, cross fade transition effect,  or pan & zoom transition effect (2D effects are used by default with you having the option to switch to cross fade or pan & zoom)
Automatically loops slideshows plus gives users the ability to pick if they want images to be shown randomly or sequentially based on file name, date, or folder hierarchy
Supports multiple monitors
Cons
Is a bit confusing to use for new users
Really annoying way to load files; you don't load individual files but rather whole folders and everything inside the folder is used in slideshow
Cannot display webpages, videos, and 360 degree panoramas if you output as EXE or SCR. In fact, the program creates a buggy EXE or SCR if you have webpages/videos/360 degree panoramas loaded into the program when outputing as EXE or SCR. If you want webpages, videos, or 360 degree panoramas, you need to output as GSS
Requires third-party programs to be installed to play videos and audios. If you have Windows Media Player 6 or higher installed (which everyone with an up-to-date XP or higher computer will have installed, unless you removed it), you will be able to play most videos/audios but will need VLC to play MP4 and FLV and iTunes or WinAmp to play AAC
Discussion
When I first started reading about gPhotoShow Pro, I thought it would be a gimmicky program. After testing it, however, I've come to realize it is actually a very good program for those that want to create custom slideshows and use those slideshows as screensavers or simply as slideshows.
Being able to create a standalone EXE or SCR photo slideshows with background audio is nothing special; many programs can do that. What makes gPhotoShow Pro different than others, in my opinion, are the following features:
'Scrapbook'. This allows you to display your images like a scrapbook in the slide. See image to right for example.
'Panorama'. This allows you to use images of large resolution (height or width) and gPhotoShow Pro will automatically scroll the images (horizontally or vertically) in the slideshow.
Ability to display videos, webpages, and 360 degree panoramas in slideshows. While you cannot display videos, webpages, and 360 degree panoramas if you output as EXE or SCR, you can display them if you opt for GSS format, which is nice to have. (Note: 'Scrapbook' and 'Panorama' do work in EXE and SCR.)
On top of all that, gSlideShow Pro provides a high amount of customizability, allowing you to control how your slideshow behaves. For example, you can control the interval before content in slideshows, how a slideshow is ended (e.g. mouse click, mouse move, or key press), how images are scaled to fit screensize (if you don't use 'Panorama'), etc.
Really the only major criticism of gSlideShow Pro I have is user-friendliness. If you are new to gSlideShow Pro, I'm sure you will be confused as to how to create a slideshow — I know I was. The key to using gSlideShow Pro is this:
Every time you run gSlideShow Pro, you work on one slideshow at a time. All the settings/features/options available in the left column of the program window apply to the same slideshow; all images, panoramic images, videos, etc. you add, all settings you change, everything you customize — everything is saved to one slideshow. Then when you are ready to output your slideshow, you need to hit the 'Save' button at and select how you want to output the slideshow. All saving options save as GSS and you must click 'Create StandAlone or Scr' if you want to output as EXE or SCR format. If you ever want to restart the slideshow at any point, you must close gSlideShow Pro and reopen it.
In gSlideShow Pro you don't add individual files — you add folders, and everything inside the folder of applicable format is added to your slideshow. For example, if adding a folder to 'Images' then all BMP, JPG, PNG, GIF, and TIFF images inside that folder are added to your slideshow (unless you specifically filter out formats you don't want but you still cannot filter out specific files, only file types). This I find to be very annoying because it requires you to preorganize files you want to use in slideshows into folders before using gSlideShow Pro. I believe the developer does it this way because if you save a slideshow as GSS, gSlideShow Pro has the ability to proactively add/remove content from slideshows as the content inside target folders change (e.g. if you delete an image from a folder, gSlideShow Pro will no longer display that image in your GSS slideshow). However, I wish the developer would allow us to add individual files instead of whole folders.
Aside from that, there is one bug with gSlideShow Pro I must point out.
As I mentioned before, you can only have webpages, videos, and 360 degree panoramas in slideshows if you output as GSS — they won't work in EXE and SCR. If you have videos/webpages/360 degree panoramas loaded into gSlideShow Pro and you try to output as EXE or SCR, you will get a message saying that videos/webpages/360 degree panoramas are not supported in EXE/SCR and they will be automatically excluded. The problem is gSlideShow Pro doesn't actually exclude videos/webpages/360 degree panoramas from EXE/SCR as claimed — it includes them which then bugs out the EXE/SCR that are created. So if you are creating an EXE/SCR, you need to make sure to not load folders into the 'Video and Animations' and 'Web and 360 degree Panoramas' features; otherwise, your EXE/SCR will be buggy.
CONCLUSION AND DOWNLOAD LINK
Overall, gSlideShow Pro is a very good program for people who want to create custom slideshows and/or screensavers. It isn't the ability to use images/audio in standalone EXE or SCR slideshows that make gSlideShow Pro good because many other programs, such as IrfanView (read our how-to guide on using IrfanView to create EXE/SCR slideshows), can do the same. Rather, it is gSlideShow Pro's other features that make it stand above the crowd. And at a reasonable price of 15.90 euros (roughly US$21), it is hard to not recommend this program.
Bottom-line: gSlideShow Pro is recommended by dotTech. Grab gSlideShow Pro if you want or need it, but be sure to give the fully-functional but watermarked 30-day trial a run before purchasing.
Price: 15.90 euros (roughly US$21)

Version reviewed: 6.3.0
Supported OS: Windows 2000 and higher

Download size: 6.72 MB

VirusTotal malware scan results: 1/46
Is it portable? No
Related Posts