Techies, geeks, and PC aficionados know how to optimize their system for maximum performance. Most average Joes, however do not know how to optimize their machine. Because of that simple fact, they turn to optimization software, which inherently automates the entire process. Applications like Game Booster and the AMD Fusion utility specifically optimize a system to provide a boost in performance while gaming or doing other resource-intensive tasks, such as watching a 1080p video.
The boost in performance is gained because these programs shut down various processes and system services running on your computer that are unnecessary. The alteration is only temporary, and all processes are restored to normal after the utility is shutdown. JetBoost is a utility, similar to the ones I mentioned above, that optimizes your system's performance temporarily and provides a temporary boost for your gaming, entertainment, or other resource-intensive needs.
What is it and what does it do
Main Functionality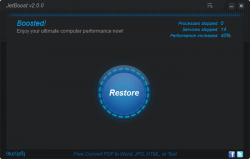 JetBoost is a system optimization tool that temporarily boosts performance by doing various things, one of which is disabling unnecessary services and processes. The ideal situation to use JetBoost is when you need extra system resources, for something like gaming or a hardware intensive application.
Pros
Simple and straightforward, one button to boost and the same button to restore the system to normal
Processes and services are fully customizable
Additional services editor for adding new services to shut down during boost (opens a text file)
There's a built in network proxy
RAM cleaner/defragger
Like the earlier versions of Game Booster- simple and painless
Pretty extensive support and documentation
Cons
Some of the settings are useless, like window transparency
Facebook and Twitter social links are unnecessary
Discussion
I'll be perfectly honest here, Game Booster was my go to program for on the fly system optimization, but ever since it was rebranded as Razer software it went to hell. I'm fairly certain I'm not the only one who feels this way, but that point is moot. I've been searching for a replacement for quite some time now, and it looks like JetBoost may finally be the answer to my problem.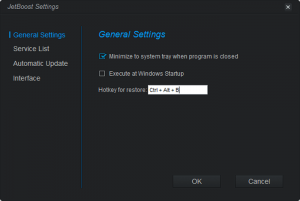 I'm a techie, geek and serious tinkerer at heart. I have the knowledge and skills to optimize my system manually, but there's one humongous problem- I'm lazy. Software like Game Booster and JetBoost automates the process and thoroughly breaks it down to a one-click scenario.
It's certainly worth mentioning, JetBoost is just like the original Game Booster before Razer got a hold of it. If you've ever used Game Booster before, or something like it, then you'll feel right at home with JetBoost. I know I certainly did.
Using the app is extremely effortless, all you have to do is open it up and hit the big blue "boost" button in order to optimize your PC's performance. Before boosting, you can customize what processes and services are shut down.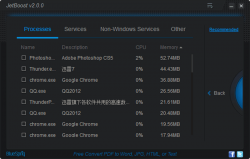 Altered system applications are separated into four corresponding categories in the customize menu. The categories are processes, services, non-windows services, and other. The only category that actually needs an explanation is the "other" sub-menu. The other categories are exactly what they say they are, "processes" is for running processes, and "services" is for active OS services.
In the "options" category, there are several different functions here to further optimize performance on your PC.
Clean RAM
Clear clipboard
Enable JetBoost high power performance profile (power settings)
Shut down explorer.exe
Disable Windows automatic updates
JetBoost itself only uses about 14-15MB, which means it's pretty lightweight. That's important, especially when your main goal is to gain performance by freeing up RAM and system resources. And, for what it is worth, as per my tests this program was able to reduce RAM usage from 2GB to 1.5 GB on my computer. However, take this number with a grain of salt — how much RAM JetBoost is able to free will vary greatly from computer to computer and situation to situation.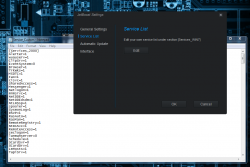 There aren't many application settings to fool around with, but that's okay because everything necessary is there. You can enable or disable the software minimizing to the system tray when closed, or choose to execute JetBoost during Windows startup.
There's an option to manage your own system services list to shut down, along with another to enable or disable application updates. The services list tool mentioned here, is actually in addition to the customization menu, so there are two. The difference is that this list is modified via a basic text editor like Notepad and is actually for adding services that are not already recognized by JetBoost.
There's a single customization option for setting the window transparency, which essentially does nothing useful in the grand scheme of things.
Conclusion and download link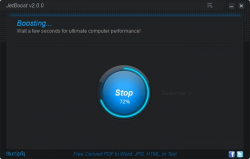 I won't bother erupting into a spiel about who JetBoost is for because it's perfect for anyone really. It's not going to make your computer immediately run the most graphic intensive games on the highest settings, but it will improve performance a bit.
I love the old Game Booster, and I probably could just download an early build, but the Razer version seriously turned me off to it. The good thing is, JetBoost is almost exactly the same thing. You can customize the processes and services that are shut down, in addition to using the recommended settings. Furthermore, boosting your system is as easy as pressing a button, just the way I love it. During my time with the software I found no significant kinks worth mentioning. The best part is that it's totally free, and there are no advertisements to bog down the experience. JetBoost is recommended as far as I am concerned.
Price: Free
Version reviewed: 2.0.0.67
Supported OS: Windows 2000, XP, Vista, Win7, Win8

Download size: 3.34MB
VirusTotal malware scan results: 0/45
Is it portable? Yes (after installing on your main PC, select "portable version" from the settings menu)
Related Posts