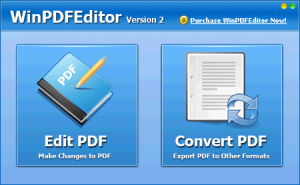 Being able to reliability edit PDFs is one of those few tasks that has yet to have a viable freeware solution. So to edit PDFs you must turn to shareware programs. WinPDFEditor is one of those shareware PDF editors, that also happens to be a PDF converter. However, there are many shareware programs that claim to be able to edit PDFs but fall flat on their face. Is WinPDFEditor one of those crap editors or does it shine above the crowd? Let's find out.
What is it and what does it do
Main Functionality
As the name indicates, WinPDFEditor is a PDF editor. Aside from PDF editing, it can also convert PDFs to Word (DOC, RTF), text (TXT), images (JPG, TIF, BMP, GIF, PNG), web page (HTML), and Flash (SWF).
Pros
Allows you to edit PDFs:

Allows you to erase any and all content in PDFs using the Eraser tool
Allows you to add text to PDFs using the Add Text tool

Font size, color, type, and weight (normal, bold, italics, bold italics) can be customized

Allows you to add images (JPG, PNG, BMP, GIF) to PDFs using the Add Image tool
Allows you to draw on PDFs using the Pen tool and Line tool, paint on PDFs using the Paint tool, and add rectangle/circular shapes with Rectangle and Ellipse tools
Can rotate current PDF page or all PDF pages 90 degrees clockwise, 90 degrees counterclockwise, and 180 degrees
Can easily remove changes made to a PDF by clearing objects (objects are changes you made to PDF using the above-mentioned tools, like layers in an image editor)

Allows you to convert PDFs to DOC, RTF, TXT, JPG, TIF, BMP, GIF, PNG, HTML, and SWF:

Supports batch processing
Works with encrypted PDFs (owner and user password).

Take note WinPDFEditor it won't crack the passwords, you need to know the user password to convert. For owner encrypted PDFs, you don't need to know the password — WinPDFEditor will convert it without a password.

Allows you to convert whole PDFs or specific pages
You don't need Microsoft Word installed to do PDF -> DOC
Converts fast and supports drag + drop
Cons
WinPDFEditor's editor:

Is more an image editor that supports PDFs than an PDF editor
The editor part cannot open PDFs encrypted with user/owner password — tells you a message to decrypt PDFs first, doesn't even allow you the ability to input the password. (The converter part supports encrypted PDFs.)
Has no undo/redo
No extract page, delete page, merge pages, add watermark on all pages, add/remove security, etc. capabilities — features that even some free PDF readers have and should be in a PDF "editor"

WinPDFEditor's converter:

Poor conversion quality for all non-image and SWF outputs
PDF to GIF does not convert in color
PDF to HTML uses absolute paths for images instead of relative paths
PDF to Word/RTF uses text boxes for text
Overwrites existing files of the same name and same format in the output folder without prompt
For encrypted PDFs, users must enter password as that PDF comes up during conversions (cannot enter in prior to conversion), so batch processing becomes semi-useless since user has to sit there and type in passwords when prompted
Wants to output files to C:/output by default instead of a more proper location such as My Documents
Supports PDF to DOC but not PDF to DOCX

Neither the editor or converter of WinPDFEditor add an entry in the right-click context menu for easy access to the editor/converter
When you run WinPDFEditor, you are asked if you want to open the editor or converter. After you select one, it is impossible to switch between WinPDFEditor's editor and converter. Once you are inside one, you have to relaunch WinPDFEditor to access the other. In other words, the two portions aren't integrated at all but rather behave like two separate programs mashed together.
Discussion
WinPDFEditor is essentially two programs in one, a PDF editor and a PDF converter. So, for the purposes of this review, we will discuss both sections separately.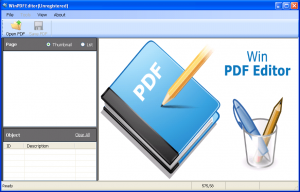 WinPDFEditor Editor
When you think of a PDF editor, what do you expect? I don't know about you but when I imagine a PDF editor, I'm looking for something that allows me to edit the content (text, images, tables, etc.) of PDFs similar to how you can edit DOCs with a word processor. Not exactly the same but similar, such as being able to click on existing text and easily delete/modify that text or add more text to it. WinPDFEditor doesn't do that.
You will notice the first 'Con' I list above says: "Is more an image editor that support PDFs than an PDF editor". The reason I say that is because that is essentially what WinPDFEditor is — an image editor that supports PDFs. You see with WinPDFEditor you cannot edit existing content in PDFs. You cannot click on existing text and delete/modify that text or type more text in the same paragraph/line. Yes, there is an Eraser tool that allows you to erase text (or other content, like images) and an Add Text tool that allows you to add new text, but that isn't the same. When you use the Eraser tool to erase PDF content, it is similar to how an eraser in an image editor works — you erase the content, not delete it like you would delete text. And the Add Text tool that allows you to add text is similar to how adding text in an image editor works; you don't modify existing text to insert new text in the same paragraph, you insert text with a new textbox. In other words, WinPDFEditor is not really a PDF editor… at least not the type of editor everyone wants to use.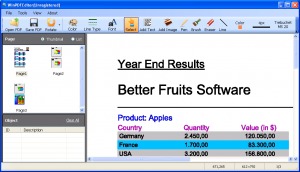 To put it a better way, WinPDFEditor loads PDFs similar to how an image editor loads images; you cannot edit the PDFs themselves but rather modify them by placing 'Objects' over them. Every time you use one of the tools provided by WinPDFEditor, an 'Object' is created and overlaid the PDF (similar to layers in an image editor); the underlying PDF is not actually modified, which makes it extremely difficult to actually edit PDFs — especially text — without the PDF looking extremely weird. With WinPDFEditor, you are basically editing an image here instead of editing a document.
On top of that, WinPDFEditor is seriously lacking in features. For example, you cannot extract pages, merge pages, delete pages, or modify PDF properties like encryption. Some free PDF readers can do this and a shareware PDF editor cannot? Heck, WinPDFEditor cannot even open encrypted PDFs. Bah!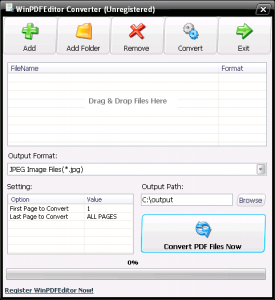 WinPDFEditor Converter
If you've ever used PDFZilla, you will instantly notice the similarties between WinPDFEditor's converter and PDFZilla. That is because WinPDFEditor and PDFZilla are by the same developer and WinPDFEditor's converter is basically a rebranded PDFZilla. Not only does WinPDFEditor have the same features as PDFZilla but it also performs the same as PDFZilla and has the same shortcomings.
Because dotTeech already has a full review on PDFZilla, I won't go into too much detail about WinPDFEditor's converter — read our review on PDFZilla if you want the details, because WinPDFEditor's converter and PDFZilla are the same and there is no point in inventing the wheel twice. However, I will say this much: as per my tests, WinPDFEditor's converter only performs well when converting to image and SWF.
WinPDFEditor' converter does PDF to images and SWF conversions fairly well. All other conversions, however, are fairly poor. See for yourself (all conversions were done at default settings):
Note: I split the output files in two ZIPs because the images are a bit large in size and I figured some people may not want to download them.
As you can see, PDF to images and SWF conversions are great, with the exception of PDF to GIF which doesn't convert in color. PDF to DOC, RTF, TXT, and HTML, however, is poor when compared to other programs. I especially dislike how textboxes are used for PDF to DOC/RTF.
Conclusion and download link
When I first reviewed WinPDFEditor v1 earlier this year, I was hopeful that this could be the cheap (relatively speaking) competent PDF editor everyone has been desiring for a long time. However, WinPDFEditor turned out to be just like the rest: a half-baked attempt at profiting off the demand for PDF editors. Today, WinPDFEditor is v2 but it is still the same poor program it was as v1; the only major difference between WinPDFEditor v1 and v2 is v2 now has PDF converting capability… which is poor in and of itself.
You are more than welcome to give WinPDFEditor a try if you like — they offer a trial — but I'd recommend not wasting your time.
That said, if you are looking for free alternatives to WinPDFEditor's editor, you had better continue to look. There are some freeware programs that can edit PDFs — with LibreOffice Draw and Inkscape come to mind — but the truth is if you want to be able to reliably edit PDFs, you need to shell out your hard earned cash for shareware editors. You don't necessarily need to purchase the extremely expensive Adobe Acrobat Pro; you can find competent editors, such as VisageSoft Expert PDF Pro or NitroPDF Pro, for roughly $100.
Alternatively, you can not use a PDF editor and instead convert PDFs to DOC/RTF format to edit. Check out UniPDF (a freeware PDF -> DOC/RTF/HTML/images converter) if you prefer that latter route, which is a free alternative to WinPDFEditor's converter.
Price: $29.95

Version reviewed: v2.0.4

Supported OS: Windows 2000, XP, Vista, Windows 7, and Windows 8

Download size: 27 MB

VirusTotal malware scan results: 0/46

Is it portable? No
Related Posts