I just posted about how you can purchase any Ashampoo software for $10; now I am posting about how to get yet another Ashampoo title for free; life is grand.
I have a riddle for you guys and gals. What can do word processing, create presentations, process spreadsheets, is 50 MB in size, can be installed onto a USB/flash drive, and is available for free? I will give you three guesses; anyone, anyone? Here is a hint: it starts with A and ends with 8. Ooohh, I think I heard it. Yes the answer is Ashampoo Office 2008!
Ashampoo Office 2008 is a productivity suite by Ashampoo which has three major components:
TextMaker 2008 (word processing; think Microsoft Word or OpenOffice Write).
Presentations 2008 (create powerpoint presentations; think Microsoft PowerPoint or OpenOffice Impress).
PlanMaker 2008 (work with spreadsheets; think Microsoft Excel or OpenOffice Calc).
Now the clever user may notice Ashampoo Office is missing components which Microsoft Office and OpenOffice have, such as a database or desktop publishing software (although there are built in database and drawing related features to Ashampoo Office which compensate to an extent). However the advantage of Ashampoo Office is how light it is on your computer (takes up a grand total of 50 MB of your hard drive space after being installed and uses about 1/4 the RAM of Microsoft Office) and the native support to run it from a USB/flash drive (to run Ashampoo Office 2008 from a USB/flash drive, run "usbstick.exe" found in the folder you installed Ashampoo Office into [by default it will be C:\Program Files\Ashampoo\Ashampoo Office 2008]). Best of all, importing and exporting Microsoft Office and OpenOffice format files is a breeze. However do take note Ashampoo Office does not support the new Microsoft Office 2007 generation .x formats (like .docx, .pptx, .xlsx, etc.)
Here is a short informational video on Ashampoo Office 2008:
While Ashampoo Office 2008 will not be replacing Microsoft Office or OpenOffice any time soon, it is definitely a worthy alternative to look into if you are lacking in the productivity suite genre.
To get Ashampoo Office 2008 for free, follow these simple steps:

I don't know if SoftMaker spams like Ashampoo so feel free to use the anti-spam services of Mailinator, 10MinuteMail, or Trashmail.
Check the inbox of the e-mail you entered. You should have an e-mail from "SoftMaker Software GmbH <info@softmaker.de>" with the subject of "

Ashampoo Office 2008 for Windows: Your serial number". If you can't find the e-mail, be sure to check your spam/junk box (the e-mail landed in my spam box – I had to fish it out). In the e-mail you will find your registration information: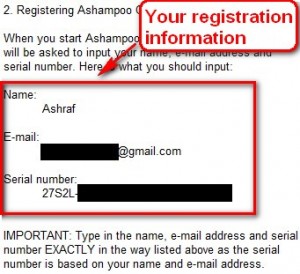 Copy the serial number and remember the name and e-mail.
Install Ashampoo Office 2008.

During installation you will be asked to enter your registration information: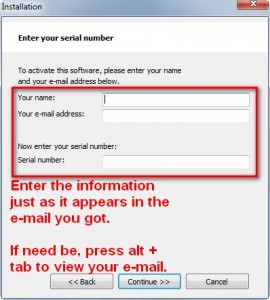 Type in the name and e-mail you registered with and paste in the serial number.
Finish installing.
After you have finished installing, if you go to "Help" -> "Check for updates" you will notice there is an update to download, hence why I told you to download an update patch. Therefore, before you even run Ashampoo Office 2008 after installing it, run the update patch I told you to download. When using the update patch, it will mention "SoftMaker Office 2008"; do not worry – Ashampoo Office 2008 and SoftMaker Office 2008 are the same thing so install the patch normally.
Enjoy!
If you have any problems, post below I will try to help.
Thanks djhightek!
Related Posts