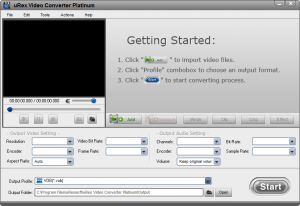 Note: This giveaway was originally posted on Dec-11. That particular giveaway has ended and a new giveaway of the same software is available. Hence I have republished this post. Sorry to anyone that gets double notifications!
Software Description
The following is a description of uRex Video Converter Platinum, as per the developer:
uRex Video Converter Platinum offers a powerful and professional video converting solution which can convert almost all the popular video formats on your PC to various formats like AVI, MP4, DivX, MPEG, H264, WMV, MKV, MOV, VOB, ASF, DV, 3GP, HD format, like HD VOB, HD MKV, HD TS, HD AVI, HD MPEG, HD MP4, HD ASF, HD WMV, HD MOV and audio MP3, WMA, WAV… Also, it makes you to enjoy movie on your PSP, PS3, iPod, iPhone, Apple TV, Xbox, Google phones, iPad, iPad2 and other digital multimedia devices with ease.

    1. Support all popular video & audio formats, even HD videos like AVI, TS, H.264/AVC, MKV;
    2. Convert to popular formats like AVI, MPEG, WMV, MP4, DivX, MOV, and FLV;
    3. Support almost all multimedia devices such as PS3, iPhone,iPod, iPad/iPad2, Apple TV, Xbox, Wii, Google phones;
    4. Support NVIDIA CUDA & ATI Stream technology;
    5. Edit, split and merge video while converting.

Key Features of uRex Video Converter Platinum

Convert any video format

Support HD videos like HD VOB, HD MKV, HD TS, HD AVI, HD MPEG, HD MP4, HD ASF, HD WMV, HD MOV, and general videos and audios like AVI, MP4, DivX, MPEG, H264, WMV, MKV, MOV, VOB, 3GP and MP3.

Convert to various video formats

This powerful video converter enables you to convert any video formats to AVI, VOB, MTS/M2TS AVI,MPEG, AVCHD and MP4, just to name a few.

Optimize settings for all multimedia players

This platinum version of video converter supports iPad, iPod, iPod Touch 3, iPod Nano 5, Zune, iPhone, iPhone 3GS, OS 3.1, iPhone 4(4G), Apple TV, PSP, PS3, Xbox 360, Archos, Sandisk, Motorola Droid/Cliq, Google nexus one, iRiver, Creative Zen, PMP, MP4/MP3 Player, Smart Phone, Pocket PC, PDA, Mobile Phone, etc, which makes it much comfortable to enjoy movie during the trip

Convert HD Video with Ease & almost 1:1 quality

With this amazing video converter, you can conveniently convert all HD (High-definition) videos such as MKV, AVCHD (M2TS, MTS), TOD, MOD to iPhone/iPad, MOV, AVI, MP4, MPEG, VOB, etc without any assistance of third-party codec and no quality lose.

Support multi-core CPU & NVIDIA® CUDATM

uRex Video Converter will distribute tasks on multi-core automatically to get high video conversion speed. NVIDIA® CUDATM supported, uRex Video Converter Platinum offers a super fast video converting process
The following are all the input/output formats supported by uRex Video Converter Platinum, as per the developer: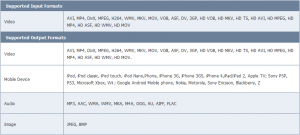 Click on the chart to view it in full size.
dotTech Advice
It is hard to get a finger on uRex Video Converter Platinum. It is obvious they are a reseller and/or somehow related to a larger software developer (based off past experience and the fact their domain was registered in 2011, I take their claim of being around since Feburary 2005 with a grain of salt). What isn't obvious is exactly which developer they are associated with. Their program name and website makes me think Digiarty Software; but the program interface and features makes me think Wondershare Software. I'm leaning more towards Wondershare. Anyway, it isn't too terribly important who uRex is reselling. What is important is if it's quality or not.
In that regard, uRex Video Converter Platinum is very good. It supports many input and output formats/profiles, has basic video editing capabilities (crop, trim/clip, merge, effects: brightness, contrast, mosaic, blur, sharpen, emboss, noise, old film, red, green, blue), and performs well; batch processing is supported* and the program has the ability to automatically exit itself or shutdown/restart computer after conversions are finished. Conversion speed is about the same as most other video converters (not surprising) and conversation quality is close enough to 1:1 that I couldn't tell a difference between input and output. Plus users are given a large amount of customizability on output file settings.
*Note: Batch processing is supported in the sense that you can queue up conversions to happen one after another. Conversions don't occur simultaneously. On the bright side, when you queue up conversions, you are allowed to set each conversion to a different output format/profile, if you wish.
One of my pet peeves with video converters is the lack of "keep original" resolution option and uRex Video Converter Platinum doesn't fail in that regard. Well, sort of. If you are selecting an output profile (i.e. a profile for an electronic device) you won't find the ability to keep original resolution; however, if you select a general video format you will. While I personally would like the ability to have the keep original option for electronic devies too, I can understand the logic behind this decision since electronic devices have their own specified resolutions and aspect ratios.
There are only a couple minor issues that I found with uRex Video Converter Platinum while doing my quick review. Firstly, it doesn't support drag + drop. Don't expect to drag + drop files into uRex Video Converter Platinum's program window. Secondly, uRex Video Converter Platinum does support a good number of electronic devices out-of-the-box but it doesn't support a good many too, specifically Android devices. (It covers iDevices pretty well, obviously, in addition to Nokia and BlackBerry smartphones.) Now of course one can easily customize output settings – and save them for easy use later – to work with their device(s) but it would be nice to have out-of-the-box support for more 'droids.
Overall, if you are looking for a video converter, uRex Video Converter Platinum is a good choice. At a price tag of $34.95 I would never pay for it simply because a) The number of viable freewares available and b) For the same price I could purchase a video converter from the more well-known iSkysoft (who also happens to be a Wondershare re-brander); but while it's available for free — why not grab it (assuming you need it, of course)?
Freebie Details
uRex Video Converter Platinum is being given away in a promotion sponsored by uRexsoft themselves. This promotion is live until March 30, 2012; there is no information on if you can install/reinstall the program against after that date.
To get uRex Video Converter Platinum for free, follow these simple directions:
Version begin given out for free: v2.6
Free updates: No
Free technical support: Yes
Supported OS: Windows 98 and higher
Download size: 8.5 MB
Download and install uRex Video Converter Platinum.
After installation, run uRex Video Converter Platinum and register it with the license code shown below:
License code: 7F910EFF0104F95BE78DCD49B4FFCA199250CC31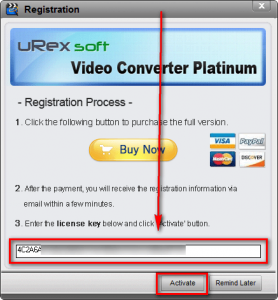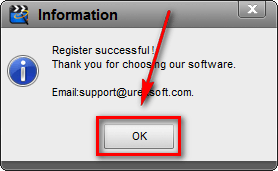 If you have trouble getting uRex Video Converter Platinum for free, post below and other dotTechies or I will try to help.
[Thanks EYElove!]
Related Posts