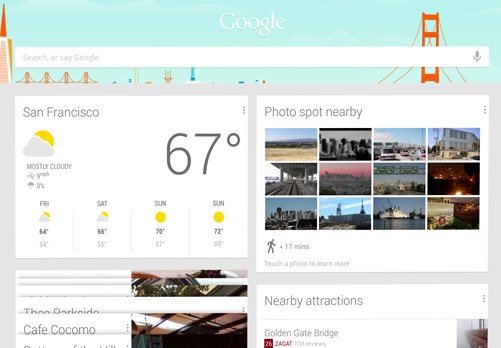 As it would turn out, Google Now may not be unique to the Android platform after all. Thanks to a recent development, it looks like Google may be gearing up to take the Google Now service to the web.
Surprisingly, this is directly tied to the iGoogle shut down which be going into full force in November of this year. iGoogle is a landing page for Google that allows users to customize their browsing experience across all of the internet giant's services and web pages.
According to GoogleSystem, a website dedicated to uncovering news about future Google features, there is plenty of evidence that suggest Google Now will  be linked to a similar landing page as iGoogle. GoogleSystem actually seems to think that this landing page won't just be a single homepage, but will also include the same functionality as the Google Now app found on Android phones. That includes support for Google Cards and user widgets.
If you're not familiar with Google Now for Android, you probably should be. It's a remarkable service, similar to Apple's Siri that is actually quite a bit more sophisticated and efficient. It delivers information directly to your Android device based on patterns, habits and activities regularly performed when using Google's services. For example, if you have a habit of looking for pizza places when you're near home Google Now will recognize this pattern and start delivering nearby locations when you're near your home address. If you have a specific event or notification set in Google Calendar, the application will take this information into account and will then deliver related results. It will do things like deliver directions to a specific location or update traffic information for a regular commute.
If this is actually going to happen, you can bet we'll hear more about it at this year's Google I/O conference. Personally, I would prefer that the Google Now platform stay exclusive to Android, but it's lovely to see Google showing some love to everyone else out there. From a marketing standpoint, it's possible this may attract more users to make the jump to the Android platform after they use Google Now through a web interface.
Feel free to check out the source link if you'd like to see some examples of what a Google Now home page might look like. Keep in mind, the images at GoogleSystem are just concept designs and are not indicative of any real product.
[via GoogleSystem]
Related Posts