Update: This promo seems to be over now =(.
Balesio FILEminimizer Office is a software that aims to help compress and reduce file sizes of Microsoft Office files:
.PPT/.PPTX
.DOC/.DOCX
.XLS/.XLSX
The great thing about FILEminimizer Office is you do not have to have Microsoft Office installed to use it. FILEminimizer is a completely standalone software; so if you create a .PPT/.DOC/.XLS format file with another software suite, such as Ashampoo Office or OpenOffice, you can still use FILEminimizer Office with those files.
Here are the full features of FILEminimizer:
Office compression for PowerPoint, Word and Excel by up to 98% – a 50MB document is compressed to 1MB in size
Compresses PowerPoint 2007, Word 2007, Excel 2007 files – full optimization of PPTX, DOCX, XLSX files
Compresses "old" PowerPoint 97 to 2003, Word 97 to 2003, Excel 97 to 2003 files – full optimization of PPT, DOC, XLS files
Compresses pictures and embedded objects and reduces the size of Office files
Keeps the original file format – simply edit, view and change it without the need to unzip
Compresses StarOffice and OpenOffice files provided they are saved in a Microsoft format
Compact edition runs directly from CD or USB flash drive – no installation required
Integrated search function finds all optimizable files on the PC
"Drag & Drop" files directly into FILEminimizer to optimize several files at once (batch processing)
Add-ins for Microsoft Outlook, PowerPoint, Word, Excel and Windows Explorer
Here is a short video by the developer demonstrating how to use FILEminimizer Office: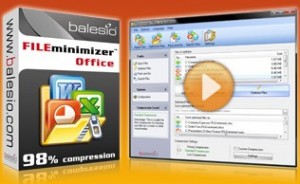 To view the video click above. If you have JavaScript disabled you will not be able to view the video by clicking above so instead click here.
To get Balesio FILEminimizer Office v5.0 (v5.0 is the latest version of FILEminimizer Office) follow these simple steps:
Zebulon.fr is the website sponsoring this promotion of free Balesio FILEminimizer v5.0 so be sure to drop by and give them a nice "thank you".
I don't know if Balesio spams or not so feel free to make use of Mailinator, 10MinuteMail, or Trashmail anti-spam services.
After you hit "Obtenir to licence" you will see a page which has your registration information and the download link: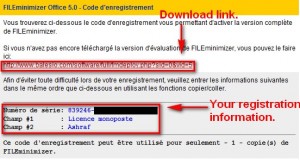 Download FILEminimizer Office and keep the registration information in a safe place. Don't worry about language of the software – it will be in English.
Install FILEminimizer Office.
Run FILEminimizer Office.
You should be prompted to either use the trial, purchase the software, or enter registration information. Enter your registration information: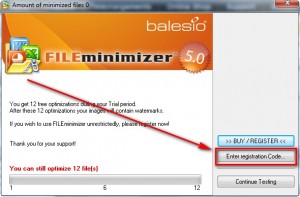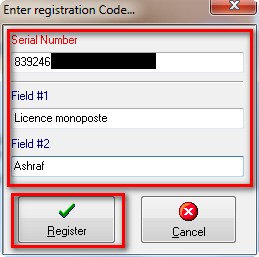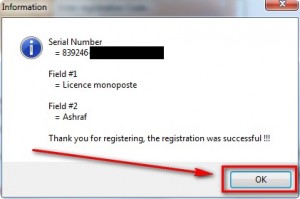 Enjoy your new, and free, Balesio FILEminimizer v5.0: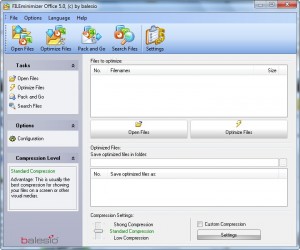 If you have any trouble getting FILEminimizer, post below… I will try to help.
Related Posts