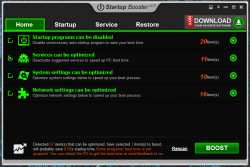 After a while, Windows can start taking a long time to boot. There are many reasons for this, which all have to do with normal wear and tear of the operating system. One of the best ways to speed up boot time in Windows is to disable various applications and services that open up with the operating system. You can try the traditional route and open up 'services.msc' or you can use third party software. Anvi Startup Booster is a user friendly program that allows you to mitigate the Windows boot time by disabling startup items and services.
What is it and what does it do
Main Functionality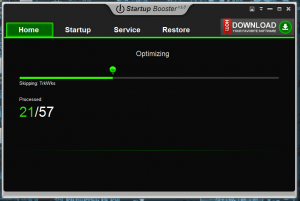 Anvi Startup Booster makes use of a user friendly UI and allows you to disable startup items to decrease boot time. It analyzes startup items and calculates the average boot time for your machine, and then it suggests items that can safely be disabled. It's especially useful for anyone that doesn't want to mess around with the standard Windows services application.
Pros
Very easy to use and understand
Attractive UI, with clear and concise options
Automatically analyzes startup items and services upon opening the application

Boot time estimate appears to be accurate (tested on multiple machines)
Will recommend items to optimize (disable)

Accessible scanning results, displays all vital information at the bottom of the home tab
You can restore any changes made individually or all at once
Cons
Can disable startup items/processes/services but cannot delay them (i.e. can't make it so items still start but start X minutes after boot instead of at boot)
Not guaranteed to provide a significant startup boost. If you already have an optimized boot time, then this app won't help you much.
System and network tweaks are a congenial addition, but most of them have no effect on performance
Discussion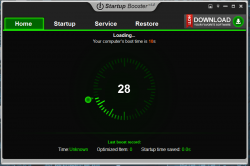 When you first open Startup Booster it will perform an initial inspection of your system. During the scan,  the program detects startup items and services and then tries to determine which ones can safely be disabled to increase boot time. Once the scan is done, you'll come face to face with the UI.
At the very bottom of the home tab, Startup Booster will tell you how many total items can be optimized or disabled, how many items have been automatically selected, and how many seconds it will save you during boot time. I mentioned this right up front because it's one of the first things you notice after the initial scan.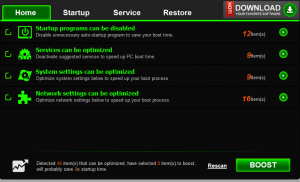 There are four tabs to explore: home, startup, service and restore. The home tab essentially has all the options compiled into one convenient location and includes dropdowns to match the startup and service tabs. It also includes system settings tweaks and network settings tweaks that supposedly improve performance. I won't start an argument here about whether or not they work, you can check them out for yourself. I'm of the opinion that the quick tweaks are a form of placebo.
Anyway, on the startup and service tabs you can see every related item, including those you previously disabled. Items can be disabled or enabled with a single button click, which is pretty darn convenient. A smaller context menu pops up when selecting the arrow icon, and you can delete, enable/disable, or open the storage location of the item.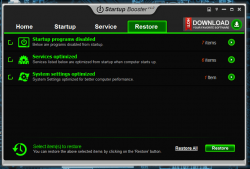 The restore tab, obviously allows you to revert any changes you've made to startup items and services. You can sort through each of the categories individually and enable items one by one, or you can take advantage of a handy "restore all" function to reverse everything all at once.
The program itself is pretty straightforward, there's not much else to it unless you include all the various system tweaks you can do. For reference, I did notice a bit of an improvement in my boot time after using the software, but I have a lot of startup items. Obviously, if you don't have a lot of startup items or services and your boot times are long, than there could be something else wrong. In that case, I would recommend using a registry cleaner like CCleaner.
For a specific reference, the boot time on my machine was increased by 0.2 seconds. It takes a total of 30 seconds for my computer to start up completely, though, meaning I had no real room left to optimize.
Conclusion and download link
Anvi Startup Booster is designed to minimize the time it takes to boot your system by disabling unnecessary services and startup items. It will automatically scan for items to disable, the first time you run the program, but you can also fine tune the experience. If you break something, you can always restore any items you've disabled, so there are no permanent changes, unless you delete an item, but you have to go out of your way to do that. Startup Booster is particularly useful for anyone that's not keen on messing with advanced system applications. For seasoned computer users like me, it doesn't offer anything unique. The system and network tweaks are a lovely addition, but their usefulness is questionable at best.
Price: Free
Version reviewed: 1.0.51
Supported OS: Windows (XP, Vista, Seven, Eight)
Download size: 12MB
VirusTotal malware scan results: 0/46
Is it portable? No
Related Posts