Recently I posted about how to get Ashampoo Office 2008 for free. For all its good, the only problem with Ashampoo Office is it cannot read the new Microsoft Office 2007 formats (.DOCX, .PPTX, and .XLSX). So to help out those dotTechies who are using Ashampoo Office, I went looking for .DOCX, .PPTX, and .XLSX converters. During my search I came across Docx2Rtf, a portable (requires no installation) program that converts DOCX files to RTF: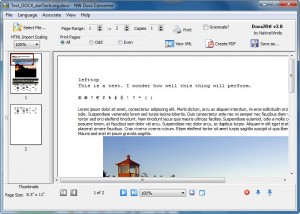 Using Docx2Rtf is very easy. You simply load the DOCX file (either go to "File" -> "Open" or click on the "Select File…" button), and save it as an RTF (either go to "File" -> "Save As…" or click on the "Save As…" button). In addition to what I just mentioned, you also have the option to print the DOCX, or turn it into a PDF.
If you like, before you convert your DOCX to an RTF or PDF, you can rearrange delete the pages: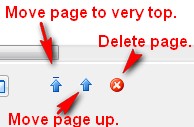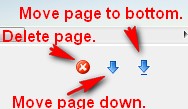 Furthermore, to make it easier on users who need to convert DOCX, Docx2Rtf has a feature where you can make Doxc2Rtf the default program to open DOCX files:

On the same note, if you are an OpenOffice user, Docx2Rtf has the ability to turn ODT files to RTF also.
Now as much as I would love to call Docx2Rtf the savior for people who don't have Microsoft Office yet still need to open .DOCX files, it really isn't. I say it isn't because while the conversion accuracy is "good enough" it is not "great"; check it out for yourself:
Docx2Rtf comes with a sample DOCX file you can use to test out how well the program works. I used it, and this is the result:
As you can see, while neither the text nor image are perfect on the RTF, the text is "good enough". The image, on the other hand, is pretty much useless.
I created my own DOCX file to measure the accuracy of Docx2Rtf conversion. Here is what I got: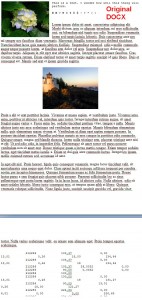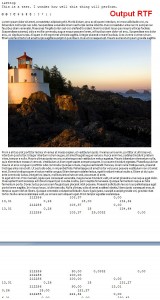 Ignoring the fact that the second page is cut off in both screenshots (the problem is with my screenshot program not Docx2Rtf), again the text conversion accuracy is "good enough". The middle image also is "good enough" considering one can easily resize it if needed. However the problem is the top image is missing. After doing a little bit of exploring, research, and testing, it turns out Docx2Rtf has trouble converting JPEG image files (the top image that is missing is a JPEG while the one that was converted is a PNG).
A couple of more things I believe could improve Docx2Rtf:
Adding the ability to batch convert. It is highly likely many people may want to convert  many DOCX files to RTF. Doing it one by one will be tedious. Batch converting is supported via command line, but honestly, the average user cannot be expected to use command line.
Add the ability to drag + drop.
In the end, however, with the lack of any other free software (that I know of – I know of some online based solutions though) to do the same job, Docx2Rtf is a handy tool for anyone that uses an office suite that does not support .DOCX files. You can download Docx2Rtf from the following link:
Version Reviewed: v3.8

Supported OS: Windows All

Docx2Rtf homepage [direct download]

***If you are want Docx2Rtf in a language besides English, the homepage contains language files for 10+ other languages.***
Related Posts