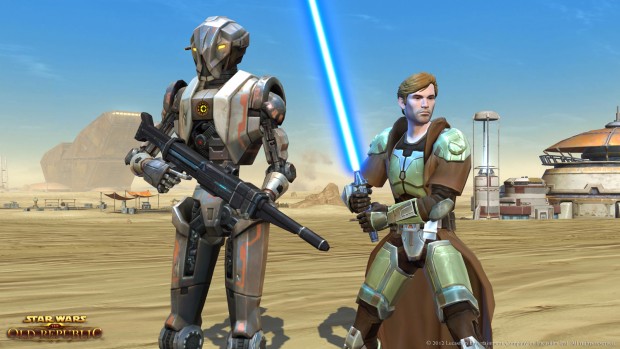 Disney and Electronic Arts (EA) announced an agreement that delivers exclusive rights to future Stars Wars based games to EA. Disney actually retains the rights to titles in the "mobile, social, tablet and online game categories." More specifically, EA gets the rights to "new Star Wars titles for a core gaming audience, spanning all interactive platforms and the most popular game genres."
No additional information was given, which is quite strange. It's unclear how EA and Disney will handle finances when it comes to future Star Wars titles. Seeing as Disney owns the rights to the Star Wars franchise, I'll bet they'll be getting quite a cut of the profits.
EA announced that in-house developer Bioware will be working on all future Stars Wars games. If you don't already know, Bioware is responsible for the Knights of the Old Republic series, and the Old Republic MMO.
It's an odd decision definitely, but the CEO of Disney, Bob Iger already mentioned when the company purchased Lucasfilm last year that they were "likely to focus more on social and mobile than [they] are on console."
"We'll look opportunistically at console, most likely in licensing rather than publishing."
That's why many weren't surprised when Disney shutdown LucasArts last month, ultimately canceling Star Wars 1313, an upcoming shooter set in the Star Wars universe. There's been no mention whether or not that title has been picked up by Bioware either. Could Star Wars 1313 go down as another vaporware title?
More importantly, what does this mean for the series regarding future video game titles? The fact that only one studio will be exclusively responsible for the series is a little disconcerting. If anything, it shows that innovation may be less likely to happen should the creative minds at Bioware refuse to try anything new. On the other hand, Bioware is well respected by the gaming community since they've delivered quite a few succesful games in the past.
What do you think of this, fellow dotTechies? Let us know in the comments below!
[via Ars Technica]
Related Posts