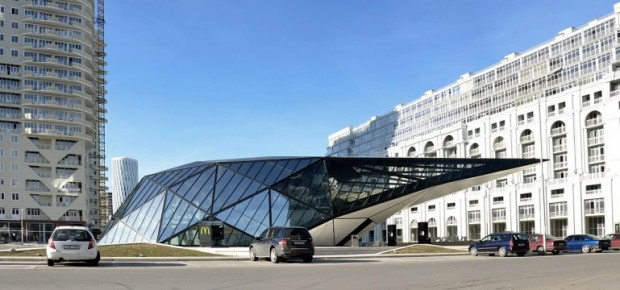 When you think of McDonald's, do you think of the traditional golden arches, with a drive-thru restaurant design comprised of red and white brick? I certainly do, because that's really the only structural design I've ever seen for the restaurant.
Georgian Architect Giorgi Khmaladze has designed a futuristic looking building for a fast food and fuel station mash-up. Here's the kicker, it houses a McDonald's on the second floor and a gas station below. Khmaladze designed the structure so that the gas station would remain completely separate from the food outlet, and for good reason too because no one wants to smell gas and oil while they're eating a juicy red meat burger (or maybe some of you do).
It looks like it borrows design elements from a B2 stealth bomber mixed with something that was pulled straight out of Minority Report. Personally, I'd be interested to know what Khmaladze used as inspiration for such an unorthodox design.
The backend of the structure hangs over the gas station area so that stopping motorists are sheltered from the elements.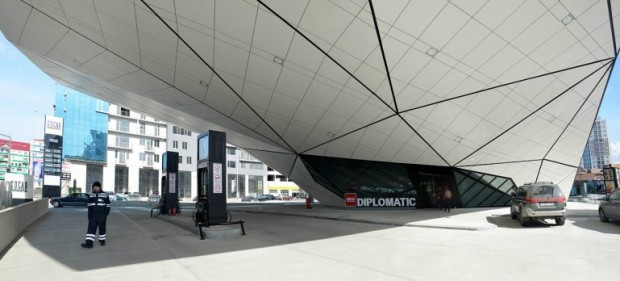 The McDonald's portion of the building includes a ground floor entrance at the opposite end of the structure, which is surrounded by attractive ponds. The kitchen is actually situated in the center of the ground floor, while side staircases wrap around to the upper dining areas. Interestingly enough, there's a large open-air garden on the second floor which is likely in place to keep those who are dining in from smelling noxious gas fumes.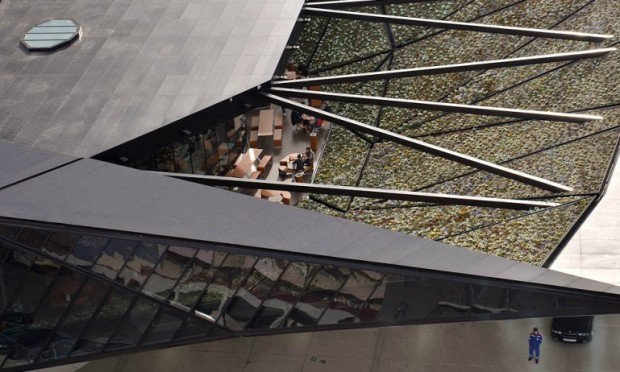 The whole structure is quite beautiful, especially when you see it from the outside with its large angular glass panels. It truly looks like one very large, free-standing piece of art. I'm sure the locals would agree.
The McDonald's is located in Batumi, Georgia a place that many of us have probably never heard of. Even so, I'm sure some day many of us will be traveling there to see the structure, if you're nearby of course. It's preposterous to think you would travel there just to see something beautiful like this, right?
Check out the via link below to see more images of the stunning sculptu… I mean, building.
[via Giorgi Khmaladze, Gizmag]
Related Posts