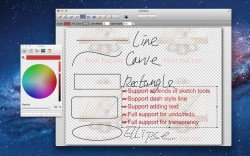 After converting to the Cult of Mac in 2008, I was totally won over. I don't think I could ever go back to working on a Windows computer. But that being said, I do get a bit nostalgic when I think about the Windows machines of my youth. I'll say this for Windows: it always had some interesting extras included. I can't help but get nostalgic when I think about making doodles in Microsoft Paint, or playing Minesweeper, or repeatedly hitting CTRL+ALT+DEL. Okay, maybe that last thing isn't true. But I do miss messing around in Paint, which is why I recently downloaded a free Paint-inspired app for Macs called Paint Pad Lite.
What is it and what does it do
Main Functionality
Paint Pad Lite is the free version of Paint Pad. Both apps were developed by Andy Smith. This app lets you draw, add text to images, and edit images with basic crop and resizing tools. You are able to combine multiple images into one image, which is great for collage-inspired work.
Pros
Line-up of tools is very familiar to Paint users: App Store description of Paint Pad Lite's menu features includes tools like "eyedropper, fill, line, curve line, rectangle, ellipse, pen, eraser" and text tools as well
Support grid overlay helps you to create even, symmetrical work
On launch, the app provides a list of recent documents that you've worked on
Fully customizable project size
Transparency support
Simple layout that makes navigation and tool selection a breeze
Cons
Not quite as user-friendly or intuitive to control as Paint
Some of the shape drawing tools seem a little choppy or laggy when zoomed in
Color selection and blending could be integrated into a smoother, more simplistic interface
Discussion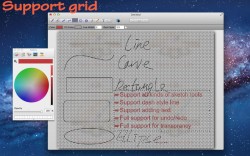 I wasn't entirely sure what to expect going into Paint Pad Lite. Would this Mac App be a straight-up Microsoft Paint clone, or would it harken back to Mac's long-lost MacPaint tool? Or would this app be something new and unique unto itself.
The layout of Paint Pad Lite is arguably more similar to Paint than MacPaint, but not that similar. While the majority of tools in Paint were located on the left side of the screen (and MacPaint had toolbars on the left and bottom of the screen), every single toolbar item in Paint Pad Lite is placed along the top margin of the screen.
Paint Pad Lite is faily simple to navigate, though there are some occasional pop-up dialog boxes that make the overall app experience feel a little bit clunky. I also felt that the app could use some refinement in how the color selection and blending tools are laid out.
Conclusion and download link
If you're a long-time Mac user with fond memories of MacPaint (discontinued way, way back in 1998), you might have a visceral, nostalgic reaction to Paint Pad Lite. The two programs don't look identical by any means, but there's definitely plenty of crossover appeal. If you want a free drawing tool on your Mac, you could do a lot worse than Paint Pad Lite. It has a few minor annoyances here and there, but overall it is a great free tool that has a robust set of features.
Price: Free with optional paid version for $5.99

Version reviewed: 3.2
Supported OS: OS X 10.6.6 or later

Download size: 8.4 MB
Paint Pad Lite on Apple App Store
Related Posts