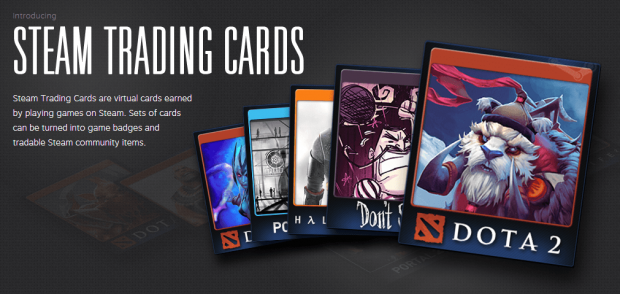 Trading cards are coming to Steam! No, not physical trading cards but instead a digital version of them.
Players will be able to collect and trade cards to friends via the Steam community. After collecting a whole set, you can unlock badges, emoticons, profile backgrounds and even coupons for game purchases. Essentially, owning a set of cards will allow you to craft a related badge, and you can even level up your badge by collecting a particular card set multiple times.
Rewards earned for collecting badges are pretty unique. Namely, the most exciting reward is that you have a chance to win free game DLC or game coupons, and we all know Steam has some really great sales. Other rewards include images to use on your Steam community profile, and emoticons to use when you're chatting with friends.
There will be new additions to Steam profiles, which allows you to showcase your badges and customize what the rest of the community sees. It only makes sense to have something like that, right? I mean what's the point of collecting all those badges and trading cards if you can't show them off?
You know the experience you earn for collecting multiple badges? Well, it's going to be account based, which means now you can level up your entire profile by completing various objectives. It's likely that Valve will introduce more ways to earn experience and level up your Steam profile, but for now it's affected solely by earning badges.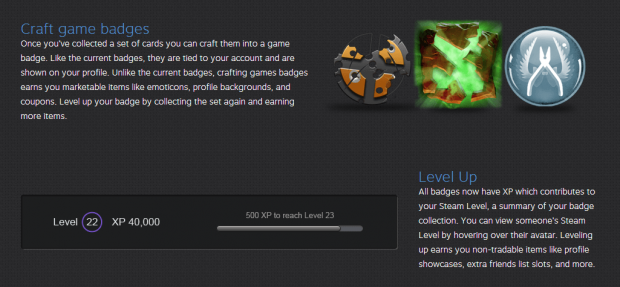 The new features are going to rollout over the coming months, but if you want to get a head start using them you can sign up to participate in the Beta. Currently, there are only a handful of games supported but the catalog will be increased over time. The compatible games include the following:
Counter-Strike: Global Offensive
Don't Starve
Dota 2
Half-Life 2
Portal 2
Team Fortress 2
I have to say, this is pretty awesome. Seeing all of this news, I feel like a little kid again. Trading cards were always fun to collect, trade, and share. Valve is bringing that experience back to the modern age with this new system.
Personally, I can't wait to get started.
Related Posts