IObit Security 360 is a fairly new anti-malware (spyware/adware/trojans/keyloggers/bots/worms/hijackers) software by IObit, the makers of the famous Advanced SystemCare.

Sticking true to their nature, IObit offers a freeware and Pro version of IObit Security 360. The differences between Pro version and the free version are as follows: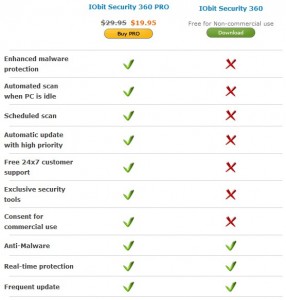 Now, I have not personally used, or tested, IOBit Security 360 yet so I can't vouch for how good (or bad) it is. However, rumor has it IObit Security 360 is really fast, provides good protection, and plays well with other security software.

That being said, you can a free 1 year license of IObit Security 360 (promotion ends on November, 11, 2009). To get the 1 year free license, follow these steps:
IObit Security 360 works on 32-bit and 64-bit versions of Windows 2000, XP, Vista, and Win7

I don't know if IObit spams or not, so feel free to make use of Mailinator, 10MinuteMail, or Trashmail anti-spam services.
Check the inbox of the email you entered. You should have an e-mail from "IObit Support <support@iobit.com>" with the subject of "IObit Security 360 License Code". In the e-mail you will find the download link and your license code: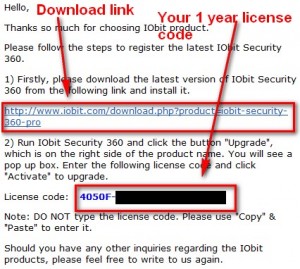 Copy the license code and download IObit Security 360 (if you have not downloaded it already).

Tip: If you do not receive an e-mail from IObit instantly (it should be fairly quick), try a different e-mail address. Quite a few dotTechies have been reporting one e-mail address gets an e-mail from IObit while another does not.

Update: If you are having trouble getting your own key, I have generated a few keys for dotTechies to use. Please only make use of these if you have trouble getting a key of your own. Furthermore, please post below if you have used a key.

Here are the keys (you can download IObit Security 360 Pro from here):

9F2DF-70AD4-E7E33-1C3AF
9F34C-6B4B3-B5767-5E5AF
9F361-EB0D7-5A84C-D2BAF
9F383-605D4-38D27-DF7AF
9F3AE-BF763-37F5F-6FBAF
9F40A-AE847-6E12F-01BAF
9F42D-24AA4-C9E61-180AF
9F490-DF213-CC825-051AF

NOTE: Please don't post this list anywhere else. This is for dotTechies only.

Update2: Anyone that has not received a key yet send me an e-mail. Specify in the subject you want a key for IObit Security 360 Pro. I will send you one.

I am no longer going to just post keys here because people take them without posting they used them, etc.

Update: Please don't e-mail me for an IObit Security 360 key – I am no longer giving them out.

Install IObit Security 360.
Run IObit Security 360 and "upgrade" to the Pro version: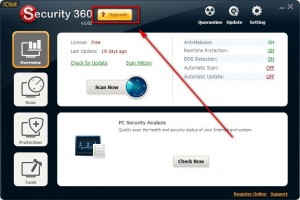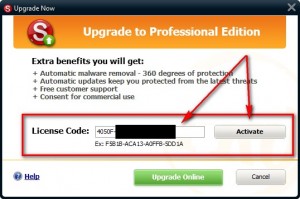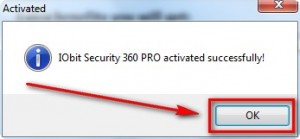 Lastly, please note IObit Security 360 is not a replacement for main stream security software. It is a supplement to your main security software. Do not uninstall other software like Kaspersky or Avira thinking IObit will keep you safe.
Thanks Ira!
Related Posts