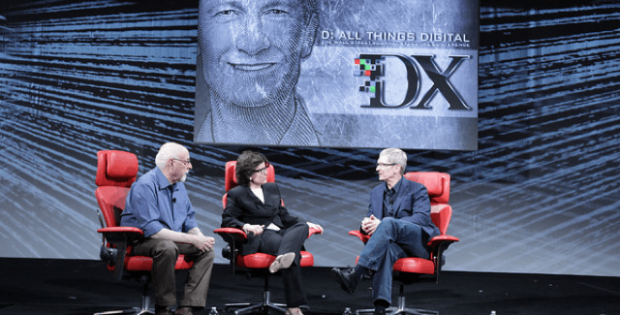 This week, AllThingsD is holding their D11 conference where they are having many top executives in the technology industry speaking and being interviewed. The conference opened up last night with Apple's CEO, Tim Cook. As you probably know, Apple has been struggling over the last year or so. In fact in April, their profits fell for the first time in ten years. There have also been reports of the next iPhone – possibly the iPhone 5S – is being delayed due to problems with the fingerprint scanning feature.
Tim Cook admitted at D11 that the steep fall in Apple's share price is "frustrating for investors and all of us," but he didn't agree with the suggestion that Apple has lost it's cool factor. Walt Mossberg asked Cook "You need hits. It's been a while. Are you still that company?" Cook said that Apple still has "several more game changers in us" and that the same culture that brought the world these iOS devices still exist.
Cook did give us some hints to what these hits might be "customers love surprises" he did also talk abut upcoming iOS, wearable technology and Apple TV. Additionally Cook said "I think you will see us open up more in the future." When he was responding to a question about whether app developers might be allowed to have Facebook Home type control over iPhones, and iPads. "But not at the degree that we put the consumer at risk of having a bad experience. But will we open up more? Yes."
Apple's developer conference is set to start June 10th, where they are expecting to show off iOS 7 which Jony Ive is in charge of now and it's supposedly going to have a flat interface. Cook said "Jony is really key" and went on to say "we recognized that Jony had contributed significantly to the look and feel of Apple for many, many years and could do that for software as well."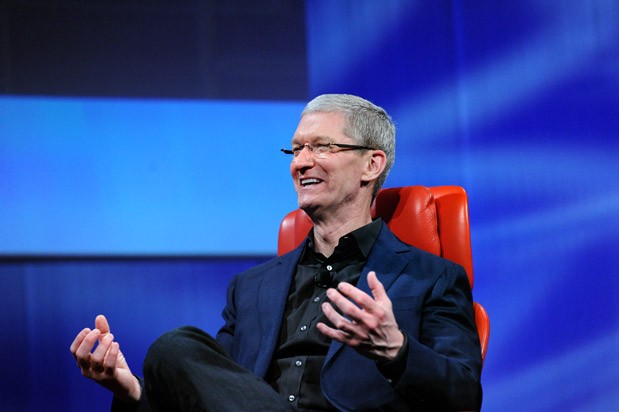 Cook was pretty coy about the rumored iWatch, but did say that wearable tech is ripe for the picking. He also criticized Project Glass saying that it didn't have "mass appeal" and questioning whether people who don't need glasses, would want to wear Project Glass.
Once again, Cook apologized for the whole Apple Maps fiasco last year, saying "we screwed up," but was pretty firm on Apple's tax affairs saying "we don't use tax gimmicks". Cook also shared their "grand vision" for Apple TV, he said that watching TV is an experience that hasn't "been brought up to this decade."
Not a whole lot of this is surprising really, you wouldn't expect a CEO of a major company to drop a bomb shell or show off an unreleased product at a conference that isn't theirs. They are going to want all the attention they can get when announcing new products or software updates. Which we should see in a matter of a few weeks at WWDC in San Francisco. Do you think Apple is still 'Cool'? Let us know in the comments below.
Related Posts