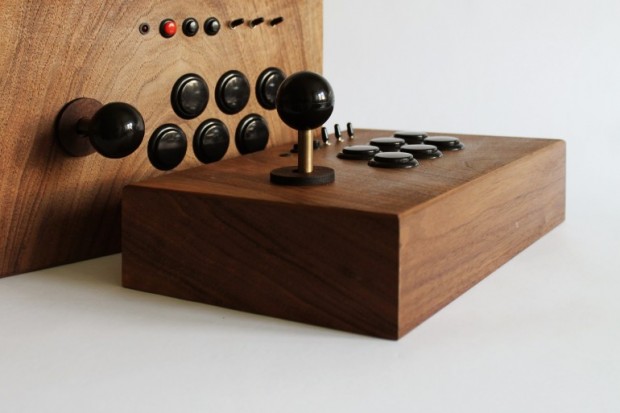 I don't know any gamer in their right mind who wouldn't like to see a retro gaming console meshed with an attractive design. The upcoming OUYA console is a great take on gaming, and it will certainly offer some innovative options in the gaming world. Sure, it's going to feature emulators and old school titles, but what about if you want something even more- retro?
The R-Kaid-42 is an interesting game console that meshes a custom PC build with old-school game controls and a retro physical design. When totally assembled the R-Kaid looks just like an old-style radio cabinet. All the included pieces fit together to conserve space. Let's face it, geeks love when things transform and that probably has a lot do with the commercial design too.
When you want to play a game with the R-Kaid it disassembles into four separate pieces, the console, two retro inspired wireless game controllers, and an accessory storage unit. The wireless controllers charge via rear USB ports, and the console connects to a TV or monitor via a supplied video cable.
When powered on, the console will display a proprietary arcade themed UI which allows you to choose from more than 20,000 pre-installed classic games that span across multiple systems.
The R-Kaid is actually a custom PC equipped with an unnamed 1.8GHz CPU, 32 or 64GB SSD storage and 4GB of installed RAM.
Of course, the console does require some assembly before it can be used. If you purchase one of these charming units, you'll need to attach the brass joystick shafts to the controllers with a [included] screwdriver.
If you want one, it's going to cost you about $1,000 (€790), or more depending on some of the added features you choose. Like a computer, and most modern devices you will have several variants and upgrades to choose from, namely the internal storage capacity.
I'm curious, do any resourceful Dottechies believe they can build something like this on their own? I know I probably could, after all it's just a custom PC rig, but I'm not entirely sure I want to invest the time required. That retro cabinet would look pretty sexy in my living room though.
Anyone out there up for the challenge?
The video below shows the R-Kaid-42 being assembled and offers a brief glimpse at the classic arcade UI when powered on.
[via Gizmag, LoveHulten]
Related Posts