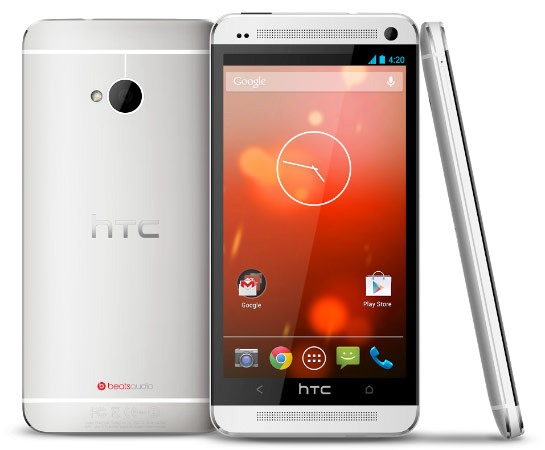 Google and Samsung have started something, something spectacular and wondrous. Of course, I only say that because I'm a huge Android lover and I feel that vanilla Android is the way to go. I'm willing to bet that a few of you out there are more than okay with the carrier branded skins on your handsets, and that's perfectly fine. Personally, I'm not alright with it- I hate the bloatware and locked down options that come along with carrier branding.
If you didn't already know, Google announced a Samsung Galaxy S4 Google edition handset which will be running stock Android. Shortly after, tons of rumors surfaced pointing to the idea that HTC would take their One handset and offer something similar. First it was coming, and then it was not, and now it's coming again.
Google's Sundar Pichai, the person who oversees Android development, confirmed at the D11 conference this morning that a stock Android 4.2.2 edition of the HTC One will be arriving soon. The handset is only going to be available for T-Mobile and AT&T and it will be sold for $599. Verizon and Sprint customers will have to defect if they want one of the Nexus-like handsets. It is unclear if the device will be available internationally.
Both the Samsung Galaxy S4 and HTC One stock edition variants will be made available in the Google Play store at the same time, on June 26th.
The HTC One stock handset will be SIM unlocked, with an unlocked bootloader out of the box and 32GB of internal storage. In addition, it will offer LTE (700/850/AWS/1900), triband HSPA+ (850/1900/2100) and quadband GSM/EDGE network support. Otherwise, pretty much all of the features and internal hardware will remain the same, with exception to the preinstalled software.
Of course, because it's stock Android the HTC One will likely be missing some of the popular Sense features like BlinkFeed. So, this is really only appealing to anyone that wants a Nexus-like experience with premium handsets. Keep in mind the Nexus experience means fast Android updates directly from Google.
Does this excite you at all? Would you much rather go with the normal edition of the handset? To be fair, subsidized pricing is much cheaper up front, but in the long run buying handsets outright is better for your savings. Plus getting fast Android updates is awesome.
[via Android Headlines]
Related Posts