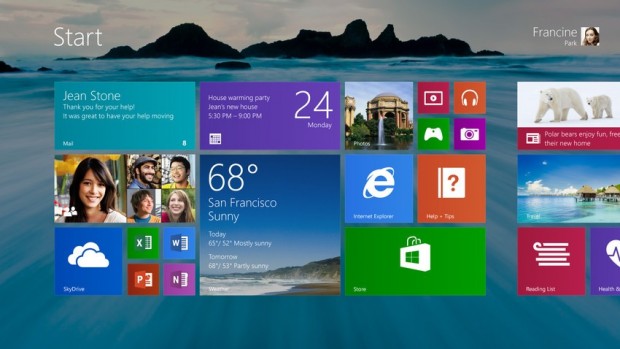 Microsoft is continuing to tease us about the new changes coming in Windows 8.1. We saw a leaked screenshot earlier today about the new Start button coming back to Windows. Now we have official word from Microsoft itself about a ton of features that are being improved or added in Windows 8.1. These changes will apply to both Windows 8 and Windows RT devices, and those who already have Windows 8 won't have to pay anything to update to Windows 8.1.
Let's take a look at the information Microsoft revealed today.
Return of the Start button: This is probably the biggest change that everyone wanted to see. The Start button is returning to the desktop environment. As most of you know, Windows 8 killed off the Start button, which brought quite a bit of outrage from Windows users. After enough protesting, Microsoft is bringing it back. Take note, though, it isn't clear if the Start Menu is coming back or not. All we know is that the Start button is coming back, which will just open the Start screen if the Start Menu is not added back.
Live Tiles in new sizes: Live Tiles are probably one of my favorite features in Windows 8. Especially the Weather live tile. In Windows 8.1, you see extra-small, and extra-large live tiles, in addition to the small and large sizes we already have. Microsoft is betting that power users are going to love the tiny live tile. It'll allow users to fit four app icons in the same space where there used to be only space for one.
Windows 8.1 will also allow users to select and move multiple live tiles all at once. You can easily name groups as well in the new version of Windows.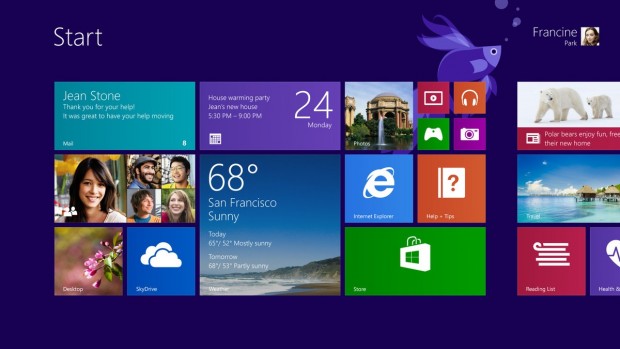 Downloaded Apps don't pin to Start: Currently in Windows 8, apps automatically pin themselves to the Start screen once you've downloaded them. In Windows 8.1, that is no longer the case. Which should lead to a more neat Start screen.
All Apps Gesture: Working with the "no pinning" change, there's a new fast way to see the app apps screen, simply by swiping up. Making it easy to find an app and pin it with new sorting tools that let you list apps by name, most recently downloaded or category.
Auto Updates: This is pretty much self explanatory, but no more manually updating apps. In Windows 8.1, all your apps will update themselves in the middle of the night, so it won't disturb you while you're working.
Boot to Desktop: We've talked about this before, but in Windows 8.1, you'll be able to boot directly to the desktop and skip the Start menu. It won't be enabled by default though.
More Textures and More Colors: Windows 8 shipped with a limited number of color themes, Windows 8.1 will bring a wider variety of those.
Desktop Background Image on Start: You can now have the Start screen in Windows 8.1 mirror the background from your desktop environment. Which will make the UI a bit more seamless.
Global Search: Search has been greatly enhanced in Windows 8.1, it'll feature more like an omnibox, incorporating apps, documents as well as web content in results.
Snap Upgrade: Snap is the feature that allows you to run apps side-by-side at the same time. But in Windows 8, you can only have one app at 25% of your screen and the other with the 75% of it. Now the percentage will be much more flexible. Allowing you to use 50/50, 60/40, 70/30 or anything in between. See the images below.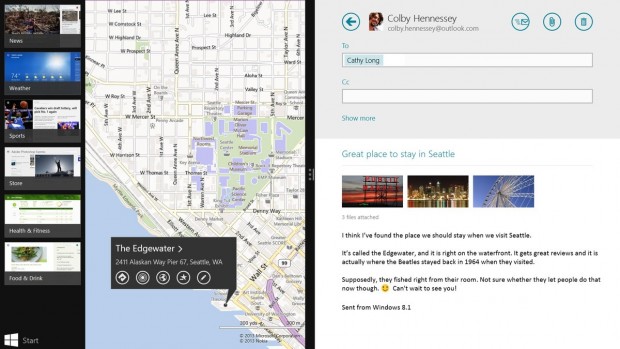 Better Multi-Monitor Support: There is a new Settings app, which moves several functions from the desktop to the modern UI, including more options for multi-monitor setups this also allows users to set the resolution of their second monitor if they want.
Reading List: With apps that have content, like Internet Explorer, you'll be able to save that content to a Reading List. It works with news apps as well like The New York Times and Microsoft's home-grown ones as well as web pages.
Internet Explorer: In Windows 8.1, IE will support unlimited tabs. Additionally, your open tabs will sync across devices, and you can also create live tiles out of websites, as long as the developer has included support for them.
Active Lock Screen: Now, the lock screen has an intelligent slide show that can do things like display photos from exactly a year ago. You can also take a Skyp call without unlocking your device.
App syncing across devices: When you are using a second Windows 8.1 device, the same apps on your first one will download onto your second one and sync. Pretty similar to what Apple does on iOS, you can also opt individual apps and devices out of syncing.
SkyDrive integration: SkyDrive will be the default for saving all documents. Also any files stored in SkyDrive can be saved for offline use.
Photo Editing: You get basic photo editing in the Photos app now
New Microsoft Apps: Windows 8.1 brings in some new Microsoft apps including Calculator, Alarm, Food & Drink, and Health & Fitness.
Apps Enhancements: You'll get Xbox-branded apps for music, videos and games all introduce new features that bring you to the content you interact with the most.
So that's all we know about Windows 8.1 so far. Lots of changes. Are there any other changes you'd like to see take place? Let us know in the comments below.
[via Microsoft]
Related Posts