At the start of October I wrote about how to get Ashampoo Office 2008 for free. Now I am going to tell you about how to get Ashampoo Presentations 2008 for free! Take note Ashampoo Presentations is a part of Ashampoo Office so if you already have Ashampoo Office, there is no need to download Ashampoo Presentations because you already have it (in fact if you installed the service pack from SoftMaker, you have a slightly more updated version of Ashampoo Presentations than what you will get from here). Rather Ashampoo Presentations is for those people that want to be able to create presentations but don't need or want the whole office suite.
Here is a list of a quick list of features of Ashampoo Presentations 2008 from Ashampoo themselves:
Files and printing

Seamless document exchange with Microsoft® PowerPoint 97, Microsoft® PowerPoint 2000, Microsoft® PowerPoint XP, and Microsoft® PowerPoint 2003 as well as PowerPoint for Macintosh.
Read and write PowerPoint® files (.pps and .ppt) with all animations, slide transitions, color schemes, etc. preserved.
Create PDF files directly from Ashampoo Presentations 2008.
Create and print PDF files with slides, outlines, handouts, and notes.
Export entire presentations as collections of images.

Designing

Numerous attractive design templates give you impressive results fast.
Each design comes with many matching color schemes.
Create your own color schemes and switch between them instantaneously.
Pre-defined slide layouts let you rearrange slide contents with a mouse click.
All layouts have generic placeholders that can be filled with text, graphics, tables, or multimedia, as required.
Sophisticated master page concept (allows global changes on all slides simultaneously).
Many graphical bullets included.

Animations and slide transitions

Hundreds of object and text animations available.
Ready-made animation schemes that animate entire presentations at once.
Many attractive slide transitions – completely compatible with PowerPoint®.

Drawing and graphics

Insert images in all common formats.
Draw directly on the slide.
TextArt gallery for impressive type effects (compatible with WordArt).
AutoShapes (compatible with Microsoft's AutoShapes).
Tables with many advanced formatting options.

Multimedia

Insert movie and sound files.
Play multimedia files either automatically or through actions (click or mouse-over).

Flexible output

Flexible customization of slide shows.
Interactive presentation of slide shows with virtual pen and highlighter.
Automated presentations without a speaker (kiosk mode).
Run slide shows on a second monitor or a video projector.
Use notes as an aid to the speaker.
Handouts for the audience.

Managing and outlining

Built-in interactive outliner: Editing text in the outliner changes the slides simultaneously – and vice versa.
Easily sort and manage slides with the practical mini sorter and full-screen sorter.

Extras

Fully Unicode-enabled.
Ashampoo Presentations 2008 works as an OLE server and lets you insert its slides in any other program, including Ashampoo Office TextMaker and Ashampoo Office PlanMaker.
Spell checking in 17 languages.
Hyphenation in 33 languages.
Thesaurus in 10 languages.
The key feature to note here is Ashampoo Presentations is compatible with Microsoft Office PowerPoint; you can open .PPT files in Ashampoo Presentations and you can save as .PPT. However, Ashampoo Presentations is only compatible with .PPT – not .PPTX. Let me repeat that: Ashampoo Presentations does not support .PPTX. One more time: Ashampoo Presentations does not support .PPTX.
Two more note worthy attributes of Ashampoo Presentations are:
The core Ashampoo Presentations program takes up less than 21 MB of your hard drive space once installed.
You can easily put Ashampoo Presentations on a USB/flash drive by running "usbstick.exe" which can be found in the folder you install Ashampoo Presentations (by default it will be C:/Program Files/Ashampoo/Ashampoo Presentations 2008).
If you are still interested, follow these simple directions to get Ashampoo Presentations 2008 for free:
Supported OS: Windows 2000 and higher
Visit the promotion page (click here) and click on .
Run the installer.
During installation you should see a screen telling you to get an activation key: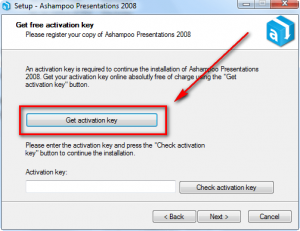 Click on "Get activation key".
The registration page should open up in your default browser (it will be in German but you can easily turn it into English by clicking the USA/UK flag at the very top):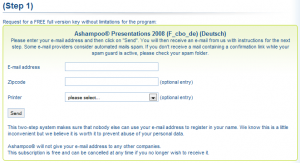 Enter your e-mail address and hit the "Send" button. We all know Ashampoo  spams so feel free to use the anti-spam services of Mailinator, 10MinuteMail, or Trashmail. Or, on the same note, if you already have an Ashampoo account just enter the e-mail associated with that account (you will have to login). Keep in mind Ashampoo does not accept Hotmail e-mail addresses.
Check the inbox of the e-mail you entered. There should be an email from "Ashampoo <MrReg@ashampoo.com>" with the subject of "Ihre Registrierung – Ashampoo® Presentations 2008 (F_cbo_de) (Deutsch)". In the e-mail you will find your activation key:
If the e-mail you entered has not been used with Ashampoo before, you will first have to verify your account before you get the above mentioned e-mail. In this case, you will have an e-mail from "Ashampoo <MrReg@ashampoo.com>" with the subject of "Registrierung (Schritt 1) … folgen Sie dem Link in dieser E-Mail." In the e-mail there will be a link you have to click on to confirm your account:

Click on the link. Then go back to your inbox to look for the e-mail that has the activation key.
Go back to the installer and enter the activation key: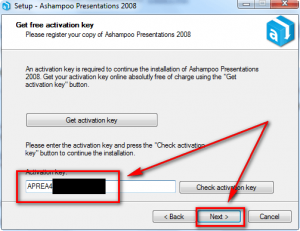 Take note after you hit "Next" there will be the following window:

You do not have to "register the fullversion online" – it is optional.
Finish installing Ashampoo Presentations.
Enjoy!
Last thing I want to point out is the first time you run Ashampoo Presentations you will get the following window: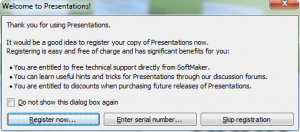 You do not have to register; it is optional. You still have the full version of Ashampoo Presentations 2008 without this second registration. Just check "Do not show this dialog box again" if you do not want to register it online.
Related Posts