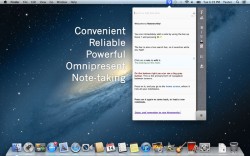 Throughout history, there have been plenty of people who were both young and talented. Age doesn't always equal experience, and many apps and computer technologies have been created by young, forward-thinking people. The tech sector is great that way: most other industries would dismiss a young person's ideas out of hand, but that is rarely the case in the youth-driven tech sector. I bring up the role of a person's age in creating new technologies because the app I want to talk about today, Noteworthy+, is the product of Benjamin Chan. When the app was initially released, Chan was a senior in high school.
What is it and what does it do
Main Functionality
Created by a high school senior, Noteworthy+ is a menu bar app that can be used for jotting down quick notes or making to-do lists.
Pros
Strong design
No need to wait for Word or other word processor to load: this app launches instantly from the menu bar
Plenty of keyboard shortcuts to make the app feel spry and lightweight
Use colors to differentiate between notes and reduce eye strain
Easily resize the window, or resize important sentences so they catch your eye
Cons
Mac App Store page indicates future Evernote compatibility and a big update to the UI, but the app hasn't been updated since last year
Multiple users have complained of accidental loss of data while using this app
Discussion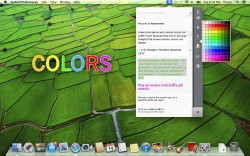 Noteworthy+ is one of several apps I've recently reviewed that lives in the menu bar. It's not a new trend by any means, but I think menu bar apps have been becoming more attractive to Mac users in recent months. Some of the new apps coming out are menu bar only, and I think they jive well with current user trends for wanting tools that are lightweight, omnipresent, and minimal.
Overall, the UI for Noteworthy+ is quite nice. I love note-taking apps that are there when you need them, and banished once they aren't in active use. I particularly like the use of colors and sentence size adjustments to make certain sentences stand out. This draws your eye to tasks that are of paramount importance, and keeps a very full notes section from being overwhelming to the eye.
I do wish this app had been updated more recently than 2012, because it's pretty solid, but could be improved with some additional effort. The last update was in August 2012, and users have been waiting since then for promised sync with other notetaking apps, as well as promised performance and UI upgrades.
Conclusion and download link
If I had to guess, Noteworthy+ hasn't been updated in a while because Ben Chan is busy with college studies. Here's hoping he can find some time this summer to update the app. Noteworthy+ is a good notetaking app, but a little more work would make it even better. Still, I think it's worth making room in your menu bar to try out this helpful tool.
Price: Free
Version reviewed: 1.1
Supported OS: OS X 10.7 or later

Download size: 3.2 MB
Related Posts