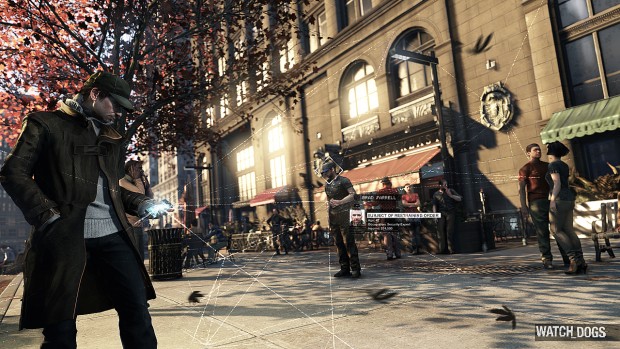 Watch Dogs will be an open world survival game meshed with action and espionage elements. It was first unveiled during Ubisoft's E3 press conference last year.
System: PS3, Xbox 360, Wii-U, PS4, Xbox One
According to the game's official site:
Set in Chicago, where a central network of computers connects everyone and everything, Watch_Dogs explores the impact of technology within our society. Using the city as your weapon, you will embark on a personal mission to inflict your own brand of justice.

Chicago's overarching network is known as the Central Operating System (ctOS), and it controls almost all of the city's technology and information – including key data on all of the city's residents.

You play as Aiden Pearce, a brilliant hacker and former thug, whose criminal past led to a violent family tragedy. While seeking justice for those events, you'll monitor and hack those around you by manipulating the CtOS from the palm of your hand. You'll access omnipresent security cameras, download personal information to locate a target, control traffic lights and public transportation to stop the enemy… and more.
During the Ubisoft press conference last year they showed off a pretty epic scene where the game's protagonist Aiden Pearce was tailing someone through the city, which ended in a pretty explosive gunfight.
This year's footage takes us through a little more of the gameplay, and you can see the player using the surrounding environment to their advantage. The world actually looks real, meaning the player is running through a living breathing city. Check it out:
Watch Dogs has garnered quite a bit of attention since Ubisoft's initial unveil. As it stands, it will be released both for current-gen and next-gen consoles. Keep your eyes open for this one, it definitely looks good!
Are you excited for Watch Dogs? Let us know in the comments below!
Related Posts